Hearty Marinara with Veggies and Ground Beef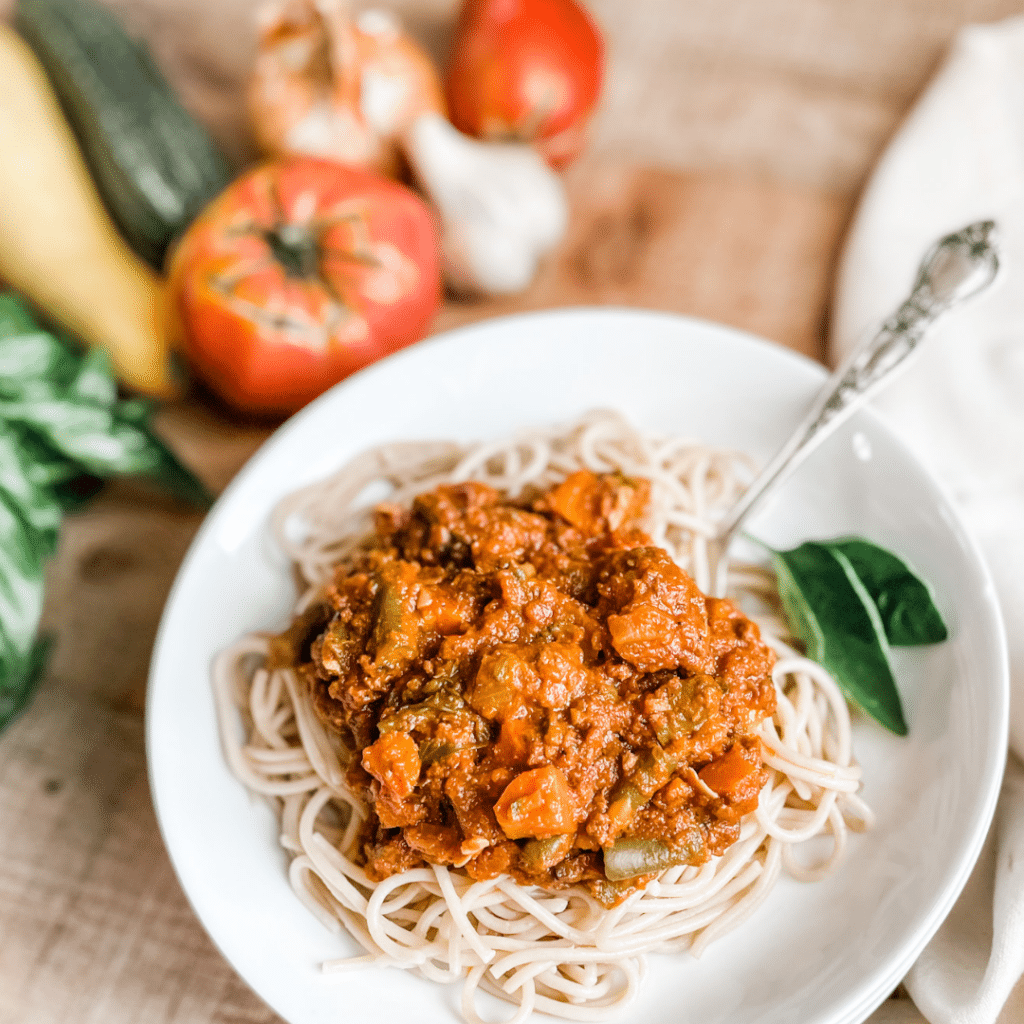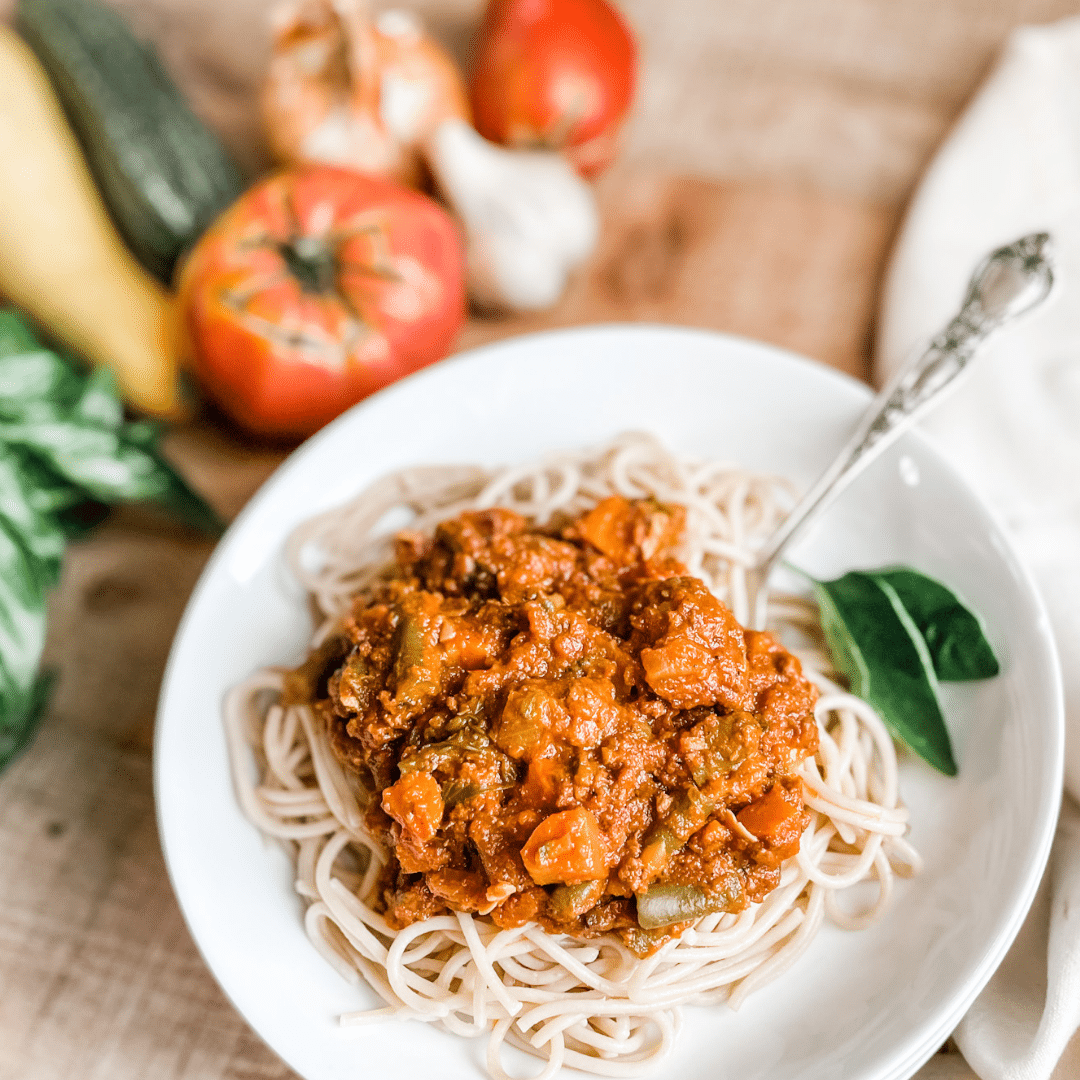 Simplify your dinner prep with tasty, nourishing soups!  My short, practical ebook is filled with my family's favorite one-pot, gluten-free, real-food soup recipes.
Get your copy of Nourishing Soups today!
This post may contain affiliate links, which means I make a small commission at no extra cost to you.
See my full disclosure here.
I'm excited to share this recipe with you for my hearty marinara with veggies and ground beef! It's the perfect way to use up lots of homegrown tomatoes and other garden veggies, and turn it all into freezer meals for the months ahead.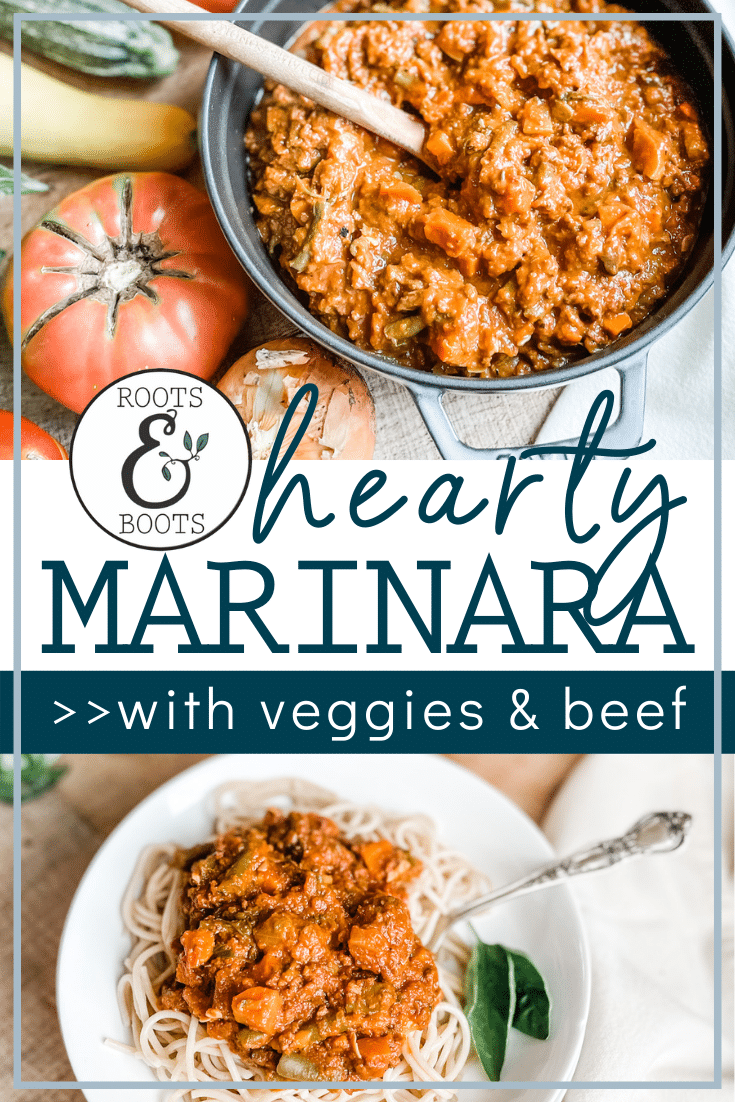 You will LOVE pulling this sauce straight from the freezer, heating it in a pot and serving it over pasta. It's meat + veggies + starch, all in one. Perfect!
By the way, if you like to grow tomatoes and turn them into food for your family, you'll love my handy ebook Preserving Tomatoes! It has all my best recipes for turning tomatoes into all the tomato things and covers canning, freezing, and dehydrating. Check it out here: Preserving Tomatoes.
How to make hearty marinara with veggies and ground beef
The recipe is pretty straight forward, although I do have a few tips to share.
First of all, it's a loose recipe so feel free to experiment. You can tweak the amounts of tomatoes, veggies, and beef according to what you have on hand or what your family prefers.
My family doesn't care for mushrooms, so I usually leave those out. But you could definitely add some sliced mushrooms if you want to! My friend Crystal, who inspired this recipe, adds mushrooms to her veggie-loaded marinara.
As for the other veggies, I aim for 15 cups total. Usually that includes about 4 cups green beans, 4 cups sweet bell peppers, 4 cups carrots, and 3 cups zucchini or yellow squash.
I like to chop all the veggies to make them bite-sized. And sometimes I use shredded zucchini instead of chopped. As a mom of one picky eater in particular, I can attest to the fact that the smaller the veggies, the fewer the complaints. However, it's such a loose recipe and you should do whatever you prefer!
You could also make this sauce without ground beef, but what's the point of that? Haha, I'm feeding three growing farm boys and a hard working husband, so I obviously must add meat.
Stretch it out
And finally, I recommend stretching the entire process over two days. On day one, you'll chop, and cook the tomatoes in a big pot with a lid. Let them cool, covered, overnight.
On day two, you'll strain the cooled tomatoes, add the veggies, and cook some more. You'll also cook the beef with onion and garlic, which you could technically do on day one and stash in the fridge until day two.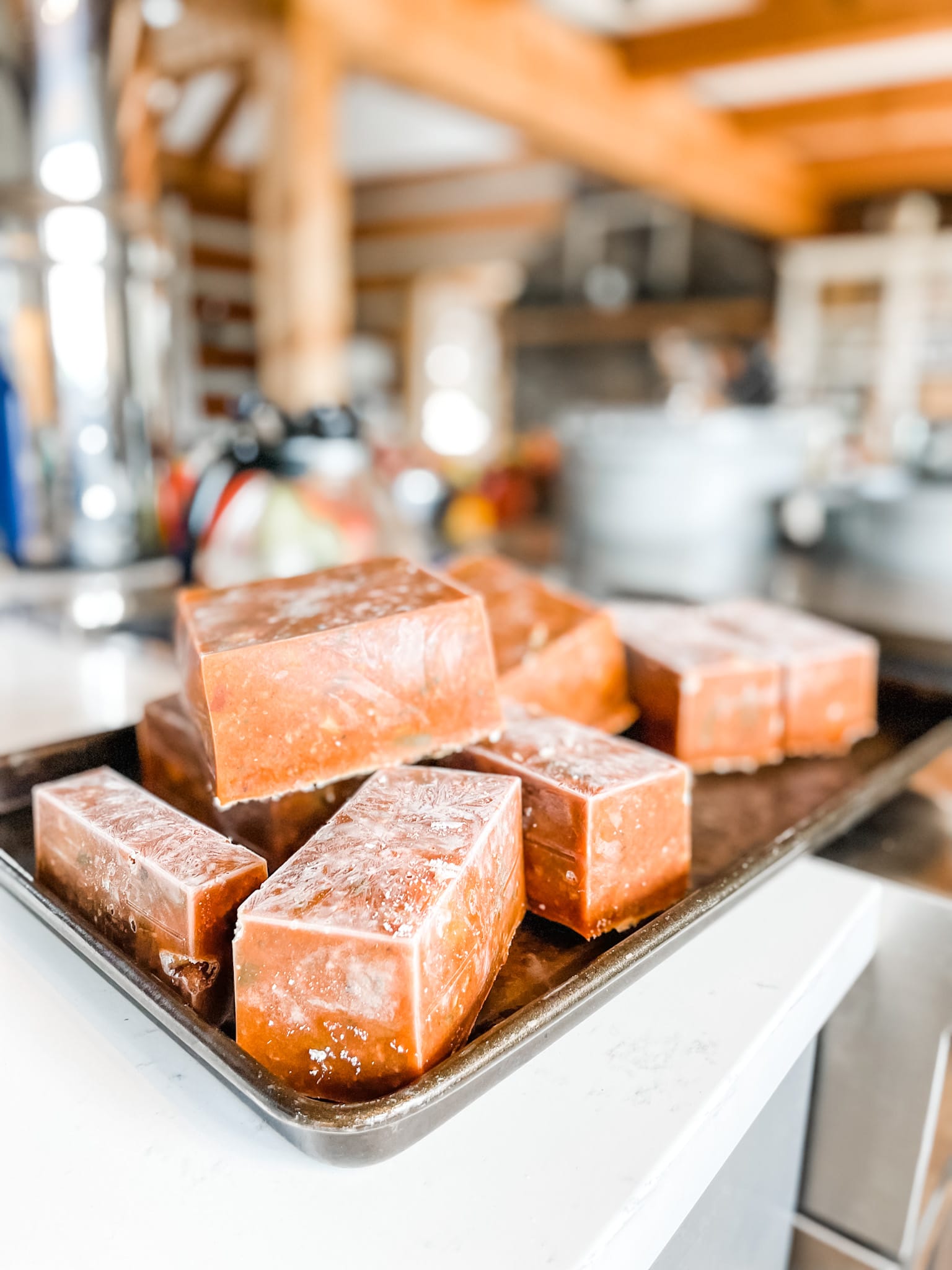 Freeze for later
The final step is to add the meat and herbs to the tomatoes and veggies, season to taste, and then cool and freeze! I've been loving these handy freezer cubes for freezing all sorts of things this summer, including this hearty marinara with veggies and ground beef. I prefer the larger sizes (1 cup and 2 cups) for freezing this sauce.
And of course you can always freeze it in your favorite freezer-safe containers or bags. Be sure to label it! And then pat yourself on the back for storing away a few delicious, nourishing, home cooked meals.
Want to turn your tomatoes into delicious foods to last your family all year long? Check out my ebook Preserving Tomatoes.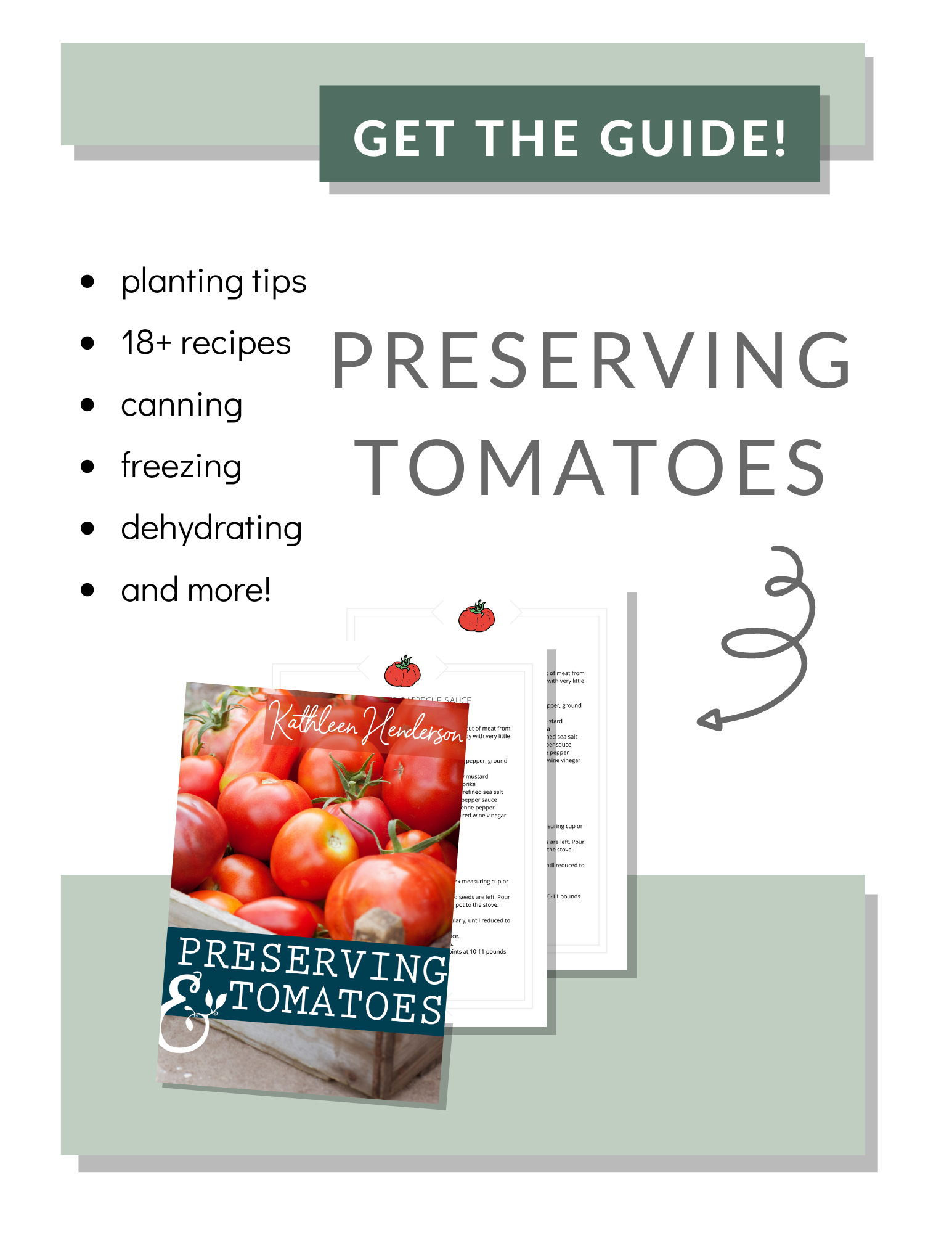 Print
Hearty Marinara with Veggies and Ground Beef
---
Description
Hearty marinara with veggies and ground beef is the perfect way to turn tomatoes and garden veggies into freezer meals for the months ahead.  Split the work into two days! Day One: Chop and cook tomatoes.  Allow to cool, covered, overnight.  Day Two: Strain tomatoes, add veggies and cook, add beef, herbs, and seasonings, then freeze.
---
12 quarts

tomatoes, chopped

3

pounds ground beef

2

–

3

tablespoons fat or oil

3 cups

onion, chopped

1/2 cup

garlic, sliced

15 cups

veggies, chopped: green beans, zucchini, bell peppers, carrots

1/2 cup

basil, chopped

1/2 cup

parsley, chopped

2 tablespoons

unrefined sea salt, or to taste
---
Instructions
Add tomatoes to a large stock pot and bring to a boil over high heat.  Reduce heat to low and simmer for several hours.
Meanwhile, chop onions and slice garlic.
Heat a large pot or Dutch oven over medium heat and melt fat or oil.  Add chopped onions and sauté until tender.  Add garlic and sauté briefly.
Add ground beef and cook until browned.  Set aside.
Chop veggies: green beans, zucchini, bell peppers, carrots.
Allow the tomatoes to cool slightly, then run them through a food mill.  Discard the skins and seeds and return the tomato sauce to the pot.
Add the chopped veggies to the tomatoes and cook for 1-2 hours, until veggies are soft and sauce is thick.
Add the ground beef mixture to the tomato mixture.  Simmer briefly to meld the flavors.
Stir in basil, parsley, and salt.  Taste and adjust as necessary.
Cool slightly and transfer to freezer containers or freezer cubes.  Freeze and enjoy later!
---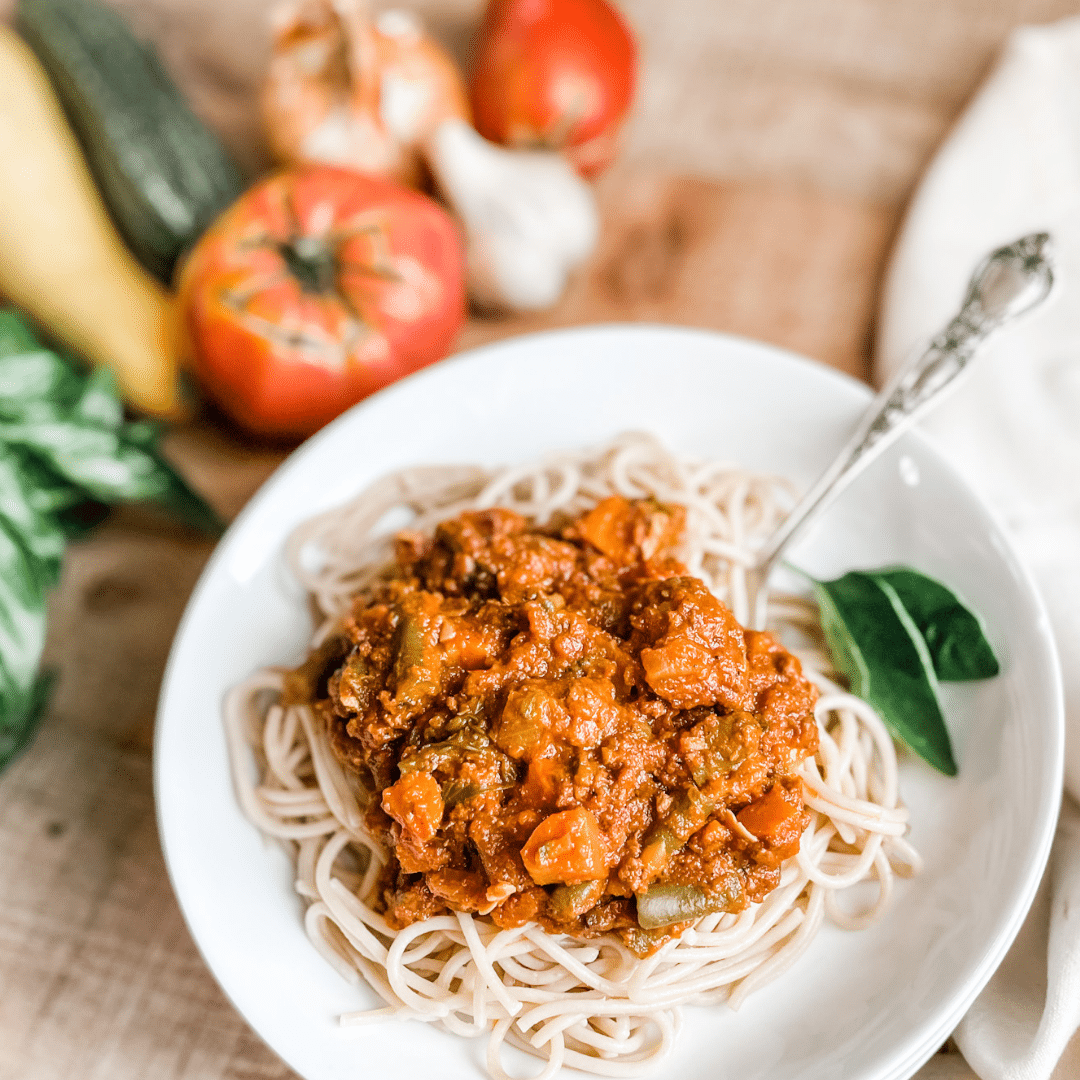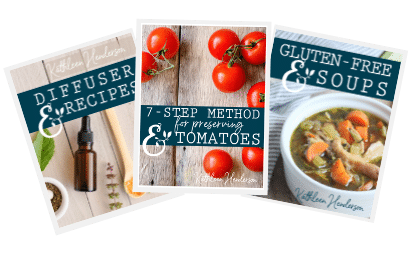 Sign up NOW for my best tips delivered weekly to your inbox!
You'll also get instant access to my library of free ebooks and resources.