Join the Seasonal Club.  Ditch the processed life! Learn to grow, source, preserve, and prepare real foods ALL YEAR LONG!  LEARN MORE >>
Join the Seasonal Club.
Ditch the processed life! Learn to grow, source, preserve, and prepare real foods ALL YEAR LONG!  LEARN MORE >>
16 Cozy Fall Diffuser Blends – free printable!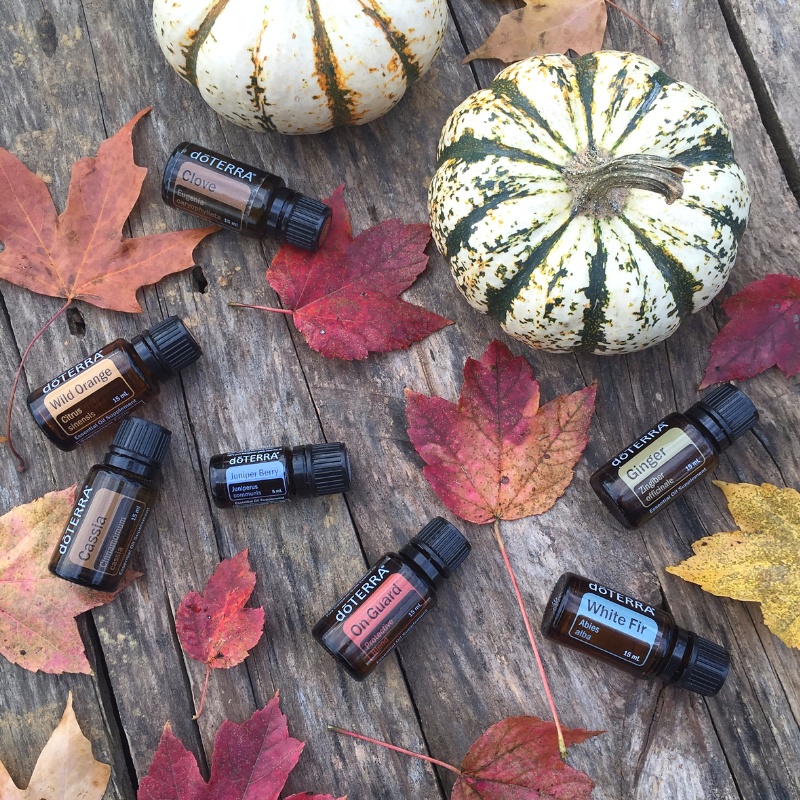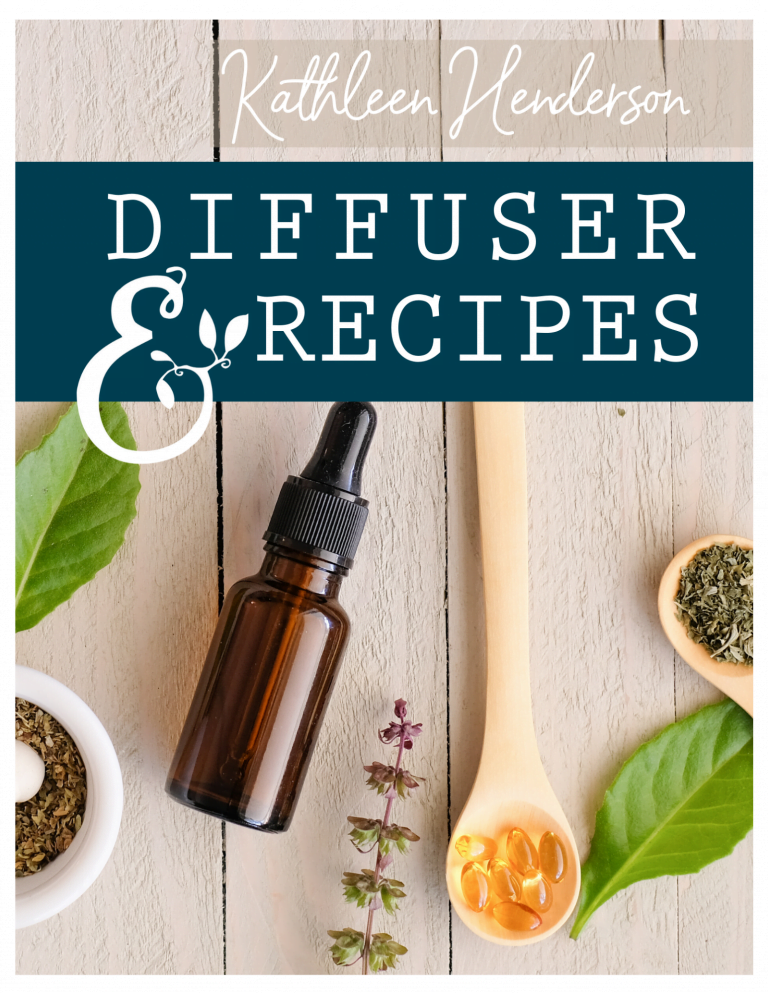 Get your free copy of 100+ Amazing Diffuser Recipes today!
No matter what life brings your way, there's a diffuser blend for that!  My short, practical ebook is packed with 100+ recipes to diffuse for immune support, sleep & relaxation, energy & good mood, focus & concentration, holiday & seasonal aromas, and more!

This post may contain affiliate links, which means I make a small commission at no extra cost to you.
See my full disclosure here.
Skip the toxins! Instead, use essential oils to give your home a cozy aroma with these fall diffuser blends.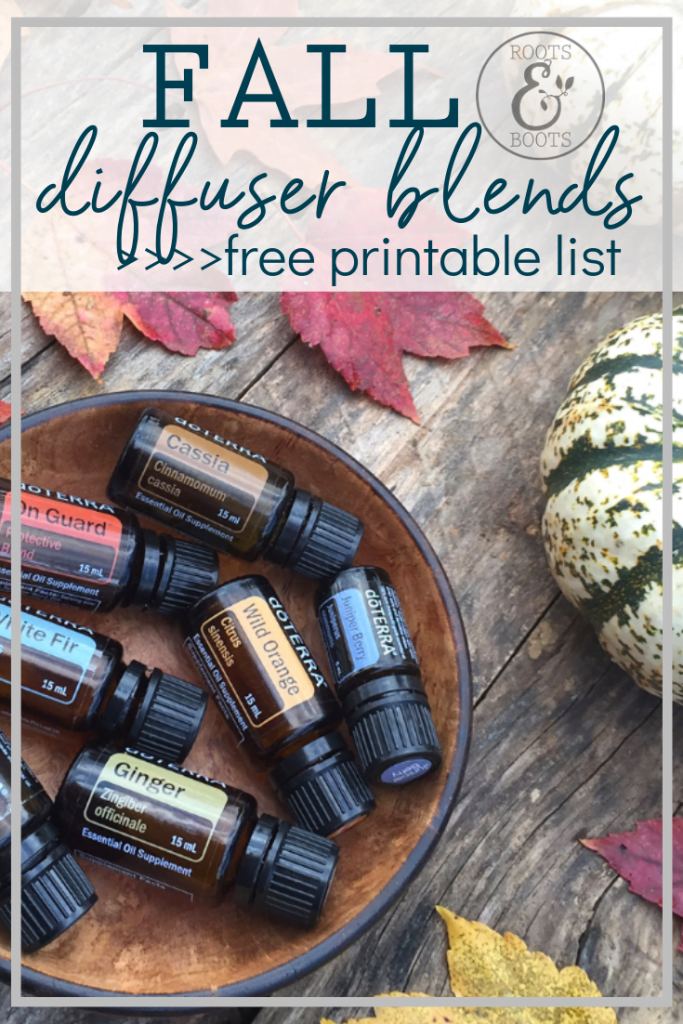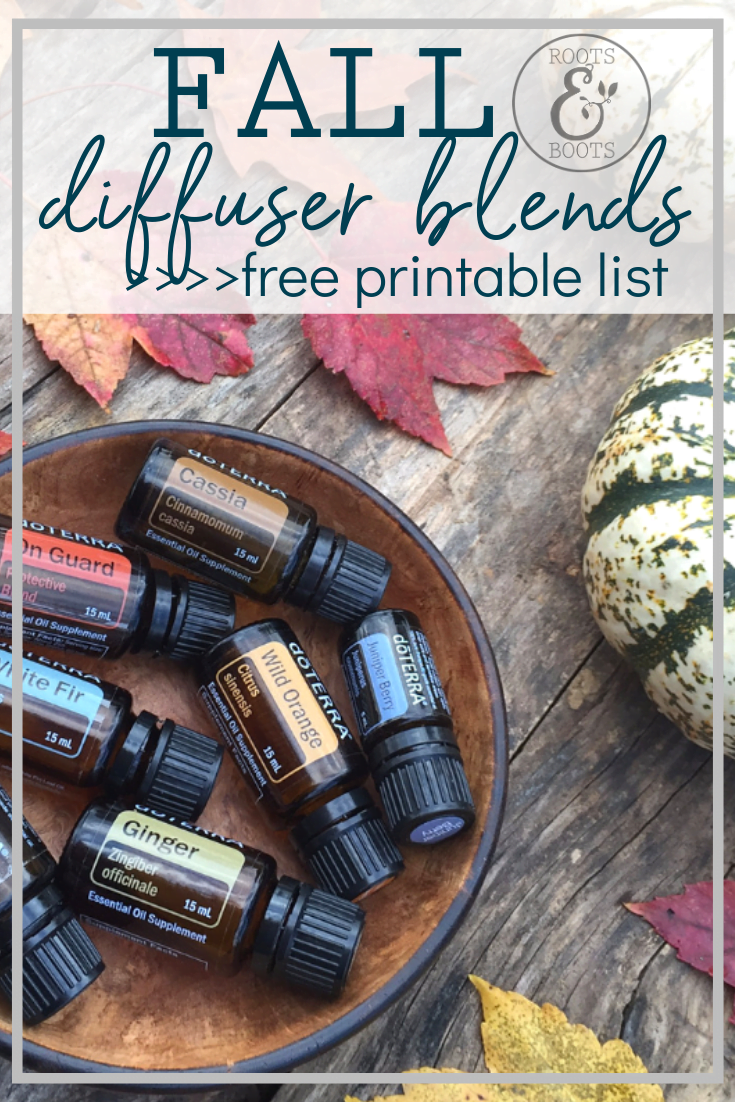 Did you know that most scented candles, plug ins and room sprays actually polute the air of your home? It's true. When you burn a scented candle, it adds known toxins to the air your family breathes.
You can read more about that here.
Cozy, right?
Essential oils, on the other hand, do more than make your house smell like Apple Pie, Autumn Leaves, or Gingersnaps. When diffused into the air, essential oils actually cleanse and purify the air.
AND when essential oils are inhaled from the air, they provideall kinds of therapeutic benefits like immune support, respiratory support, and even emotional support.
That's a lot of bang for your buck, folks.
So add some water to your favorite diffuser and pick a cozy fall diffuser blend from the list below. Enjoy the season's aromas while purifying the air of your home and supporting the health of the folks who live there.
Click here for my favorite way to purchase essential oils.
Happy Fall and happy diffusing!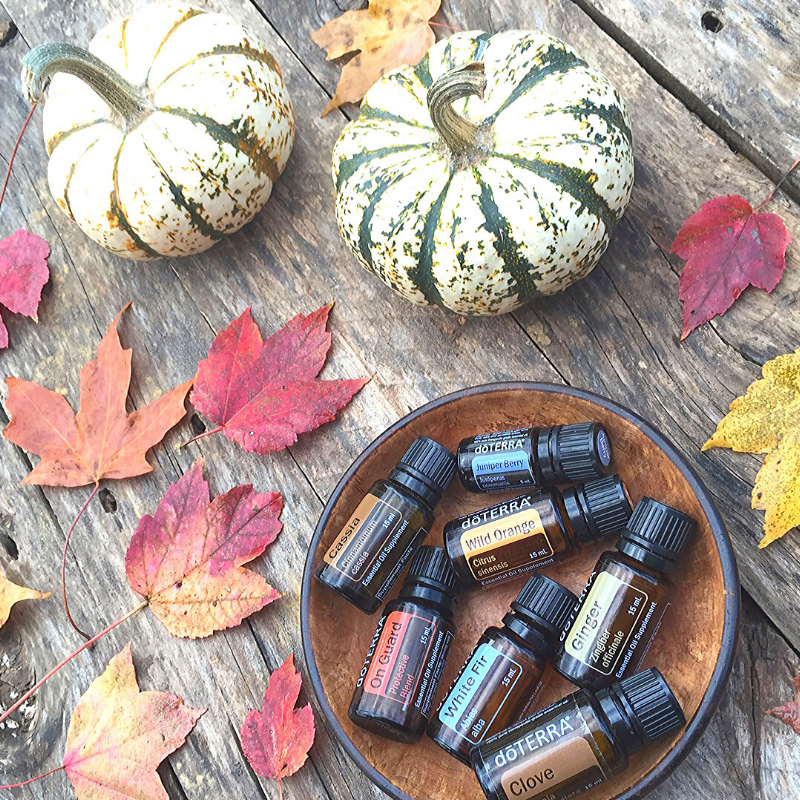 Fall Diffuser Blends
Here are just a few ideas to get you started. With so many essential oils to choose from, the possibilities are endless! Start with these fall diffuser blends, then mix and match to create your own customized blends.
PS–The first fall diffuser blend on the list is my current favorite. It's delightful.
More diffuser blends & resources:
And the best news of all: get a free printable of this list! Keep the list near your diffuser and you'll be ready to fill your home with cozy, healthful scents all season long.
Fall Diffuser Blends
Enter your email below to get the printable list.
1. Orange Pomander
3 drops Wild Orange
3 drops Rosemary
2 drops Clove
2. Gingersnaps
3 drops Ginger
2 drops Cassia
2 drops Clove
3. Fall Harvest
4 drops Cedarwood
3 drops Cassia
3 drops Wild Orange
2 drops Juniper Berry
4. Apple Pie
3 drops Douglas Fir
2 drops Cinnamon
3 drops Citrus Bliss
5. Crisp Autumn Spice
4 drops Cardamom
2 drops Wild Orange
1 drop Cinnamon
1 drop Clove
6. Evening by the Fire
3 drops Douglas Fir
3 drops Frankincense
2 drops Sandalwood
2 drops Lavender
4 drops Wild Orange
7. Autumn Bouquet
2 drops Cassia
2 drops Wild Orange
8. Flannel Shirt
4 drops Bergamot
2 drops Cedarwood
2 drops Balance
9. Sweater Weather
3 drops Eucalyptus
2 drops Juniper Berry
2 drops Marjoram
10. Immune Support
3 drops On Guard
3 drops Lemon or Wild Orange
11. Citrus Forest
2 drops Lime
2 drops Lemon
1 drop Wild Orange
1 drop Bergamot
1 drop White Fir (or Siberian Fir)
12. Snuggle by the Fire
2 drops Cinnamon
2 drops Clove
2 drops White Fir (or Siberian Fir)
13. Autumn Leaves
3 drops Wild Orange
2 drops Juniper Berry
14. Trick or Treat
3 drops Patchouli
2 drops Frankincense
2 drops Clove
2 drops Spikenard
15. Thanksgiving Joy
3 drops Cypress
2 drops White Fir (or Siberian Fir)
2 drops Sandalwood
16. Give Thanks
2 drops Ginger
2 drops Coriander
2 drops Cinnamon
1 drop Clove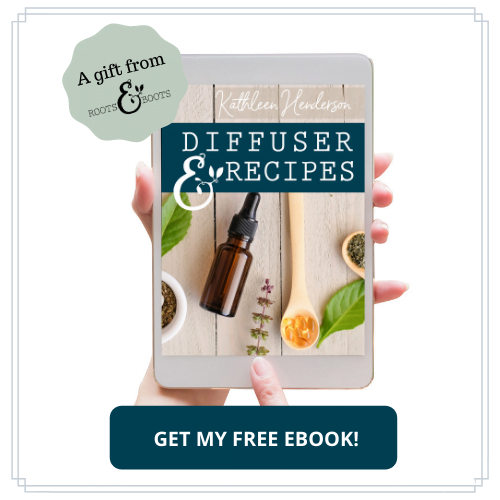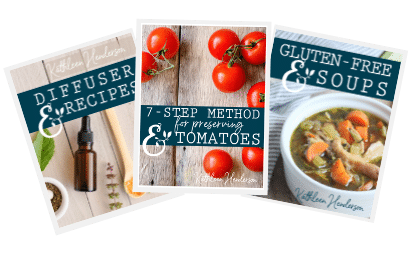 Sign up NOW for my best tips delivered weekly to your inbox!
You'll also get instant access to my library of free ebooks and resources.