You're grape! Valentine Bag Toppers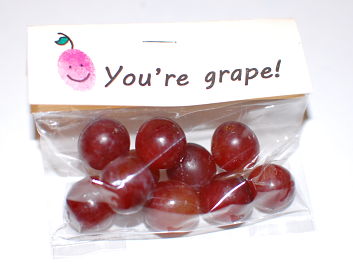 This post may contain affiliate links, which means I make a small commission at no extra cost to you.
See my full disclosure here.
Looking for a cute, edible, non-candy, mass-producible Valentine idea?
Try this!
This cute idea is not limited to Valentine's Day.  It would make a fun treat for any number of situations: lunchboxes, picnics, classroom birthday treats, birthday party favors and more!
When our homeschool co-op of about 30 kids decided to do a valentine exchange, I knew we wanted to do something original.
My criteria: 
Homemade
More than just a paper valentine
Cute, but simple (Preferably using supplies we already had on hand)
Economical
Edible, but no candy!
I searched and searched online, but couldn't find just what I was looking for.  So I made my own.
The result is a combination of several ideas.*  It's not super-fancy, but the valentines are cute and original.  (You could go all pinteresty and jazz it up with ribbon, etc., if desired.) Best of all, they're a gluten-free, refined sugar-free, wholesome valentine treat!
*These bookmarks and bag toppers served as my inspiration.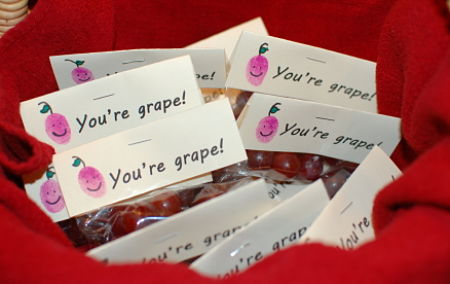 You're Grape!  Valentine Bag Toppers
You will need:
**This looks like a complicated list, but we actually had everything on hand.
**All the supplies (except the grapes, of course) should be available at any craft store.
Free, printable pdf file (8 bag-toppers per sheet): You're grape! Valentine bag toppers 
8.5×11 cardstock (We used ivory).
Purple ink pad, preferably washable
1 child's finger tip (or 1 adult pinky tip)
Fine-tipped black marker, to draw stem, leaf outline and face
Fine-tipped green marker to color in leaf
Optional: to/from labels (We used Avery 8160 mailing labels, 30 per sheet)
4″ wide cellophane bags (like these) — They don't need to be very tall, but they do need to be 4″ wide in order to fit the bag-toppers.
Stapler (& staples)
Grapes!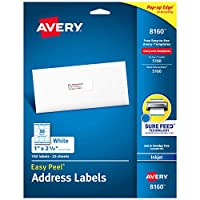 Instructions:
Print your bag-toppers.  You may want to print a test sheet on regular paper.  You may even want to try printing one or two grapes on this paper, before starting on your nice cardstock.
Cut bag-toppers apart.  I recommend a paper cutter, as opposed to scissors, for nice, straight lines.  (And you can cut several sheets at a time.)
Using a small finger tip, make one "finger-print-grape" on each topper.  Be sure to position each "grape" with enough room for the stem and leaf.  I recommend folding at least one topper to see where the crease will land.
Allow ink to dry, then draw on stem, leaf and face.
Color in the leaves.
Allow marker ink to dry.
Carefully fold each topper in half, to fit on top of the cellophane bags.
Optional: Print to/from labels, and add recipients' names.
Place one label on the back of each bag-topper.
Wash and dry enough grapes to place about 10 in each bag.
Place grapes in each bag.
Trim excess from tops of bags.  I wanted my toppers to sit just above the grapes, so we had to trim quite a bit from the top of each bag.  Be sure to leave enough room to fold bags over once.  The folded overlap should be about the size of your bag-topper.  (The topper will hide the folded part).  To speed things up, I cut 3-5 bags at a time.
Place toppers over the folded top of each bag, securing with one staple.
That's it!  Distribute and enjoy.

What a grape idea!
Happy Valentine's Day!
Here's another fun, non-candy valentine idea: You're Out of this World!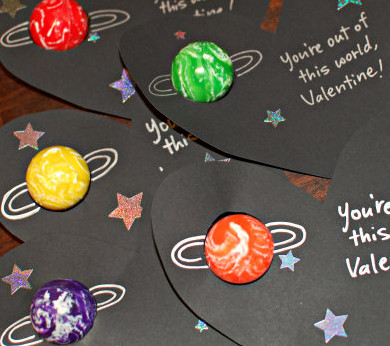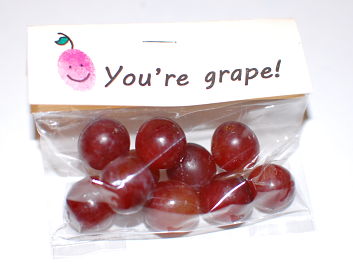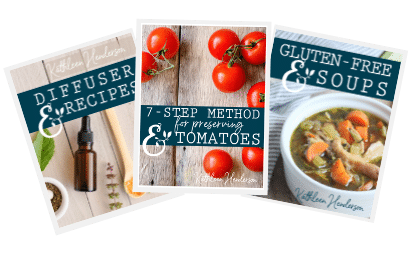 Sign up NOW for my best tips delivered weekly to your inbox!
You'll also get instant access to my library of free ebooks and resources.