Toxin-free Cleaning: My Secret Weapon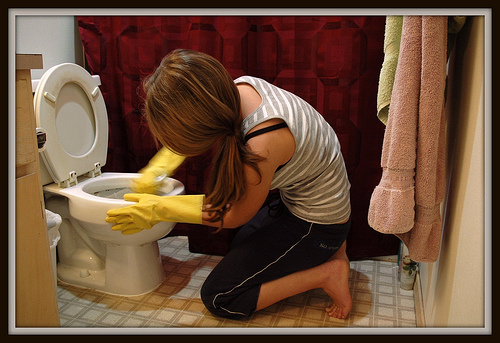 This post may contain affiliate links, which means I make a small commission at no extra cost to you.
See my full disclosure here.
First, two confessions.
Then, a marvelous recommendation.


(And stay tuned for an exciting giveaway.)
Ready?
Confession #1: We use bleach in our toilets.
Yes, bleach is terrible and should be avoided at all costs.  I know, and I agree.  That's why we don't use it anywhere else.*
But we live out in the country, with our own well-water which happens to be quite hard.  (The water is hard.  Living in the country is not hard.  It's fun.)
Our water is so hard, that when we moved in a few years ago the toilets looked absolutely filthy and seemed beyond all hope.  I wanted to post little signs in the bathrooms declaring something along the lines of "We really do clean our toilets.  The stains are from our well-water.  We promise."
As yours truly was enormously pregnant and in poor health, the saintly Mr. Native Texan scrubbed each of our three toilets until they shined.  I'm talking down-on-his-knees, hugging-the-toilet, little-green-scouring-pad-scrubbing.  Due to my "No Bleach Allowed" policy, he used Borax.  And huge amounts of elbow grease.  Bless him.
[Confession #1.5: I also own a Clorox Bleach Pen.  I don't use it often, but it's really the only thing that will remove stubborn stains from little boys' white shirts.]
Confession #2:  We have a cleaning lady.
She is wonderful, and I'm immensely thankful for her, as well as for a husband who encourages me in this way.  When we first moved in, as previously mentioned, I was in the midst of a high-risk pregnancy while trying to care for a three-year-old.  Our new house was twice the size of the former one, and had three levels.  Keeping it clean was simply impossible.  I could barely manage day-to-day life, let alone stay on top of housecleaning responsibilities.
That's when we hired help.  It was such a blessing!  Eventually my health did begin to improve, but I was now cooking just about everything from scratch, on top of caring for two young children and attempting to homeschool.
The wonderfully supportive Mr. Native Texan considers our "cleaning lady fee" to be part of our "homeschooling costs".  (And I regularly ask myself how women managed it all, back in the olden days…which is perhaps a topic for another time.)
Hard water + Cleaning lady = Bleach in the toilets
Our wonderful cleaning lady accommodates my requests for hot water and vinegar in the rest of the house, but I won't ask her to scrub the toilets with Borax and elbow grease.
Now, on to my marvelous recommendation:
The Amazing E-cloth.
Have you heard of it?  Here's the nutshell version: it's a special microfiber cloth which cleans super-effectively using only hot water.  No liquids, cleaners or soaps needed.
But first, the Norwex Envirocloth
My introduction to high-quality microfiber cleaning cloths came in the form of a hostess gift from my dear friend Heather.  As a token of thanks for hosting her family of five for their week-long stay at our home last year, she brought me a lovely…cleaning rag.  (She brought other things, too, but this post is about cleaning rags).
That particular rag, or cloth, was actually from a company called Norwex.  At that time, I knew absolutely nothing about microfiber cleaning cloths.  But I did have an ongoing issue in our upstairs bathroom, and this unassuming blue rag delivered precisely the solution I was looking for.
A problem
The problem was this: I needed a good system for keeping the bathroom (namely, the vanity, sinks and mirrors) clean between actual cleanings.
Both paper towels and regular rags proved problematic, for a variety of reasons.
Paper towels get expensive, and they're wasteful.
Rags get stinky and gross, and produce lots of laundry.
Problem solved
My new Norwex Envirocloth was the perfect solution!  I kept it on a hook inside the bathroom cabinet door, and used it whenever I needed to wipe down the counter, mirrors or sinks. Not only did it clean well, it lasted for days or even weeks before starting to stink, at which point I tossed it in the wash.  No paper towel waste; no excessive laundry; no stinky, gross rags.  Simple, non-toxic and effective!  Hooray!
Another problem
The next problem was that I had only one special cloth.  To keep the cleaning cycle going while Cloth #1 was being laundered, I needed a second cloth to store in the bathroom.  In addition, I could see how these amazing cloths would be helpful for all sorts of cleaning jobs around the house.
When I went online to research my Norwex Enrvirocloth, I learned A). Norwex products are expensive and B). Norwex is a direct sales, multi-level marketing company.  Meaning I'd have to locate a Norwex dealer or attend a Norwex party in order to buy more of the expensive cloths.  (Or buy them on ebay, which was just as expensive.)
And finally, the E-cloth
That's how I discovered the E-cloth.  Online, I kept coming across articles and reviews about "Norwex vs. E-cloth."  Apparently, the E-cloth was comparable to the Norwex Envirocloth.  Since it was sold as a regular retail product, as opposed to a direct sales product, it was less expensive.

My research eventually led me to My E-cloth, a wonderful E-cloth online vendor offering special promotions and discounts that make the E-cloth (and other E-products) even more affordable.  We decided to give the E-cloth a try, comparing its performance to the Norwex Envirocloth.
We liked the E-cloth so much that we wound up ordering a bunch more, for many more cleaning purposes around the house.  We now keep several in the kitchen, laundry room and each bathroom.
Here's what I love about the E-cloth:
No cleaners necessary: The E-cloth cleans effectively using only hot water.  You can google all sorts of info and reviews about how this works.  Or check out RuthAnne's video below…

Can't see the video?  Click here.
Excellent performance: They really do work better than regular rags!  Instead of pushing dirt and crumbs around on the surface you're trying to clean, the microfibers actually grab the debris and hang on to it until you rinse and rub the rag under hot water.
We've been amazed at how well they clean in the following situations:
Our stove's ceramic cooktop
Kitchen counters & other surfaces
Stainless steel tea kettle (which lives on top of our stove and is constantly splattered with oil & grease)
Dishes
Refrigerator interior
Bathroom counters & sinks
Faucets, handles & hardware
Mirrors
And more!
Less laundry: I use the Professional E-cloth with Silver.  The silver embedded in the cloth actually destroys any bacteria left in the cloth after you rinse it out.  This is why the cloths last for so long between washings without getting stinky.  I absolutely love this about the cloths.
In the kitchen, we probably use one rag for about a week before washing it.  With regular rags, I had to change them out at least daily.  In the bathrooms, we change them out even less frequently.  [Note: I haven't attempted to clean toilets or showers with my E-cloths, although I've read lots about people who do.]
Professional E-cloth with Silver are guaranteed for 1000 washes.  If you wash your e-cloth once per week, that's 19 years of use!  Even if you wash your e-cloths more often, you're still getting years of use from each cloth.  I've had mine for only six months or so, and they're still going strong.
The Verdict
I highly recommend the E-cloth for non-toxic cleaning and my favorite source is My E-cloth.
What Others are Saying:
Tips for Using the E-cloth:
Rinse with hot water before and after using your E-cloth.
Fold and wipe, fold and wipe. 
Wash your E-cloth in hot water.  I found that washing the cloths in warm water wasn't enough.  They still had a slight odor.  Washing them in hot water did the trick.  Some people actually boil the cloths in hot water on the stove top.
Avoid washing the E-cloths with towels or other lint-producers.  The cloths will grab tons of lint, rendering them ineffective and requiring a subsequent washing.  I throw mine in with sheets or T-shirts.
Do not use bleach or fabric softeners.  Hopefully you are not using bleach or fabric softeners anyway, as they are quite toxic to the health of your family!  Check out this post about my favorite natural laundry products for safer alternatives.
Line dry.  Do not put them in the dryer.  They dry super-quickly and come with a handy little tag on one corner, which you can use for easy hanging.
Use only hot water when cleaning.  Do not use cleaning liquids or soap.  I believe you should even steer clear of Essential Oils.  All these substances will decrease the life and efficacy of your E-cloths.  And besides, the cloths work just great with water only.
Read more here.
Tips for Purchasing from My E-cloth:
Free Shipping:  Shipping is free with a $50 purchase.  [UPDATE: I'm told that shipping is now free on ALL domestic orders, of any purchase amount!  Whoo-hoo!  International customers can receive free shipping on all Professional Line products by contacting RuthAnne directly.]
Discounts: Never make a purchase from My E-cloth without a discount of some kind!

Subscribe to the newsletter.
(Visit the website's home page and scroll down on the left side to "Mailing List."  Enter your email address and click on "Subscribe.")  This is a good way to know about special promotions.
Like My E-cloth on Facebook.
Special deals are posted on the FB page, too, and will show up in your newsfeed.
NOTE: Click on "Sign up for Deals" under the "About" tab at the top of the FB page to get a %-off coupon.
Stay Tuned…
Would you like to WIN an E-cloth Professional with Silver "Beginner Pro Set"?  One lucky Yankee Homestead reader will win this set (pictured above) next week!  The giveaway begins this Thursday, so be sure to stop by for a chance to win your own Amazing E-cloths.
Don't miss out!  Subscribe to Yankee Homestead today to receive the Giveaway details directly to your inbox.
More favorite ways to avoid toxins in the home: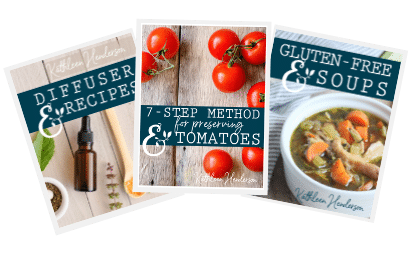 Sign up NOW for my best tips delivered weekly to your inbox!
You'll also get instant access to my library of free ebooks and resources.