Join the Seasonal Club.  Ditch the processed life! Learn to grow, source, preserve, and prepare real foods ALL YEAR LONG!  LEARN MORE >>
Join the Seasonal Club.
Ditch the processed life! Learn to grow, source, preserve, and prepare real foods ALL YEAR LONG!  LEARN MORE >>
Turn Stale Sourdough into Savory Sourdough Croutons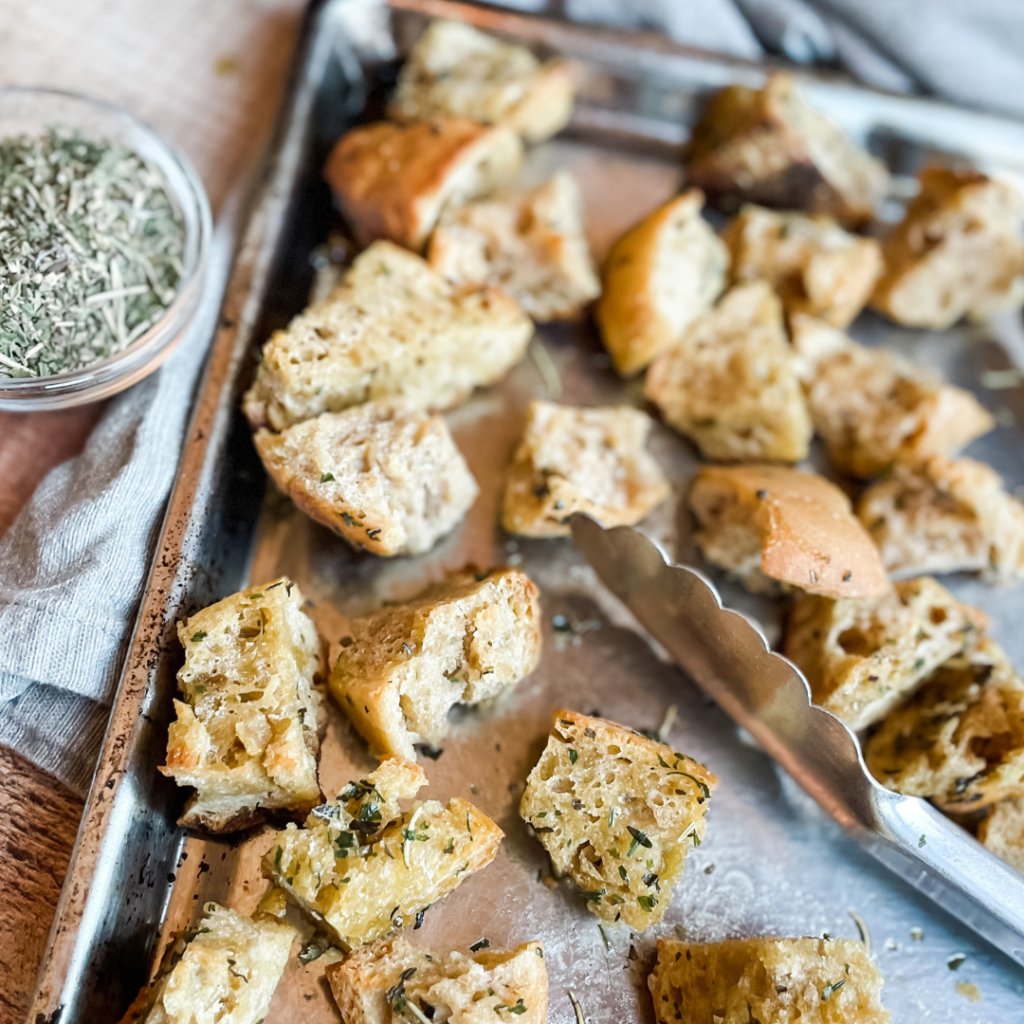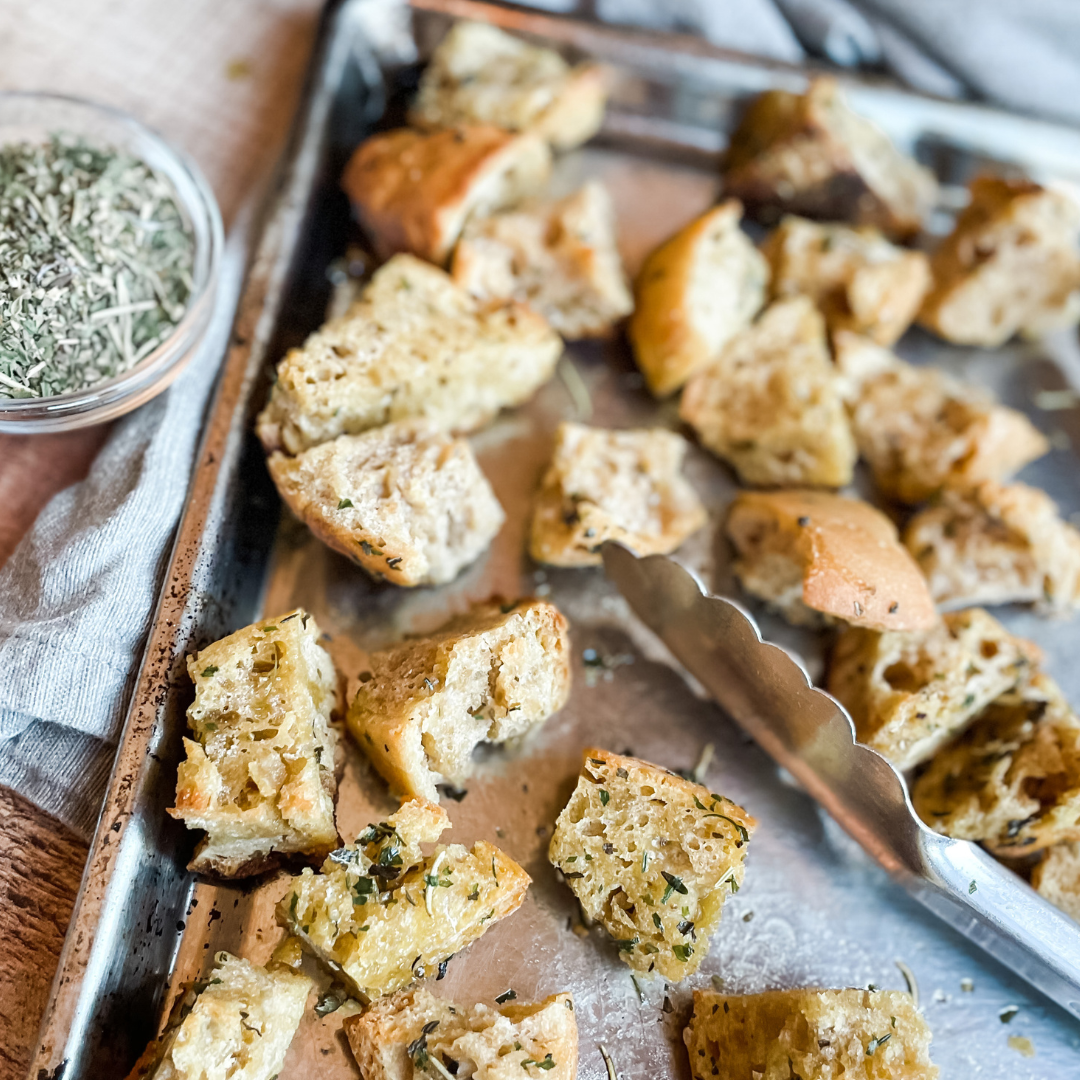 This post may contain affiliate links, which means I make a small commission at no extra cost to you.
See my full disclosure here.
Got stale sourdough? Turn it into savory sourdough croutons!
Savory sourdough croutons
Savory sourdough croutons are the perfect use for the end of a sourdough loaf that's gone stale. I love to serve them with homemade soup, but they also work well with a green salad or even as a stand-alone snack.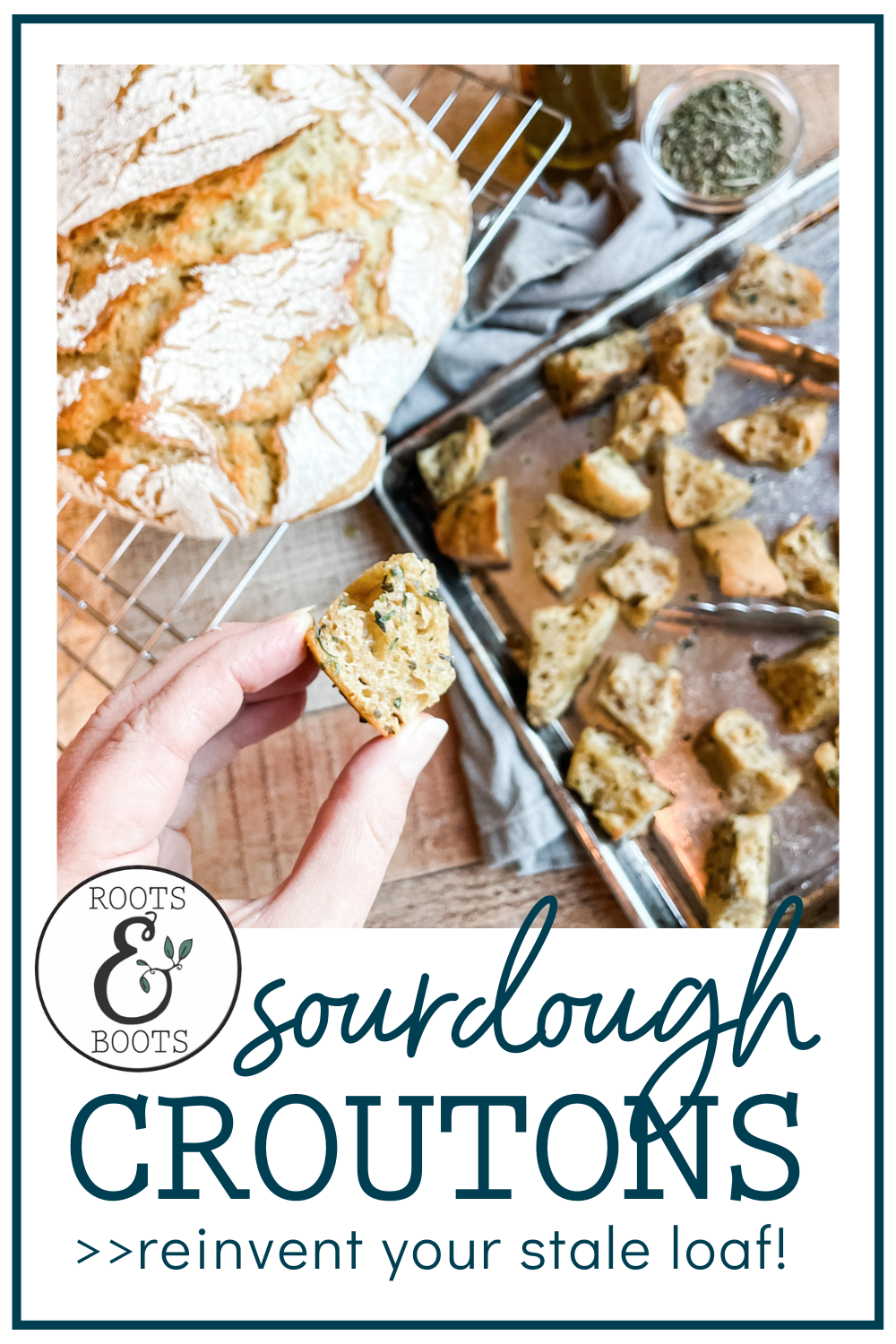 I've gotta shout out to my aunt-in-law who whipped up these croutons during a stay with my boys while Greg and I enjoyed a getaway trip (to NYC, if you're curious).
When I got home, the boys told me all about these delicious croutons and begged me to make them. I texted said aunt-in-law who sent me the simple instructions and voila: a new family favorite!
This isn't even exactly a recipe per se, but more like a simple guide for reinventing the stale end of your leftover sourdough loaf into something delicious your family will go nuts over.
Is sourdough gluten-free?
You may be wondering how we can eat sourdough when my family avoids gluten.
First of all, if you are celiac, you should probably avoid sourdough and ignore the rest of what I'm about to share here. However, I have heard from celiac followers on Instagram who have been able to introduce Einkorn sourdough under the care of a physician.
Celiacs should definitely proceed with caution and ALWAYS consult a trusted practitioner.
For the rest of us who avoid gluten due to autoimmune issues or other health concerns, you need to know that Einkorn sourdough may be a possibility for you.
What is Einkorn?
Einkorn is an ancient form of wheat. It's quite different from our modern wheat–what many have dubbed "franken-wheat"–in that it is unadulterated, free from hybridization, and also free from pesticides and herbicides.
Did you know that experts are now questioning whether the rise in gluten intolerance is indeed a sensitivity to gluten or rather, a sensitivity to the chemicals sprayed on wheat crops?
You can think of Einkorn as the original, unprocessed wheat. For this reason, many folks who cannot normally tolerate gluten are able to thrive on Einkorn.
Personally, I only eat fermented sourdough Einkorn. I do not bake with Einkorn other than for sourdough. And I do not eat any sourdough other than Einkorn sourdough.
This is a decision I discussed at length with my holistic MD and we decided together that, after years of avoiding gluten, I was ready to try Einkorn sourdough. My family loves it, and so do I!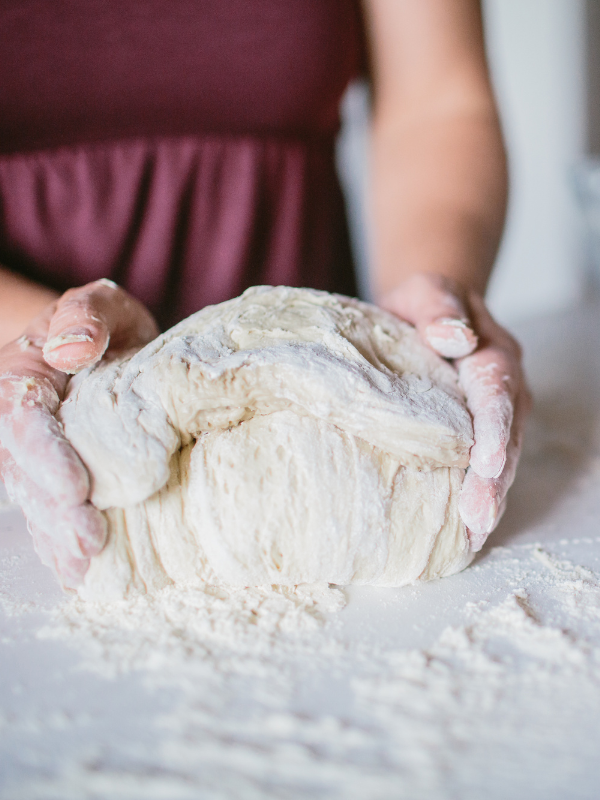 Einkorn sourdough recipes
If you're looking to get started with Einkorn sourdough, you will love the simple recipes in my Sourdough & Home Dairy ebook. Available exclusively to my Seasonal Club VIP members, it includes the following recipes:
my favorite EASY sourdough overnight loaf
sourdough pizza crust
sourdough crackers (from discard)
sourdough pancakes (from discard)
how to revive a stale loaf of sourdough
plus all my favorite beginner cheese recipes
How to use sourdough croutons
Here are a few ways to put these tasty croutons to good use:
serve with (or in) homemade soup
add to a green salad
eat as a snack
serve a juicy meat like Whole Crockpot Chicken or Slow Cooker Roast Beef over a base layer of croutons to soak up the delicious juices
add to a casserole
crumble and serve over fish for a crunchy topping
crush and add to soup as a thickening agent

Heating olive oil
As a rule, I stay away from cooking with olive oil. Olive oil has a lower flash point than other cooking oils and fats and can become toxic when heated.
For that reason, I tend to choose coconut oil, avocado oil, bacon grease, or butter for cooking and save olive oil for cold dishes and salad dressing.
Although newer studies show that high-quality, extra-virgin olive oil (EVOO), is perfectly safe for cooking. Quality really does matter here! If you're lost when it comes to choosing a high-quality brand of EVOO, check out my Unprocessed Pantry guide to see my favorites.
Whatever your feelings about olive oil, these croutons just aren't the same without it, in my humble opinion. Avocado oil is a close second, and that's what I'd recommend if you prefer to avoid heating your olive oil.
Italian seasoning
You can easily make your own Italian seasoning, or delegate this job to a capable child. My middle guy is in charge of homemade seasonings at my house.
We keep it on hand not only for these tasty sourdough croutons, but also for one of our favorite soup recipes: Sausage & Sweet Potato Soup with Spinach. And by the way, these croutons pair well with this soup, in case you're wondering!
Find our recipe for Italian seasoning here.
Print
Savory Sourdough Croutons
Author:

Prep Time:

5 minutes

Cook Time:

10 minutes

Total Time:

15 minutes
---
Description
Savory croutons are the perfect use for the end of a sourdough loaf that's gone stale. I love to serve them with homemade soup, but they also work well with a green salad or even as a stand-alone snack.
---
Stale sourdough bread

Olive oil

Italian seasoning
---
Instructions
Preheat oven to 400 degrees F.

Chop stale sourdough into 1-inch cubes.

Don't worry if your cubes aren't square!

Just call them "rustic croutons".

Toss cubes with a bit of olive oil and Italian seasoning.

Spread seasoned cubes on a baking sheet and bake at 400 degrees F approximately 8 minutes

or until lightly browned.

Serve immediately.

Store leftovers in an airtight container and eat them SOON as they'll become super crunchy.
---
12 NOURISHING GLUTEN-FREE SOUP RECIPES
Simplify your dinner prep with these tasty, nourishing soups!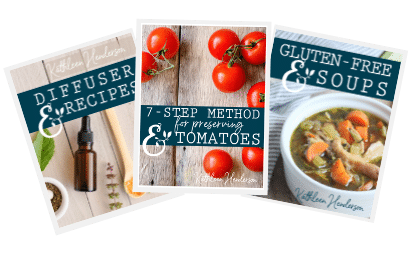 Sign up NOW for my best tips delivered weekly to your inbox!
You'll also get instant access to my library of free ebooks and resources.