Join the Seasonal Club.  Ditch the processed life! Learn to grow, source, preserve, and prepare real foods ALL YEAR LONG!  LEARN MORE >>
Join the Seasonal Club.
Ditch the processed life! Learn to grow, source, preserve, and prepare real foods ALL YEAR LONG!  LEARN MORE >>
Simple Family Scripture Memory System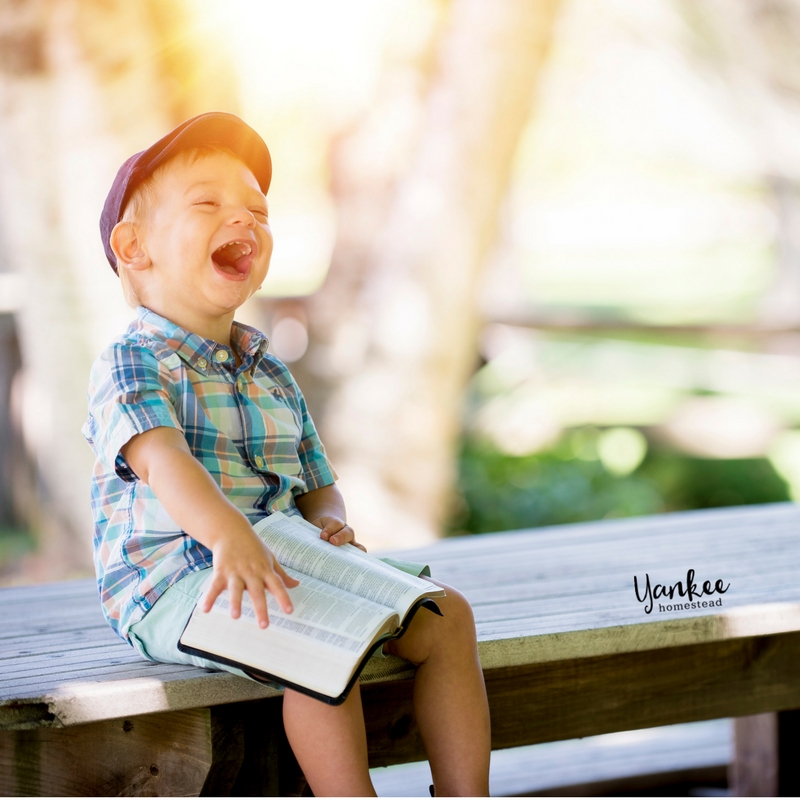 This post may contain affiliate links, which means I make a small commission at no extra cost to you.
See my full disclosure here.
This simple family Scripture memory system really works!  Finally, my family is memorizing Scripture together with lasting results, in five minutes or less each day.
It's one thing to memorize a Bible verse.  It's another thing to keep that verse memorized as you continue to add more verses to your repertoire.  If you've become frustrated in your efforts to commit Bible verses to memory–and keep them memorized–you've got to try this simple system.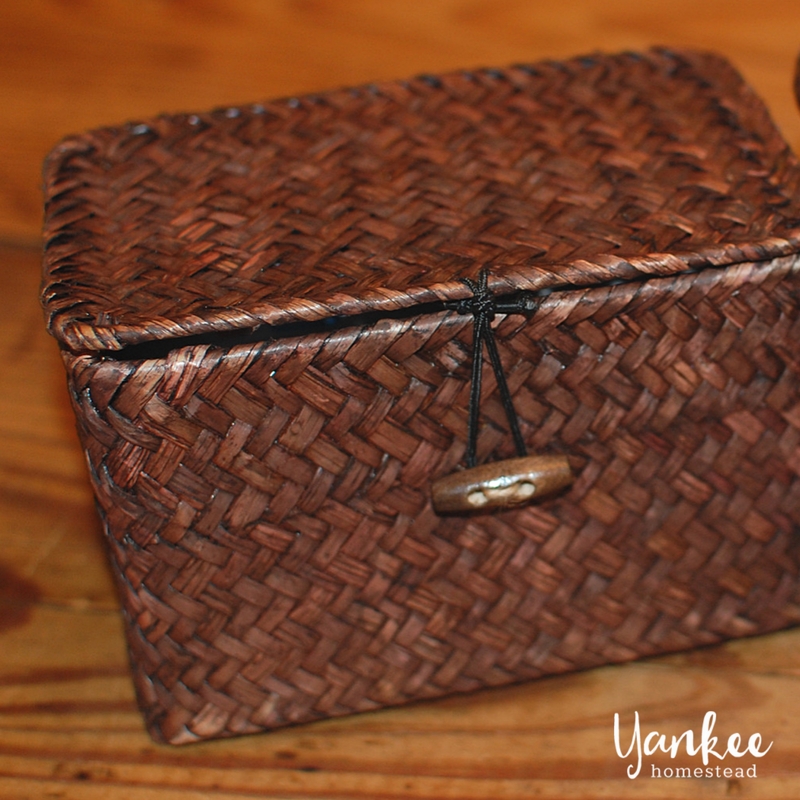 This simple family Scripture memory system requires a little bit of set up at the beginning, but once you've started it's super easy to maintain.  At first, it took some time to make Scripture memory part of our daily routine.  Even now, we sometimes forget or miss a night due to a busy evening schedule.  Most nights, however, we practice our four verses together at the end of family dinner time.
Mr. Native Texan usually conducts our Scripture memory time, but occasionally I fill in or one of the boys gets to lead.  We do it at dinner time, but you can obviously pick the time that works best for your family: breakfast, bedtime, even in the car.
You will need:
1 box or container – index card box, recipe box, basket, etc.
41 tabbed dividers with labels – mine were leftover from another project (see below)
Bible verse cards – easy printables or DIY
I created our family Scripture memory system using an inexpensive woven basket-type box from Hobby Lobby, 3×5 dividers and labels (from the index card boxes I buy at Target to store our card games–pictured below), and free printable Bible verses.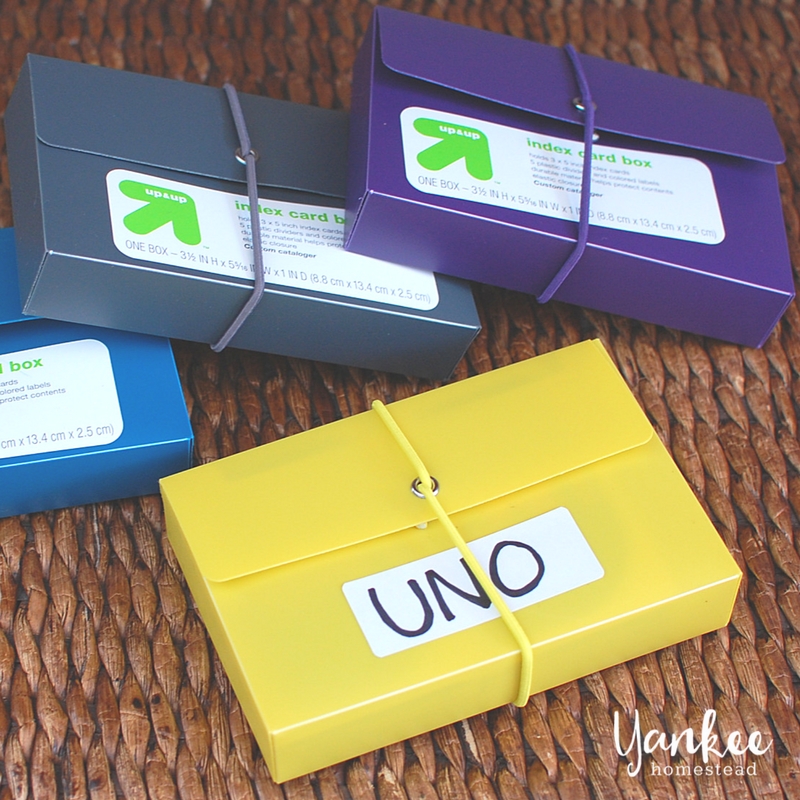 The free printable verses and instructions for the entire system came from Simply Charlotte Mason.  See the Scripture Memory System instructions and printable verses here.  Choose from several sets of Bible verses and multiple Bible translations.  There is even a new app, if you prefer an automatic, digital version!
You can even print out tabbed dividers on card stock.  I didn't want to cut out 31 tabbed dividers, plus I already had extra tabbed dividers on hand.
I also added a set of hand-picked verses by copy/pasting from biblegateway.com to a Word document and adjusting the margins to 3×5.  A third set of verses was added from a family devotional we've been working through; I copied them from the book and pasted them onto 3×5 cards.
As you can see, there are a number of ways you can create your memory verse cards.  Just do whatever works best for you!
How the Scripture Memory System Works:
Start by reading/saying one verse together every day.  That's it.  Keep that verse behind the "daily" tab in your box.
Be sure to say the reference before and after each verse.  It really helps to cement it in your brain!
When you've learned the first verse pretty well, move it to the "odd" tab.
Pick a new verse as your daily verse.  That verse now goes behind the "daily" tab.
Each day you're now rehearsing the daily verse, plus the original verse on the "odd" days.
When the second verse is learned pretty well, move it to the "even" tab.  You'll practice that verse every other day (on the even days) in addition to your current daily verse.
As you learn each new verse, you'll continue to move the verses back through the tabs.  The better you know the verse, the less frequently you need to rehearse it.  But you'll still be practicing each verse on an ongoing basis, which keeps them all on file in your mind.
The free printable verses include an instructions card, which I printed on colored card stock.  Keeping the instructions in the front of the box really helped at the beginning when I was still learning the system.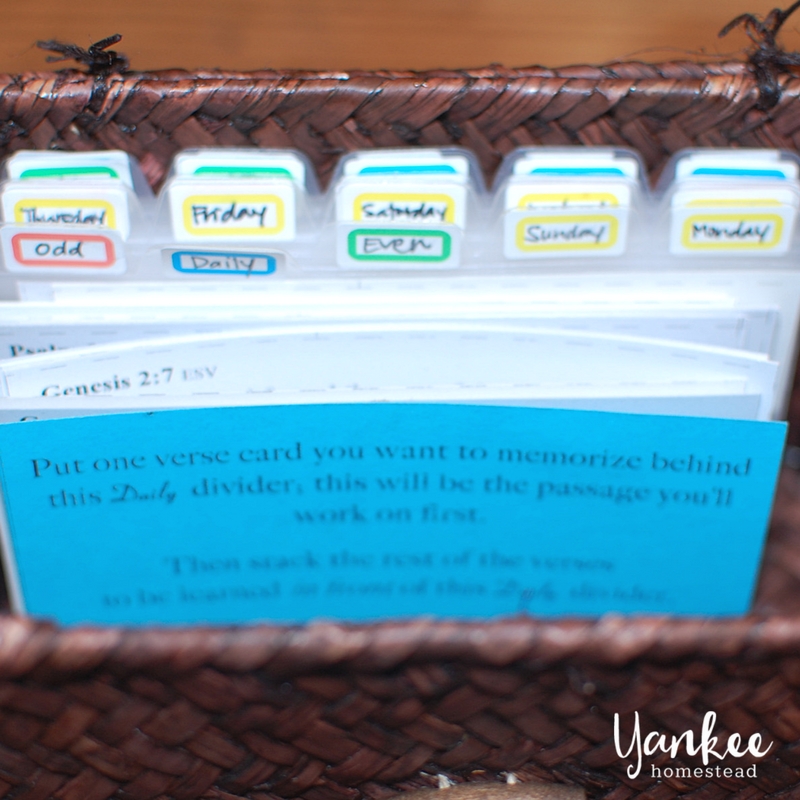 Eventually you'll have four verses per day:
1 daily verse
1 odd/even verse
1 weekly verse
1 monthly verse
It will take a while to memorize all the verses necessary to fill up all the slots for daily + odd/even + weekly + monthly.  41 verses, actually.  After that, you'll start to double up with two verses on odd days, two verses on even days, etc.
Even so, it takes only a few minutes per day to rehearse four verses (and eventually eight verses, etc.).  At some point, you could probably retire certain well known verses and start with a new set.
This simple family Scripture memory system is exactly what I'd been searching for!  It allows us to continually rotate through many verses in a systematic way.  No longer do we memorize one verse and then forget about it.
If you've struggled to find an effective way to memorize Scripture–either on your own or as a family–you should definitely give this Scripture memory system a try.
Does your family memorize Scripture together?  What tools have you found helpful?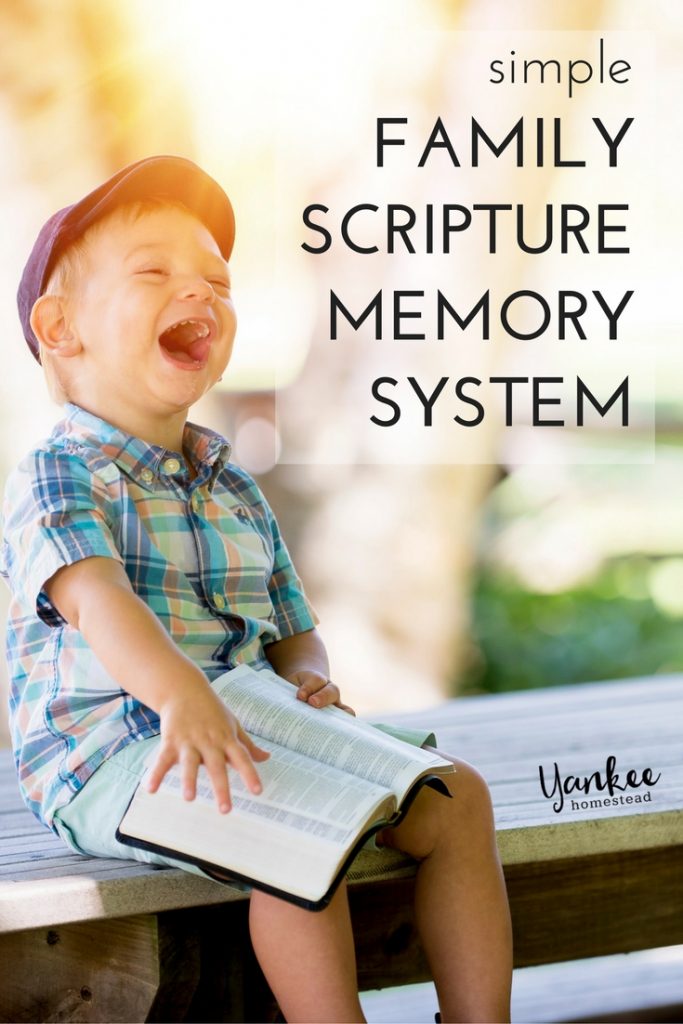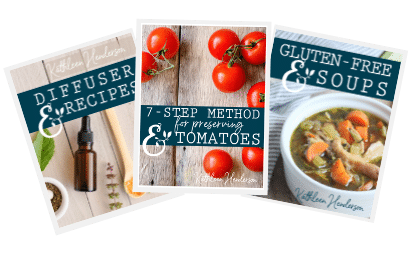 Sign up NOW for my best tips delivered weekly to your inbox!
You'll also get instant access to my library of free ebooks and resources.