Sauteed Green Beans with Bacon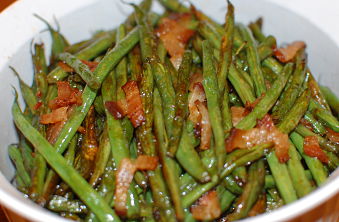 Simplify your dinner prep with tasty, nourishing soups!  My short, practical ebook is filled with my family's favorite one-pot, gluten-free, real-food soup recipes.
Get your copy of Nourishing Soups today!
This post may contain affiliate links, which means I make a small commission at no extra cost to you.
See my full disclosure here.
Plain, steamed vegetables do not taste good.
I recently ordered sauteed spinach at a restaurant, with no butter, please.
Guess what they brought me: steamed spinach without a hint of oil, seasonings or flavors of any kind.
Guess how it tasted: absolutely terrible!
Note: In my experience, the chef at any decent restaurant will know how to prepare flavorful vegetables without butter.  But just in case, I often clarify with the server that I can have oil and seasonings.
At home, of course, it's much easier to cook up flavorful veggies.
I love Nina Planck's straightforward "dress it up nicely" protocol:
Every vegetable should be properly dressed, and to me that means the right fat, a little salt, and perhaps one flavor, such as fresh herbs or good cheese.  [Real Food, p.159]
I try to keep her rule of thumb in mind, keeping my vegetable preparation as simple as possible and using quality fats and good sea salt.
One of my family's favorite vegetable + fat + salt combinations is Sauteed Green Beans with Bacon.  Simple to prepare, this is a delicious way to eat your green beans!
Print
Sauteed Green Beans with Bacon
---
Bacon
Bacon drippings
Green beans
Unrefined Sea Salt
---
Instructions
Cook bacon, reserving the drippings in a bowl. (This step can be done ahead of time).
Heat skillet and add bacon drippings.
Add green beans and saute until you consider them "done."
At the very end, crumble (or snip with kitchen shears) a few pieces of bacon over the beans and mix to combine.
Season with salt, to taste.
Serve!
---
Notes
1. I love Wegmans Cleaned & Cut French Green Beans (in the produce section).
2. Cooking the full bag of green beans (pictured above) requires two batches, or two skillets going at the same time. Or perhaps one giant skillet!
3. Instead of bacon drippings, you could use lard or sausage drippings. (And instead of crumbling bacon over the beans, you could crumble sausage. I've done this and it's good!).
4. We almost always have bacon or sausage in the house, for breakfast purposes. So whenever I cook those breakfast meats, I reserve the drippings for future use. Just this morning I fried up some eggs in bacon drippings!
5. A few tips for saving bacon or sausage drippings (in case you've never done it before):
–Wait for the drippings to cool slightly, to reduce your risk of getting burned.
–Pour them into a bowl. As they cool, they'll solidify and turn white, resembling lard.
–Save in the fridge.
–When needed, scoop out with a spoon.
6. Obviously, you could use raw bacon or sausage, cooking it to the skillet first. Reserve, then add to sauteed beans.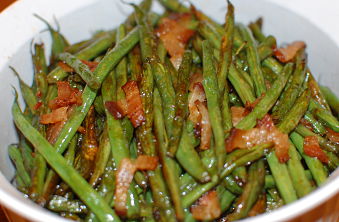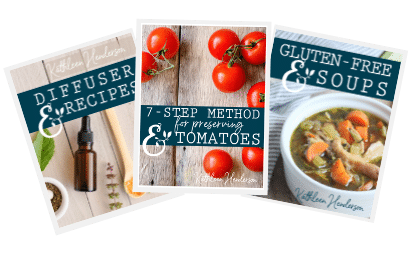 Sign up NOW for my best tips delivered weekly to your inbox!
You'll also get instant access to my library of free ebooks and resources.