Join the Seasonal Club.  Ditch the processed life! Learn to grow, source, preserve, and prepare real foods ALL YEAR LONG!  LEARN MORE >>
Join the Seasonal Club.
Ditch the processed life! Learn to grow, source, preserve, and prepare real foods ALL YEAR LONG!  LEARN MORE >>
Roasted Veggies (and the dangers of heating olive oil)
This post may contain affiliate links, which means I make a small commission at no extra cost to you.
See my full disclosure here.
Roasting is hands down one of the easiest and tastiest ways to prepare vegetables!
Favorite veggies for roasting:
Room temperature is best
When possible, I try to remove the veggies from the fridge in advance, allowing them to reach room temperature before adding the coconut oil.
If the veggies are cold, the oil will solidify immediately upon contact.  This makes it tricky to distribute the oil evenly and usually leads to using too much oil.
Don't cook with olive oil!
Did you know that it's not good to heat olive oil?  This was news to me not so long ago.  You can google all kinds of info on this.  Some of my sources report that heating olive oil actually makes it toxic to the body.
Some people say it's OK to cook with olive oil as long as you don't let it get too hot (its smoke point is around 300°), but I prefer to use it only on salads, in hummus and for other uses that don't require heat.
Coconut has a much higher smoke point, which makes it safe to use for cooking.  Plus, it's SO GOOD for you!  It provides essential, healthy fats and makes everything taste so good.  In this recipe, it definitely brings out a sweetness in the veggies.

Roasted Veggies
Ingredients:
Vegetables, chopped into bite sized pieces
Unrefined sea salt  (I use Redmond's Real Salt)
Herbs (optional)
Instructions:
Preheat oven to 400°.
(Chop veggies.)
Melt coconut oil & drizzle over veggies, or toss with veggies in a large bowl.
Season with salt and optional herbs.
Place on large, rimmed baking sheet.  Do not crowd the veggies.
Bake approx. 30 minutes to 1 hour, stirring or flipping once.
Which veggies do you like to roast?
Like spaghetti squash?  You might like this recipe, too.
12 NOURISHING GLUTEN-FREE SOUP RECIPES
Simplify your dinner prep with these tasty, nourishing soups!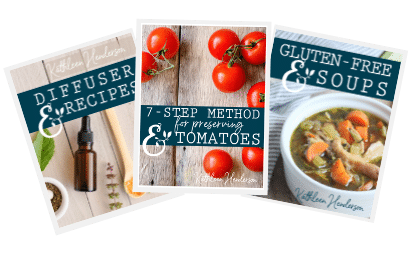 Sign up NOW for my best tips delivered weekly to your inbox!
You'll also get instant access to my library of free ebooks and resources.