Paleo Adobo Beef with Cauli Rice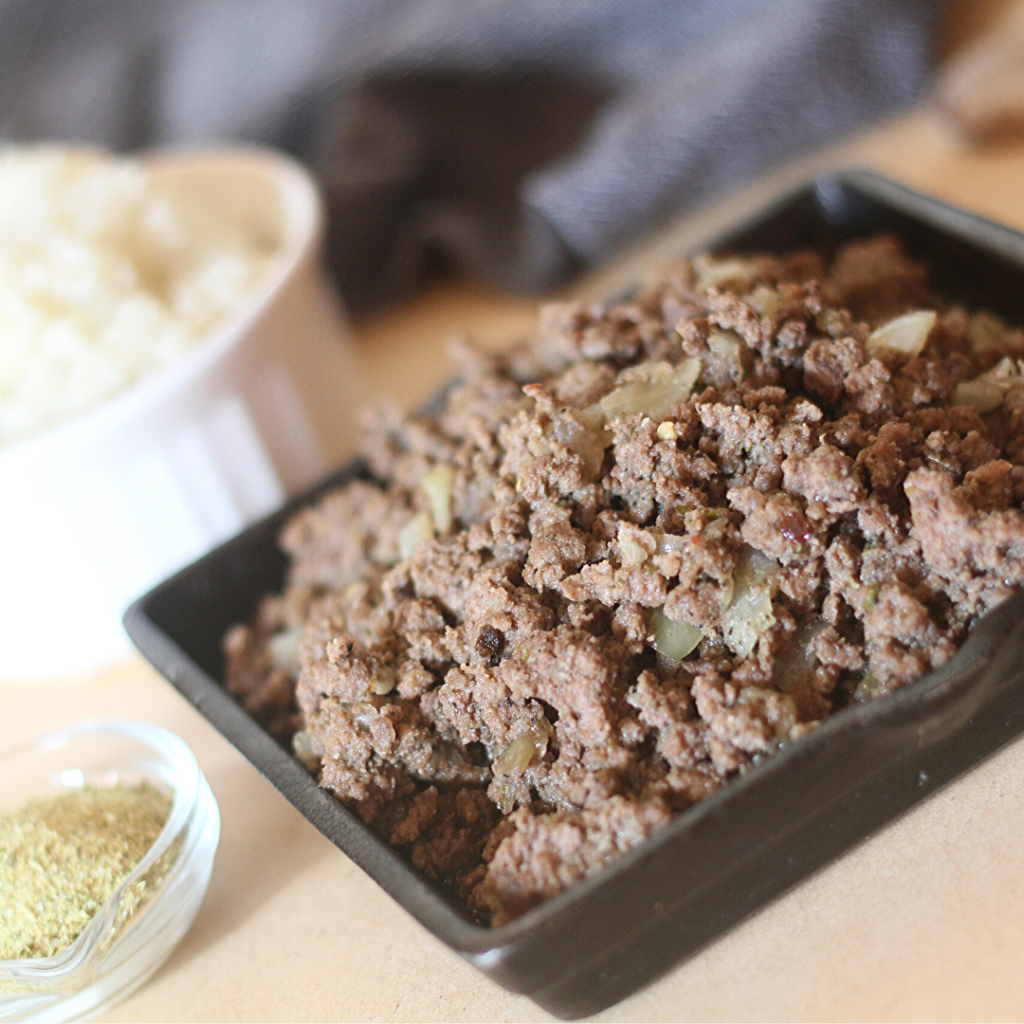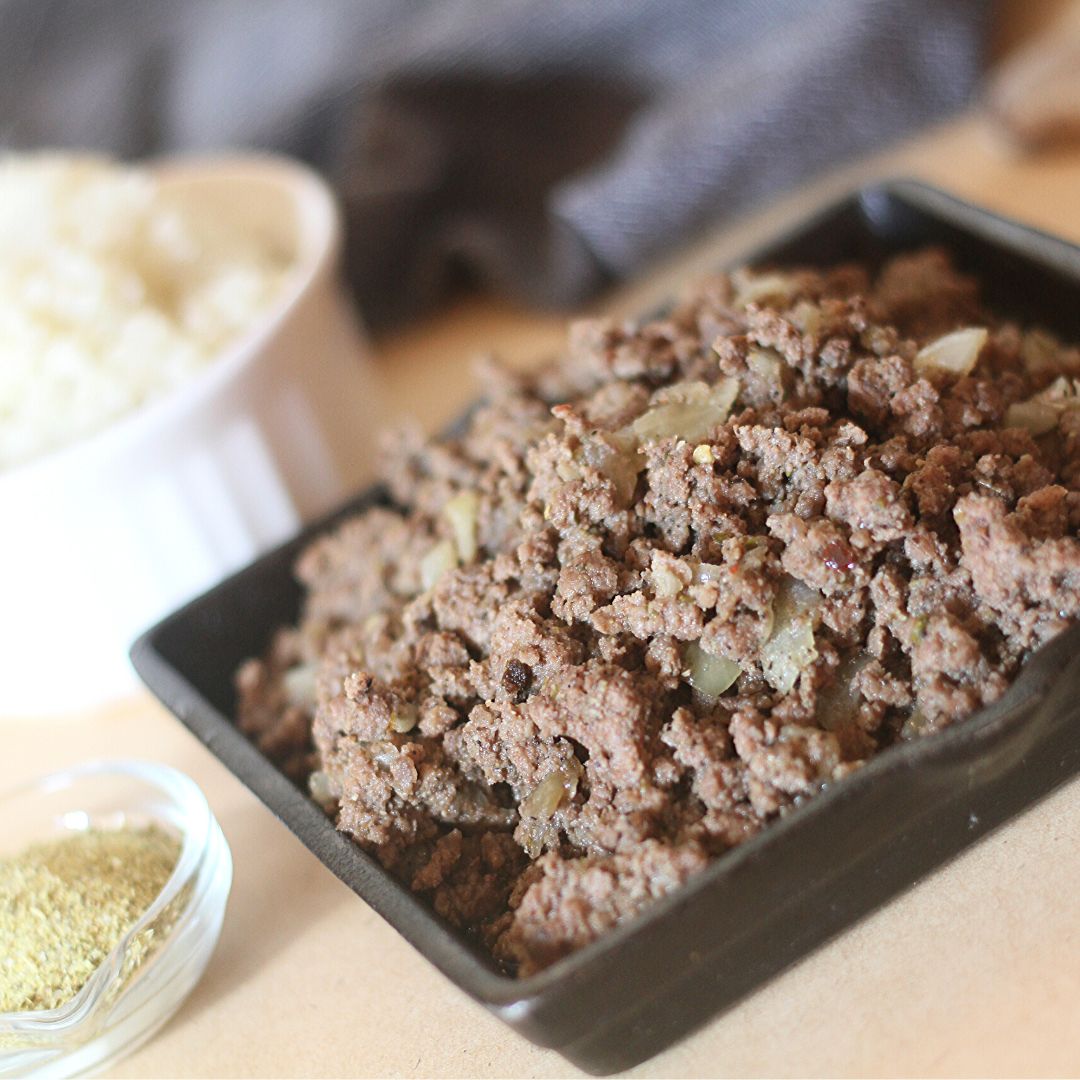 Simplify your dinner prep with tasty, nourishing soups!  My short, practical ebook is filled with my family's favorite one-pot, gluten-free, real-food soup recipes.
Get your copy of Nourishing Soups today!
This post may contain affiliate links, which means I make a small commission at no extra cost to you.
See my full disclosure here.
When your notoriously picky eater cheers for cauliflower, you can mark it down as a major #momwin.
Before we discovered Paleo Adobo Beef…
Seriously, y'all, before we discovered this paleo adobo beef with cauli rice, I was the lone cauliflower fan at my house. I cooked it every which way and everyone hated it. Every single time.
Even Mr. Native Texan, who is usually a good sport about eating things he's not crazy about, specifically stated his strong aversion to cauliflower served in any and every fashion.
These cauliflower mashed faux-tatoes were the closest I came to winning my family over, but it turns out I was the only one who truly liked them. Which makes no sense to me, because the flavor is amazing!
How I won them over
And then a friend served me the most delicious leftovers one day for lunch, and I had to have the recipe. Well, it turned out to be a recipe from a specialized seasonings company and of course it called for their exclusive seasonings.
I was determined to recreate the dish and, in the process, win my family over to cauliflower rice. So I dug around on the internet and began to experiment with seasonings.
Success! My family adores this recipe. Not only do they not complain about the cauliflower, my middle son even requests adobo beef with cauli rice and literally cheers when he finds out it's on the menu.

Tips for making Paleo Adobo Beef
Veggies
This adobo beef with cauli rice is also delicious over roasted carrots, and I imagine it would be tasty with whichever veggies your family prefers.
Seasonings
I know it's a long list of seasonings, but the flavor really is amazing. And most of the seasonings will last a long time since you're using just a dash.
Adobo
Stock up on adobo seasoning and be sure to use the full amount in this recipe. We've tried it with less adobo and all agreed that a full 5 tablespoons is best.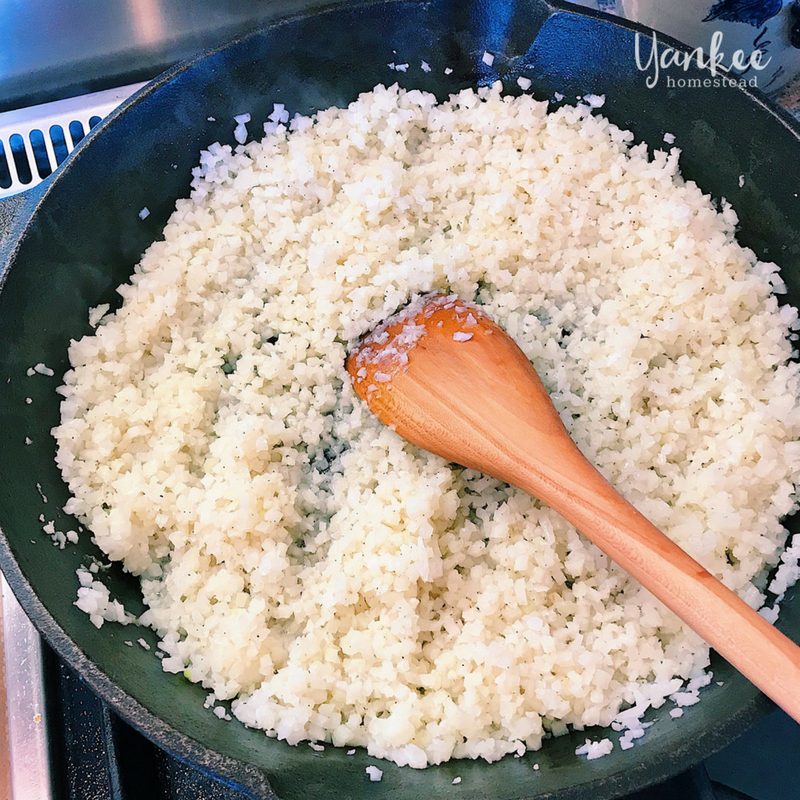 Cauliflower
You can definitely rice your own cauliflower, but a super easy trick is to keep a stash of frozen riced cauliflower. Seriously! I'm a reluctant Costco member, but discovering organic riced cauliflower in the frozen veggie section was a game changer for me!
Recipe size
A full recipe calls for 3 pounds of ground beef and makes about 12 servings. You can definitely cut the recipe in half when cooking for a smaller crowd, but the leftovers store so well that I encourage you to make the full recipe and freeze what you don't eat.
My family of five includes three growing boys and we can easily polish off a full recipe in 2 or 3 meals. In fact, I often double this recipe and make it in two large pots. We eat it for dinner and save some of the leftovers to eat throughout the week, and I still have enough leftover meat to freeze for a future meal or two.
Quick & easy
If you opt for frozen riced cauliflower, I guarantee this meal of adobo beef with cauli rice will become an easy go-to meal for your family. It's so fast!
In one pot you'll cook the beef + onions + seasonings. In another pot or large skillet you'll saute or steam the riced cauliflower.
And that's it! Super easy and super tasty, with plenty of leftovers.
Print
Paleo Adobo Beef with Cauli Rice
Author:

Prep Time:

5 mins

Cook Time:

25 mins

Total Time:

30 mins

Yield:

12

servings

1

x
---
Description
Adobo seasoning creates amazing flavor for a simple paleo dish your whole family will love!
---
---
Instructions
Adobo Beef
Brown ground beef and chopped onions in a large pot over medium heat, breaking up clumps.
As the beef cooks, add seasonings and stir well to combine.
Serve beef on a bed of cauliflower rice.
Cauli Rice
Heat a large pot or skillet over medium heat.
Add 2-4 TB coconut oil (or avocado).
Add riced cauliflower and saute until tender.
Season with unrefined sea salt and ground black pepper.
---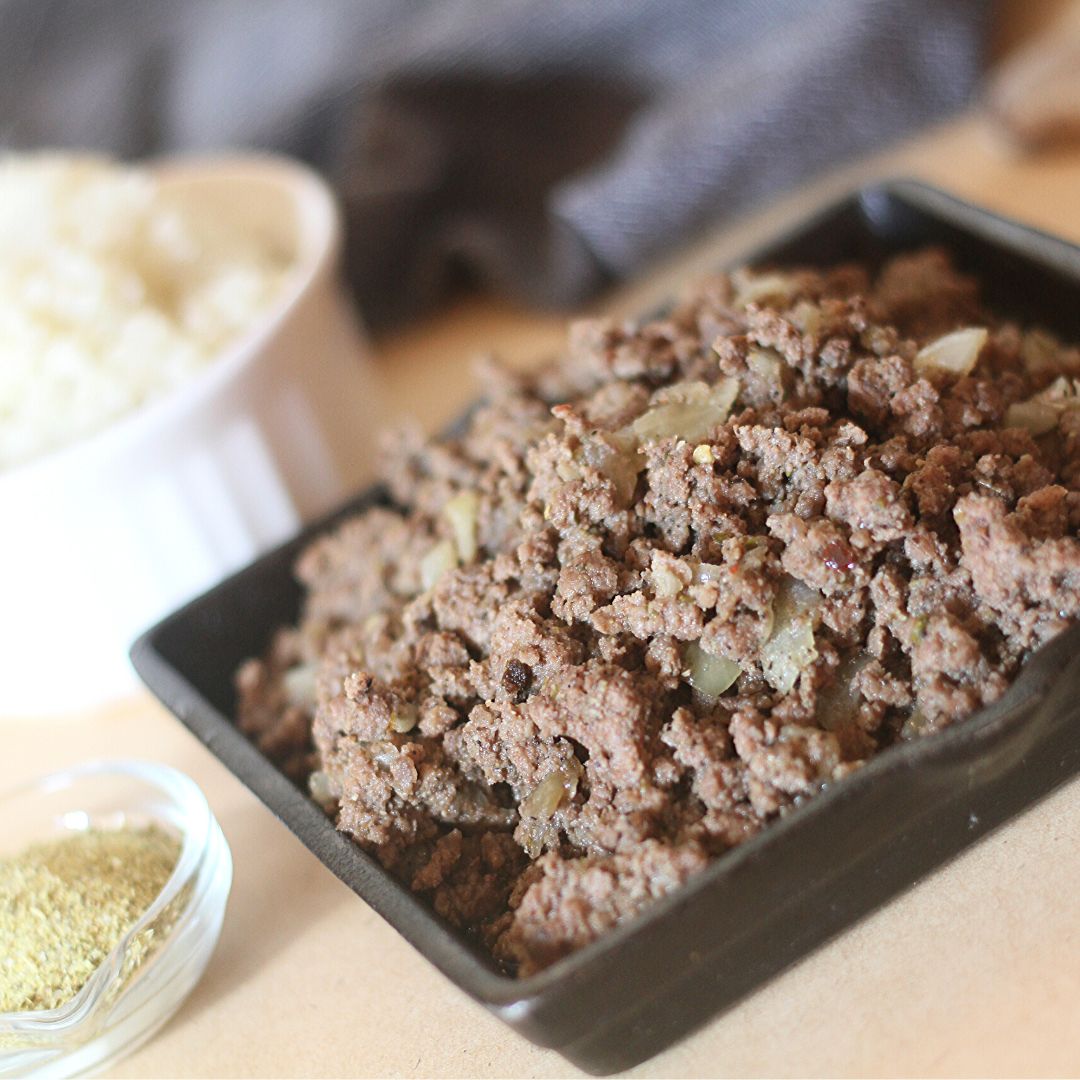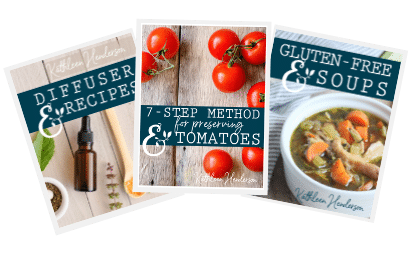 Sign up NOW for my best tips delivered weekly to your inbox!
You'll also get instant access to my library of free ebooks and resources.