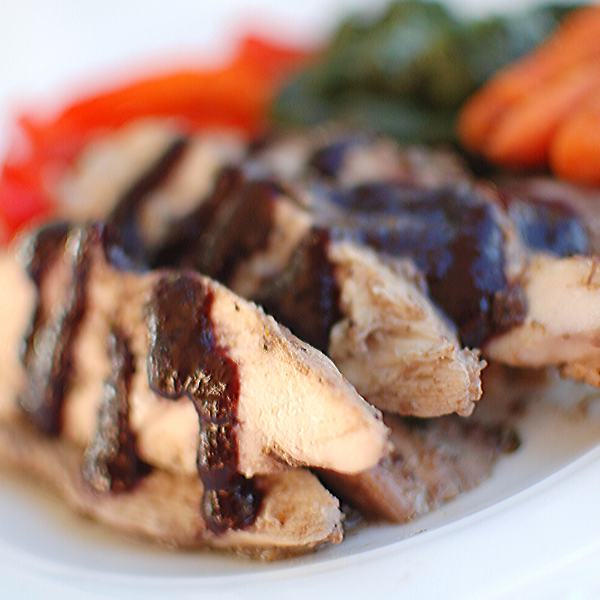 Simplify your dinner prep with tasty, nourishing soups!  My short, practical ebook is filled with my family's favorite one-pot, gluten-free, real-food soup recipes.
Get your copy of Nourishing Soups today!
This post may contain affiliate links, which means I make a small commission at no extra cost to you.
See my full disclosure here.
Raspberry Basil Chicken is a new favorite at our house, a big hit with all three of my boys. Just the other night, Mr. Native Texan suggested that I serve the sauce at every meal, so he can pour it over everything he eats.
I'll take that as a compliment!

I always get a hankerin' to make Raspberry Basil Chicken when my own basil is growing like crazy out in the garden. Bonus points if you use homemade jam!
By the way, I often make Raspberry Basil Chicken with blueberry jam. Which technically makes it Blueberry Basil Chicken, but oh well. It's fantastic either way.
Serve Raspberry Chicken with a bunch of simple, healthy sides such as…
And the leftovers are highly versatile, so go ahead and make plenty of this delicious chicken.
Print
---
4

–

6

boneless skinless chicken breasts or

6

–

8

boneless skinless thighs

1/3 cup

fruit-only raspberry jam (or blueberry jam)

1/4 cup

pineapple juice (or water + liquid stevia to taste)

1

–

2

TB balsamic vinegar

1 tsp

dried basil leaves (or a bunch of chopped fresh basil)

1/4 tsp

unrefined sea salt

1/4 tsp

black pepper

1/4 tsp

dry mustard

1/4 tsp

chili powder

1/4 tsp

curry powder

1

small garlic clove, minced
---
Instructions
Place chicken in greased, shallow baking dish.
Whisk together remaining ingredients and pour half over chicken, reserving the other half for later.
Marinate chicken for at least 30 minutes in the fridge.
Preheat oven to 350°.
Bake chicken for 30-45 minutes.
Heat remaining sauce and serve over chicken.
Garnish with fresh basil, if you like.
---
Adapted from Cooking Free.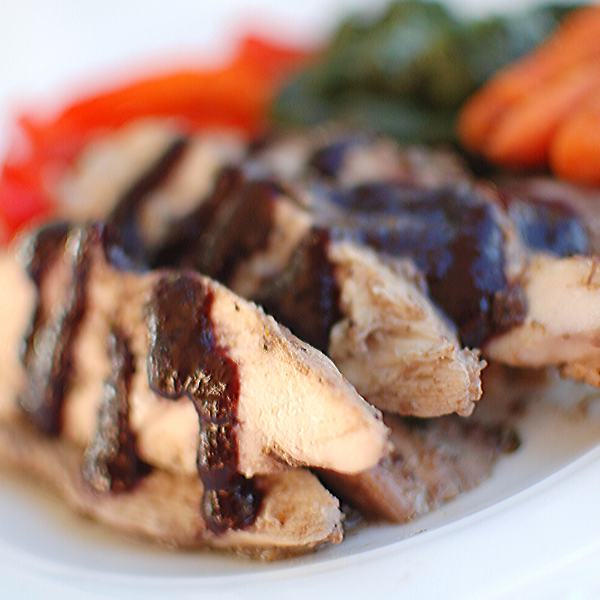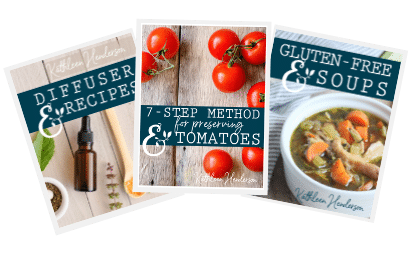 Sign up NOW for my best tips delivered weekly to your inbox!
You'll also get instant access to my library of free ebooks and resources.