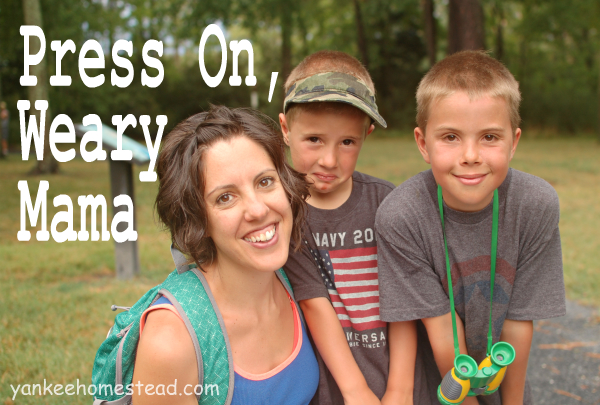 This post may contain affiliate links, which means I make a small commission at no extra cost to you.
See my full disclosure here.
Mothering is hard, exhausting work.  And that's on a good day!  There comes a season for every mother when she is tempted to throw in the towel (if only she could find a clean one, as Crystal Paine likes to say), when she genuinely wonders whether her failures as a mother can possibly be redeemed.
Dark Days of Mothering
When your babies are little, it's almost impossible to fathom the potential conflicts that lay ahead.  No one tells you how your limited strength will be tested to the core, how your children will sometimes annoy and frustrate the living daylights out of you, how cosmic spiritual battles will be fought in your home as sin nature–including your own–rears its ugly head.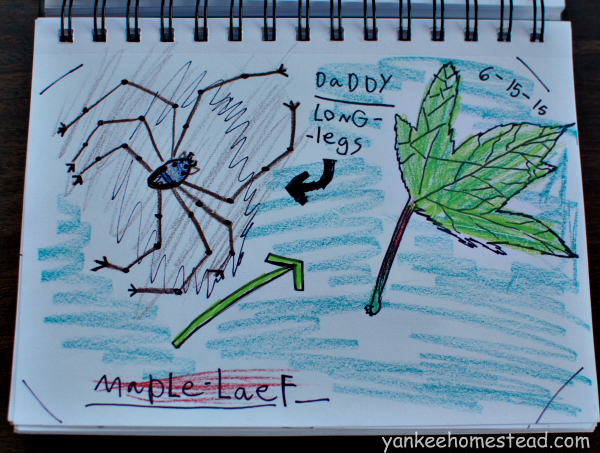 We've been through such a season this year, which is part of the reason behind my recent summer break from blogging.  The behavior issues in our home required focused attention, and quite frankly, it got much worse before it got any better.
There were some really dark days of mothering, days when I wanted to run away like I've never wanted to before.  Days when I feared relationships had been damaged beyond all hopes of repair.  Days when I struggled to see a light at the end of the tunnel.
While we're not completely out of the woods just yet, we're seeing big improvements.  We've turned a significant corner, one that I may write about in more detail someday…
A Time of Reaping
Today, I want to share a glimpse of encouragement that spoke to my weary mama's heart and gave me strength to keep on keeping on during this hard season of mothering.
Because there are hard days, and hard seasons, and then there is the day when your nine year old son goes outside to draw in his nature journal–a daily part of our homeschooling–and when he is finished, he hands you a detailed drawing of a blade of grass.  And he has written "O my God, how wonderful you are!"  Along with "One of 1,000,000,000's".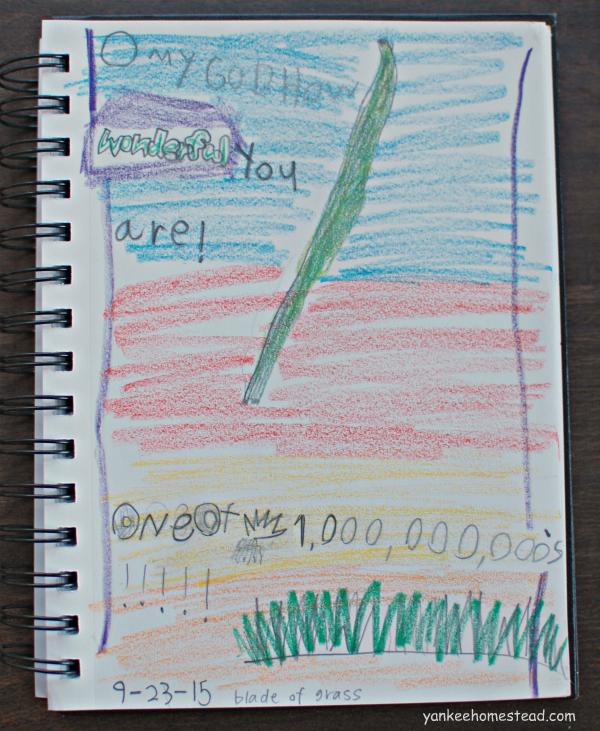 All on his own, he chose to draw
a single blade of grass
.  And he recognized the fact that there are
millions and millions
of blades of grass, and that Elohim, our Creator God, designed them all.
And it caused him to declare "O how wonderful you are!" and he called Him "my God".  And he didn't simply feel the wonder–he recorded it right there on the page.  All this, completely unprompted by his weary mama.
And he spelled it all correctly!  Except for wonderful–he left that blank for my assistance.  
For me, it was a time of reaping.  Reaping the harvest of failing to grow weary in doing the good–and hard–work of motherhood.
Because there are hard days–hard seasons–and then there are the days when God gives you a glimpse of the harvest to come.  And it encourages you to keep on keeping on, weary mama, pressing ahead in this good work of mothering.
Do Not Grow Weary
So do not grow weary, mamas, in doing good, for at the proper time you will reap a harvest if you do not give up.  (Gal. 6:9)
Do not grow weary in praying for your children, even when you see no improvement.
Do not grow weary in correcting bad attitudes, even when they seem to pay no attention.
Do not grow weary in sowing God's word in their hearts, even when it doesn't seem to be taking root.
Do not grow weary in training good habits, even when bad habits persist.
Do not grow weary in making your home a haven, even when the task seems overwhelming.
Do not grow weary in nourishing their bodies with good food, even when they complain about what's for dinner.
Do not grow weary in encouraging loving relationships, even when it seems they fight all day long.
Do not grow weary in noticing your children's God-given gifts, even when you have to look hard to find them.
Do not grow weary in listening to their stories and questions and jokes, even when you have a million other things to do.
Do not grow weary in hugging and kissing them, even if they're boys and they push you away.
Do not grow weary in reminding them of the gospel, even when they've heard it many times before.
Do not grow weary in asking their forgiveness, even when you feel undeserving.
Do not grow weary in tucking them in each night with love, even (and especially) on the terrible, horrible, no good, very bad days.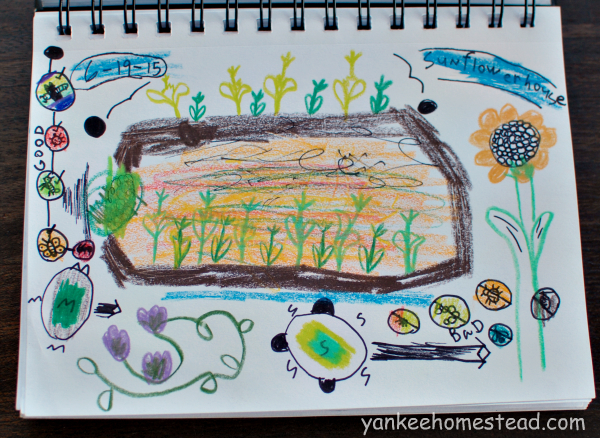 Therefore, my dear [mamas], stand firm. Let nothing move you. Always give yourselves fully to the work of the Lord, because you know that your labor in the Lord is not in vain.  (1 Cor. 15:58)
Press on, weary mama.  The harvest is coming!
Have you struggled through a dark season of motherhood recently?  How has God encouraged you through it?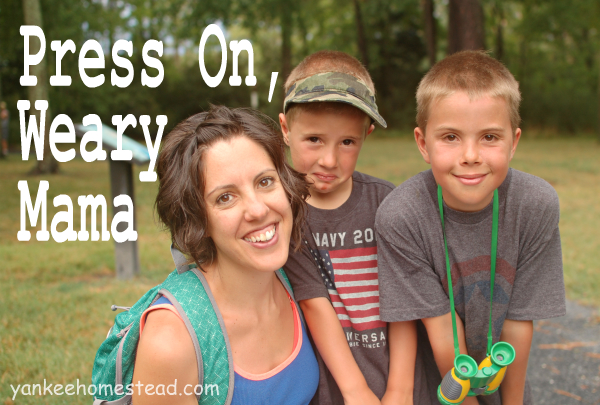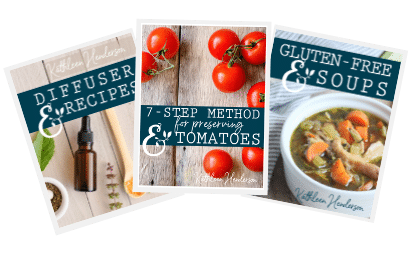 Sign up NOW for my best tips delivered weekly to your inbox!
You'll also get instant access to my library of free ebooks and resources.