Paleo Strawberry Pie with Grass Fed Gelatin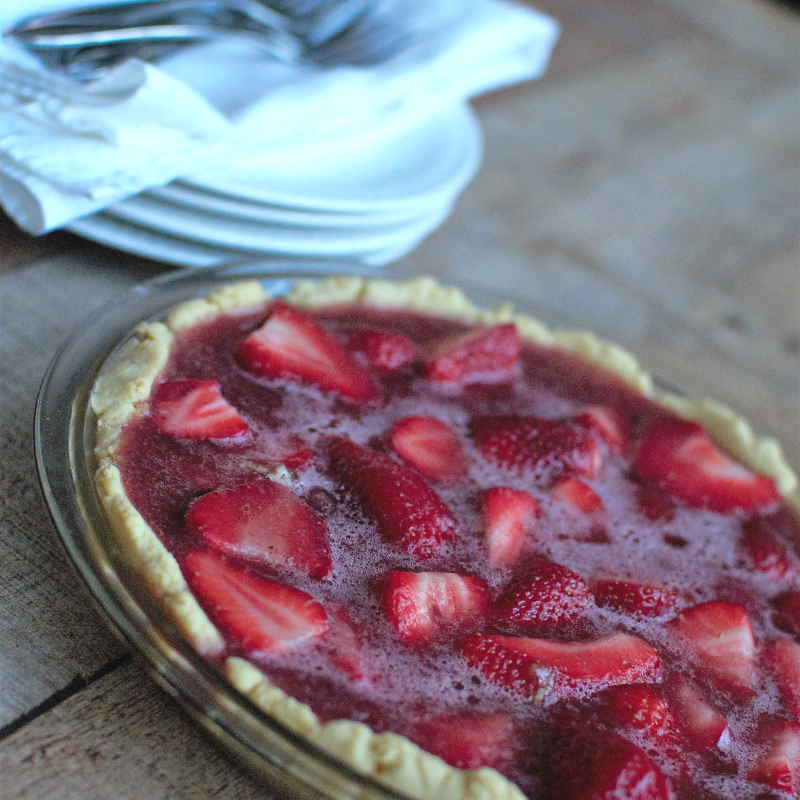 Simplify your dinner prep with tasty, nourishing soups!  My short, practical ebook is filled with my family's favorite one-pot, gluten-free, real-food soup recipes.
Get your copy of Nourishing Soups today!
This post may contain affiliate links, which means I make a small commission at no extra cost to you.
See my full disclosure here.
It's strawberry season, y'all. Which means it's time for Paleo Strawberry Pie with Grass Fed Gelatin!
The boys and I went berry picking with friends last week at our favorite local spot and came home with 6 buckets of strawberries.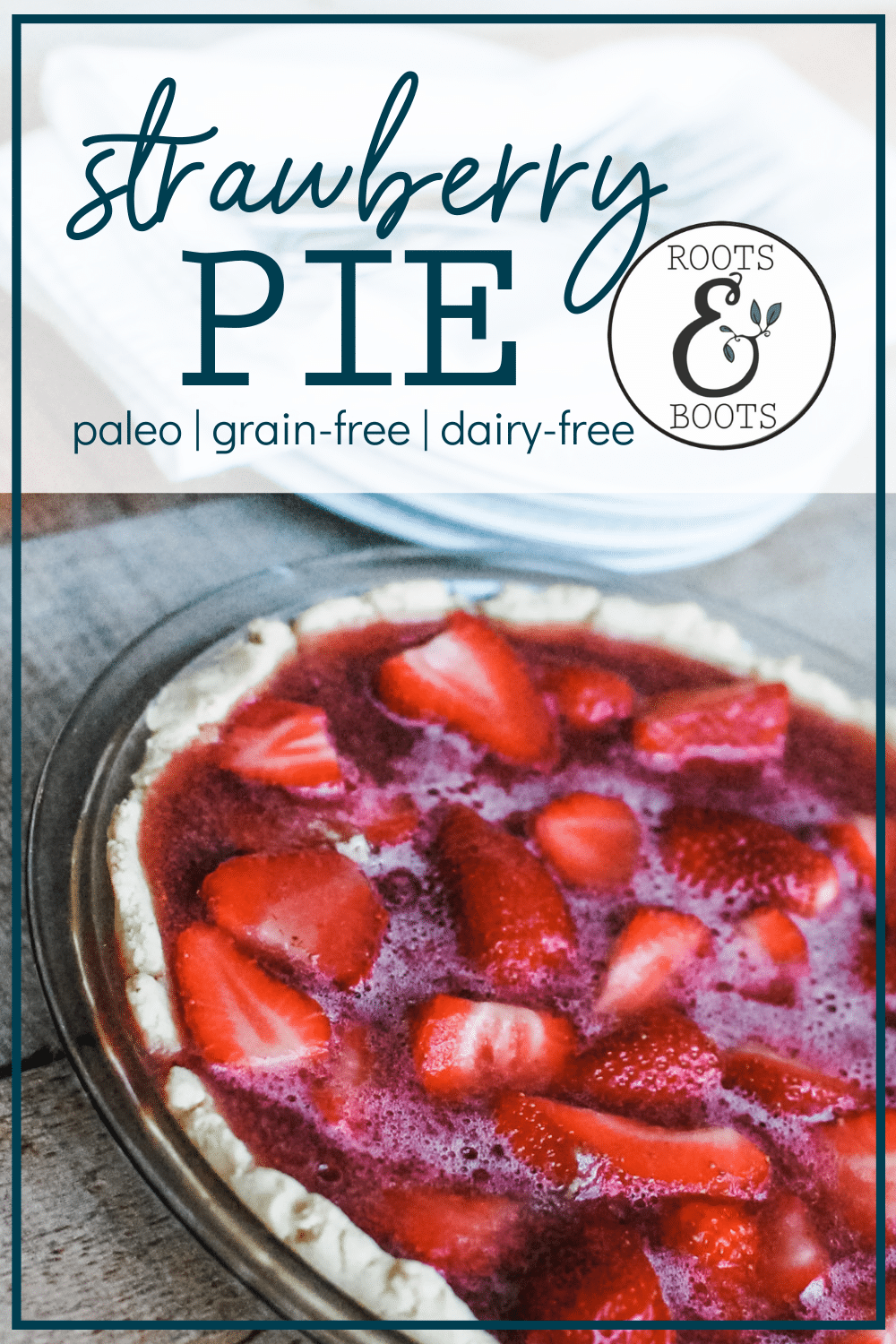 I've been busy turning all those berries into
jam
, salad dressing, cupcakes, and this amazingly simple yet seriously delicious paleo strawberry pie with
grass fed gelatin
. So simple, but super tasty and even nutritious!
More strawberry recipes:
More Gelatin Recipes: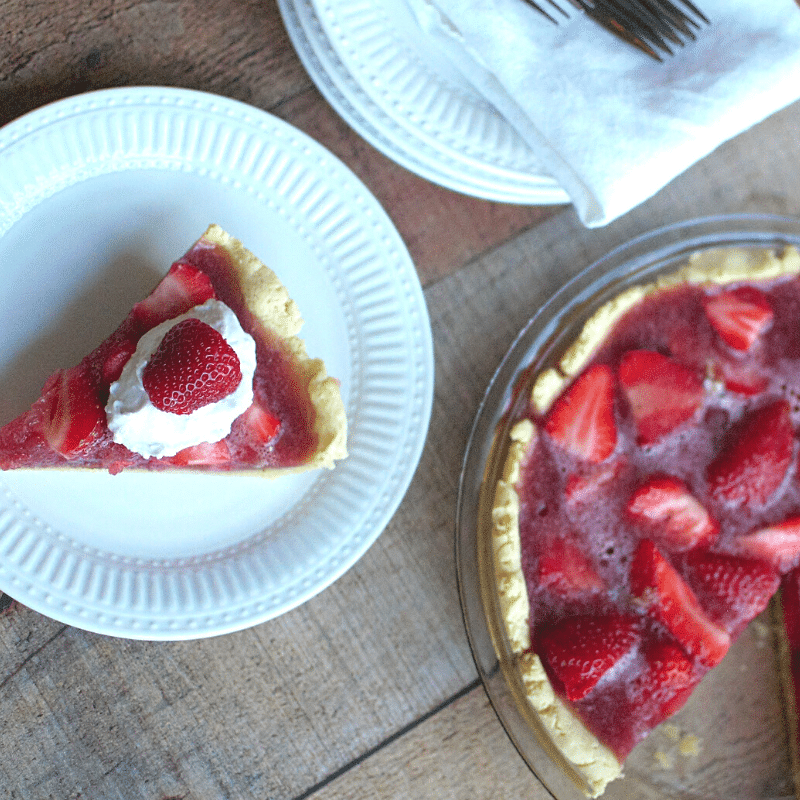 The crust is a snap to make, with only 4 ingredients and zero sweetener. Just healthy protein and fats from blanched almond flour, coconut oil, and egg.
The pie filling is pretty simple, too, with only 5 ingredients and very little added sweetener. You can even pat yourself on the back for feeding extra-nourishing grass fed gelatin to your family in such a tasty delivery method!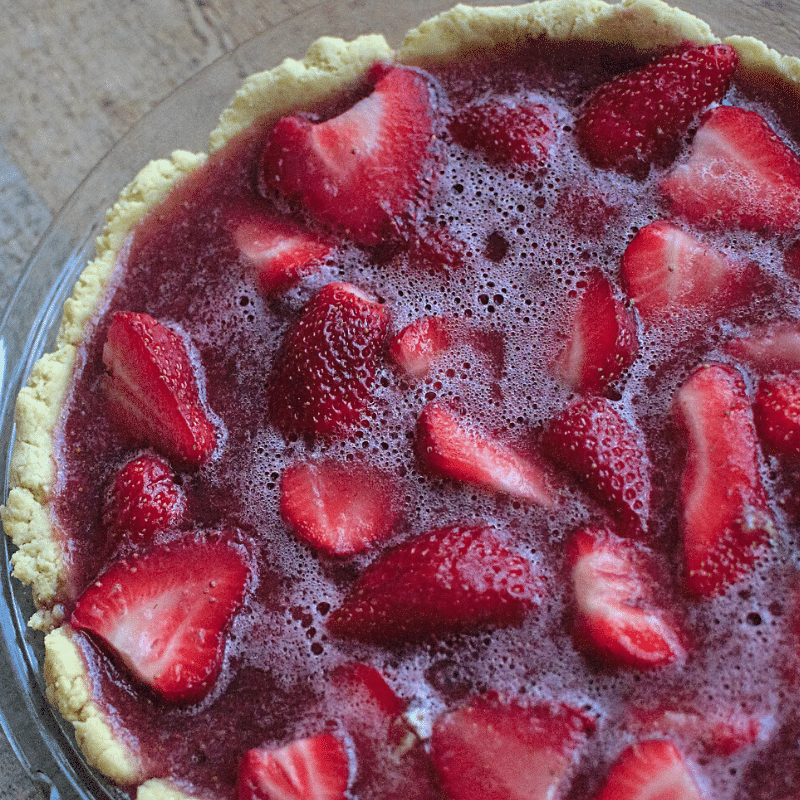 A quick note on the sweetener: Raw local honey is my typical sweetener of choice. It's generally considered much healthier than refined sugar, but it's still sweet. Experts tell us the taste buds can be trained: the sweeter our food, the sweeter we think it should be. And vice versa: cutting back on sweeteners will train our taste buds to be content with less and less sweetener. It's definitely been true for me!
Mine is a pretty low-sugar, low-sweetener household, so 2 tablespoons of honey is plenty for us. I did make a second pie with twice as much honey (1/4 cup) just to test the difference. It was definitely sweeter! We'll stick with the less sweetened version, though, which was plenty yummy. Suit yourself!
Print
Paleo Strawberry Pie with Grass Fed Gelatin
Author:

Prep Time:

20 mins

Cook Time:

15 mins

Total Time:

35 mins

Yield:

8

servings

1

x
---
Crust:
Filling:
4 cups

halved strawberries

2 teaspoons

lemon juice

2 tablespoons

raw, local honey (or more, to taste)

1/2 cup

cold water

2

–

3

tablespoons grass fed gelatin
---
Instructions
Make the crust:
Preheat oven to 350.
Add almond flour and salt to food processor and pulse to combine.
Add coconut oil and egg and pulse until mixture forms a ball of dough. Scrape sides if necessary.
Place dough in a 9.5″ pie dish and press to cover bottom and sides.
Bake at 350 for 8-12 minutes.
Make the filling:
Place lemon juice and HALF the strawberries in a saucepan over medium-high heat.
Bring to a boil, then reduce heat and cook about 5 minutes until berries thicken. Stir to prevent sticking and scorching.
While berries are cooking, add 2-3 tablespoons gelatin to 1/2 cup cold water. (Using 3 tablespoons will cause the pie to gel faster.) I like to use a 1 or 2-cup glass measuring cup for this. Stir the gelatin into the water and set it aside while the berries cook.
After the berries have thickened a bit, remove the pan from heat.
Stir honey into berry mixture.
Add gelatin to berry mixture and stir until well incorporated. (The mixture must be quite warm for the gelatin to incorporate well.)
Pour about half the berry mixture into baked crust.
Add some of the remaining fresh halved berries.
Pour the rest of the berry mixture into the crust.
Arrange final strawberries on top, pressing them down a bit into the gelatin mixture.
Place pie in the fridge to chill and set. This can take anywhere from one hour to several hours or more, depending on the amount of gelatin used and the temperature of your fridge.
Serve with a dollop of Dairy-Free Coconut Whipped Cream.
---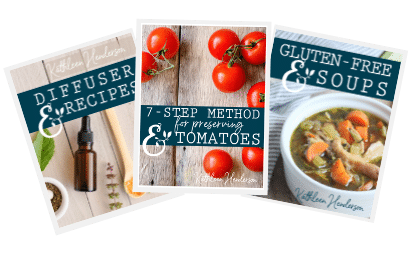 Sign up NOW for my best tips delivered weekly to your inbox!
You'll also get instant access to my library of free ebooks and resources.