Grain-Free Dairy-Free Chicken Pot Pie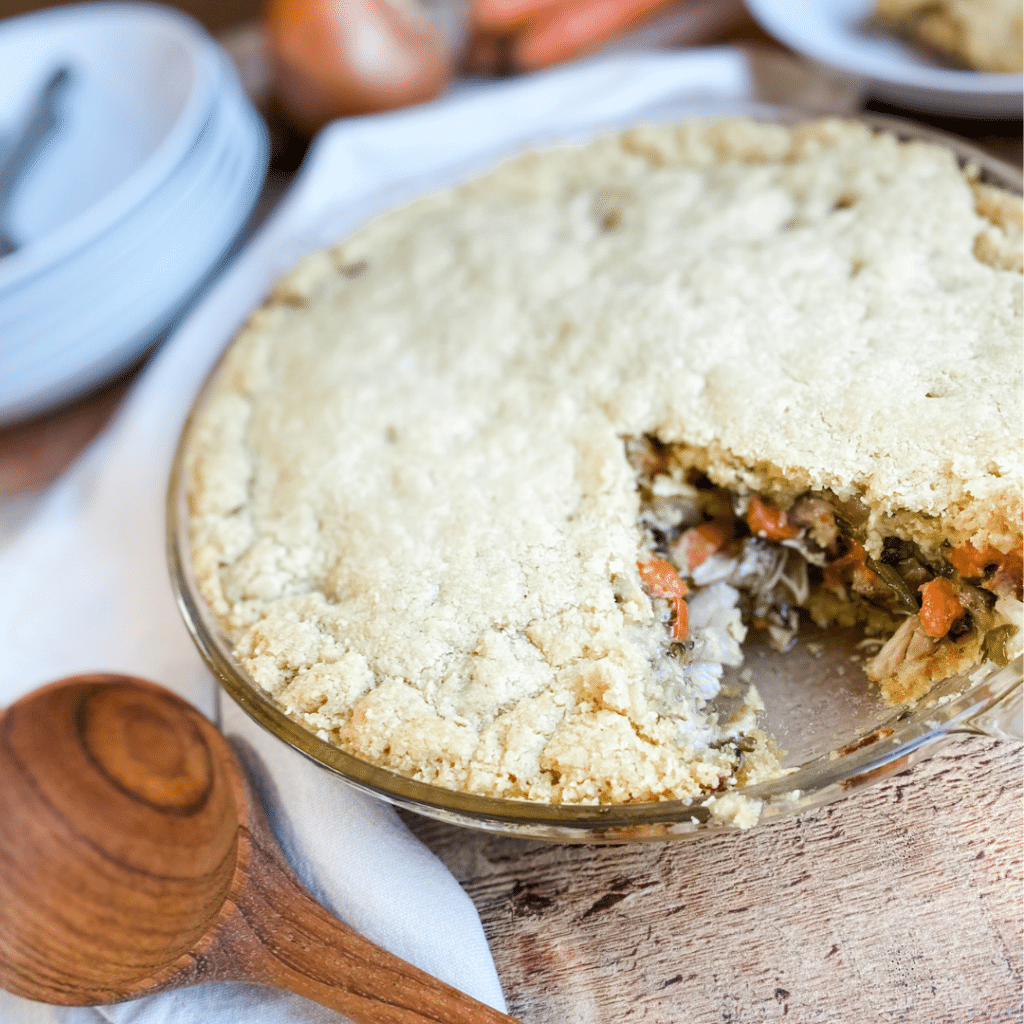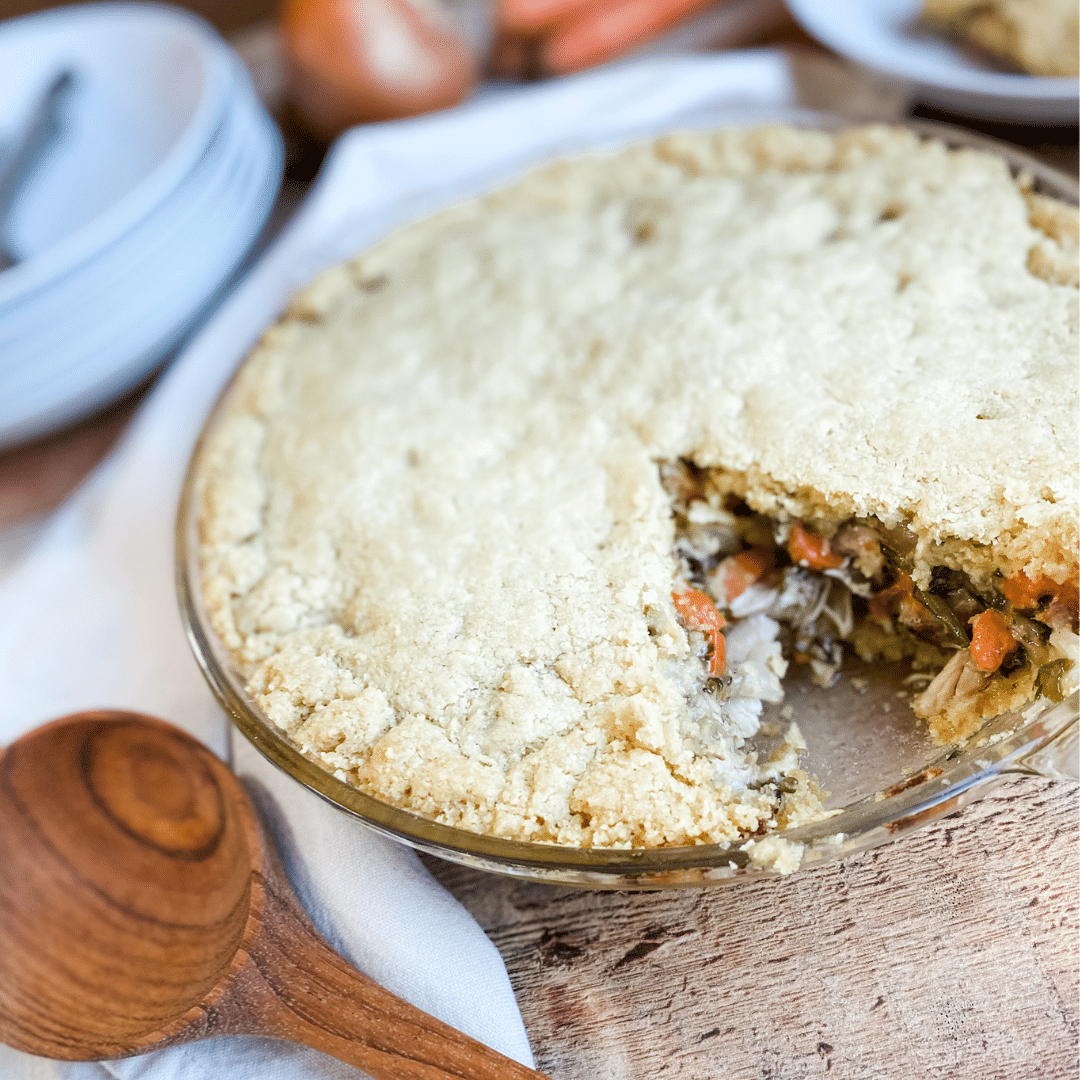 Simplify your dinner prep with tasty, nourishing soups!  My short, practical ebook is filled with my family's favorite one-pot, gluten-free, real-food soup recipes.
Get your copy of Nourishing Soups today!
This post may contain affiliate links, which means I make a small commission at no extra cost to you.
See my full disclosure here.
This grain-free dairy-free chicken pot pie tastes just like the real thing! It's been a big hit at my house, and I can't wait for your family to try it.
Grain-free dairy-free chicken pot pie
Chicken pot pie is one of those things you can pretty much kiss goodbye when you remove gluten from your diet. So when I began serving this grain-free dairy-free chicken pot pie to my family, they all rejoiced.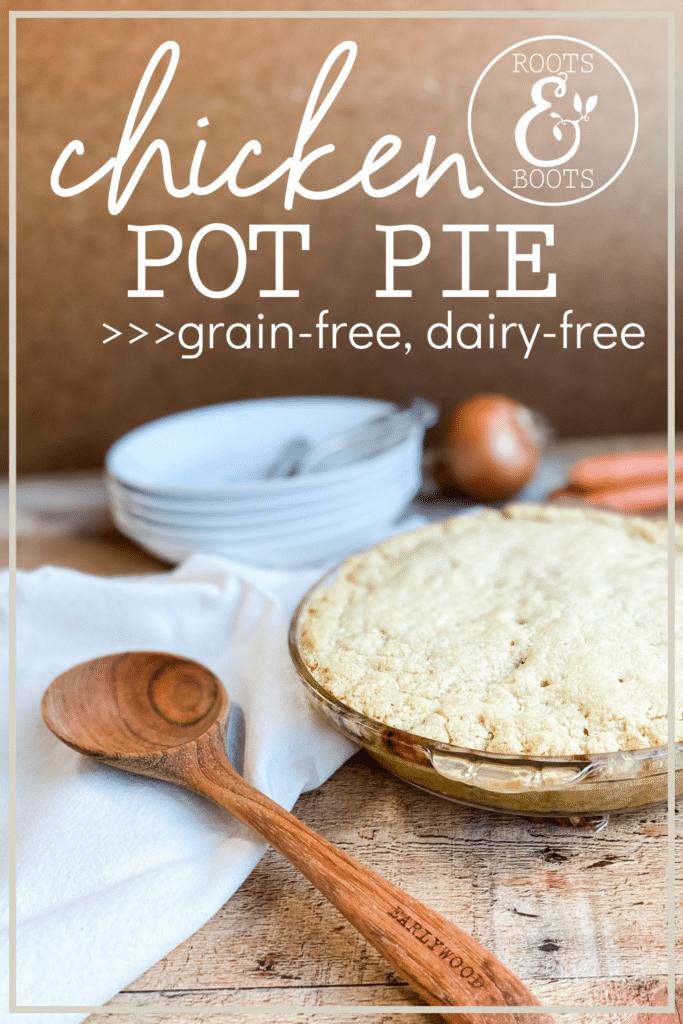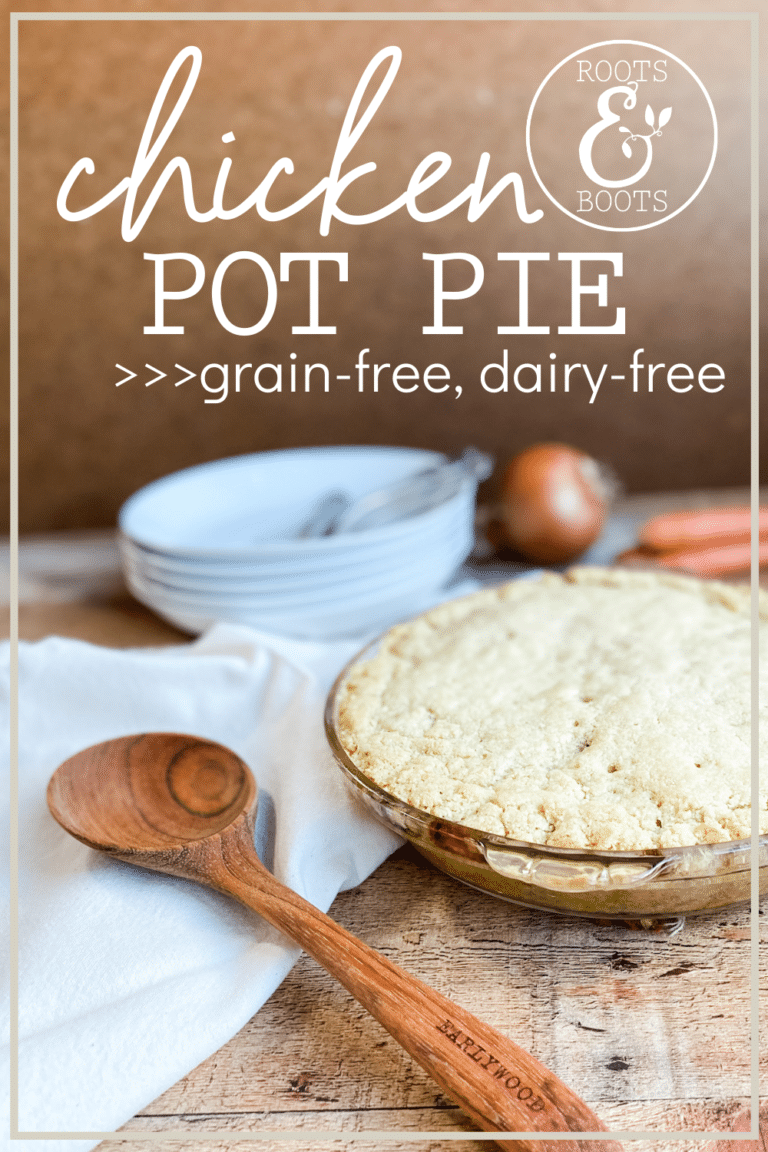 It really does taste like the real thing, but with healthier ingredients and zero gluten or dairy. Of course, if you tolerate dairy, feel free to use butter and real milk!
I delegate the crust-making to my oldest son, who stashes it in the fridge for me. Sometimes I'll have him prepare the crust the day before, so it will be good and chilled.
Tips for a successful crust
The dough can be a bit tricky, but just remember these two important things:
It needs to be really cold before you try to work with it, so prepare the crust well in advance. You can even make the crust the day before and keep it in the fridge.
Even if the dough does get sticky (because it's not cold enough), it will still taste good. But trust me, the process will be much easier if the dough is fully chilled.
Work smarter, not harder
I usually make this pot pie with leftover cooked chicken. If I'm really on my game that week, I'll plan to serve chicken, roasted carrots, and some form of broccoli earlier in the week. And then I'll schedule this chicken pot pie for later in the week to use up the leftovers.
You might also like to know that leftover cooked turkey works great in this recipe, too. In fact, I often use leftovers from our Thanksgiving or Christmas dinner to make turkey pot pie.
I hope your family loves this grain-free dairy-free chicken pot pie as much as mine does!
Print
Grain-Free, Dairy-Free Chicken Pot Pie
---
Description
This grain-free dairy-free chicken pot pie tastes just like the real thing! Treat your family to this healthy version of an American classic.
---
Crust
Filling
2 cups

chicken, cooked and diced

3/4 cup

carrots, diced

3/4 cup

broccoli, chopped

2 tablespoons

butter or coconut oil

2/3 cup

onion, diced

2 tablespoons

tapioca flour or arrowroot powder

1/2 teaspoon

unrefined sea salt*

1/8 teaspoon

ground black pepper
pinch paprika

1 cup

chicken bone broth

1 tablespoon

milk of choice
*Use code KEEPITREAL to get 15% off your order of my favorite unrefined sea salt.
---
Instructions
 Make the crust
Note: the crust can be prepared up to 24 hours in advance and stored in the fridge until needed.  It MUST be fully chilled in order to prevent sticking.
Whisk to combine the almond flour, tapioca or arrowroot, salt, and baking powder.
Cut in the shortening or coconut oil (unmelted) until the mixture is crumbly.
Stir in the cold water.
Place in the fridge to chill.
Make the filling
Preheat over to 375 F.
When starting with raw chicken, carrots, and broccoli, place these three in a pan and cover with water.  Boil about 10-15 minutes or until chicken is cooked.  Drain and set aside.
Heat a medium to large pan over medium heat and cook onions in butter or coconut oil until tender.
Reduce heat to low and stir in tapioca or arrowroot, salt, pepper, and paprika.
Slowly stir in chicken broth and milk.
Simmer over low heat until the mixture thickens like gravy.
Remove from heat and stir in chicken and veggies, then set aside.
If your dough is completely chilled and not sticky, it's ready for the pie plate.  Divide the dough in half, leaving half in the fridge to continue chilling.
Add the other half to a 9-inch pie plate and place a piece of parchment paper on top.  Use a second pie plate and your hands to press the dough flat against the bottom and up the sides.
Pour chicken mixture into the crust.
Remove the remaining dough from the fridge and place between two pieces of parchment paper.  Roll it out into a circle, working quickly before the dough reaches room temperature and becomes sticky.
Carefully peel off one piece of parchment paper and lay the dough on top of the pie.  Quickly and carefully peel off the second piece of parchment paper.  If some of the dough sticks to the parchment paper, don't worry.  Just scrape it off and do your best to fill in any gaps in the crust.  Even if it looks less than perfect, it will still taste good!
Bake for 30-35 minutes until crust is lightly browned.  If your pie is very full, you may want to place it on a rimmed baking sheet in case it bubbles over.
Cool 5-10 minutes before serving.
---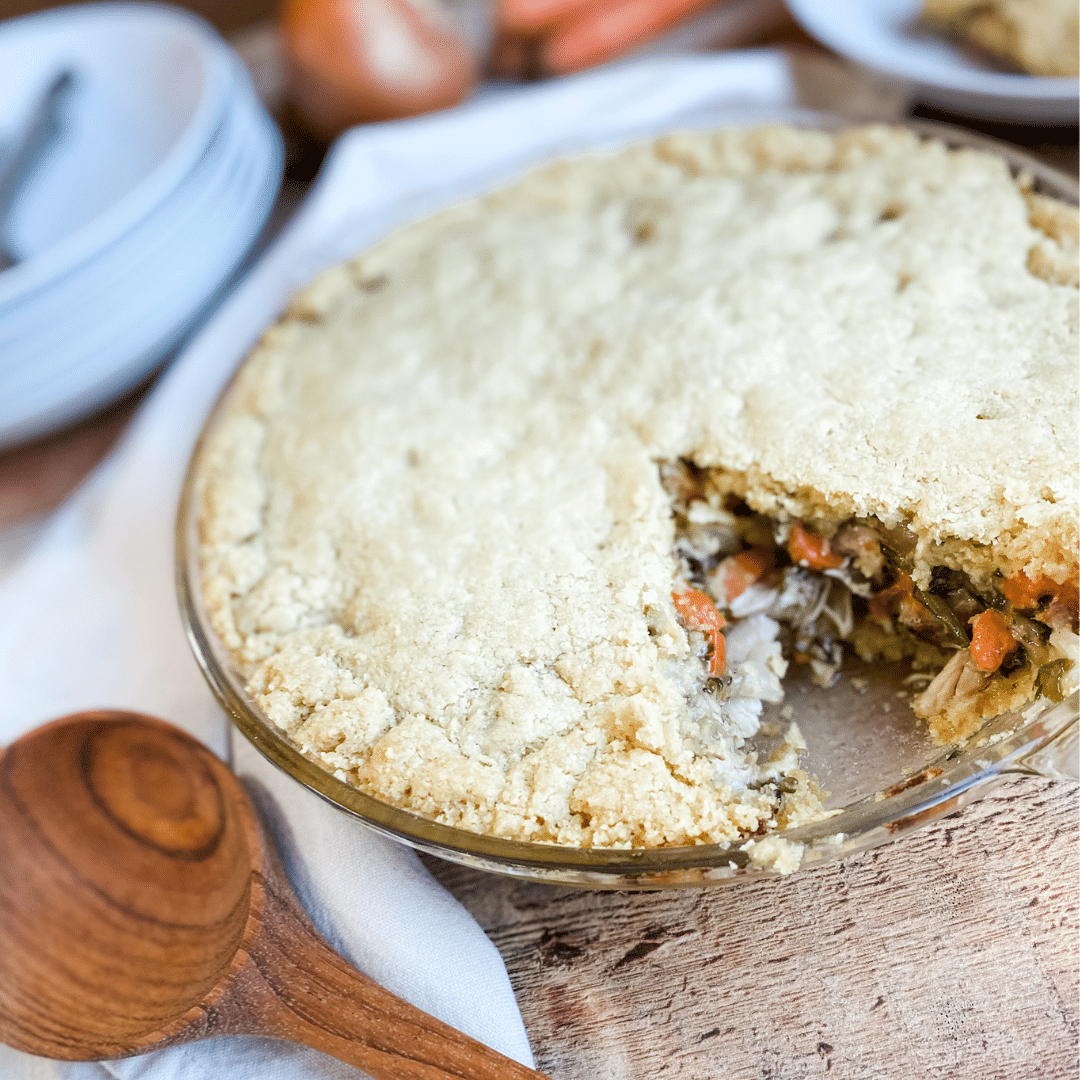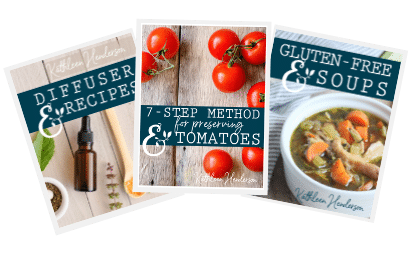 Sign up NOW for my best tips delivered weekly to your inbox!
You'll also get instant access to my library of free ebooks and resources.