Chocolate Nut Protein Bars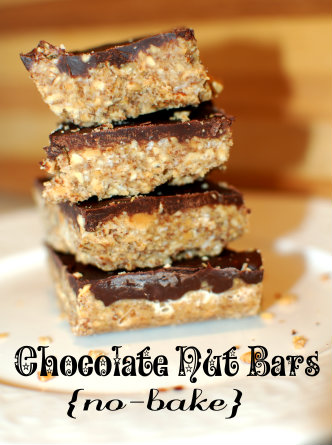 Oh my goodness, these bars are so good, and so easy to make!  They are perfect as dessert, they pack very well for meals or treats on-the-go, and–packed full of protein–they make an excellent snack for pregnant and nursing mothers.
Because they are so rich, and so full of nuts, you don't need much.  I love keeping these in the fridge for an easy, high-protein, keep-me-going, pregnancy snack.  Just the other day, I included one in my own on-the-go pregnancy survival snack box (in this awesome LunchBots Quad bento box).
My entire family loves these bars.  We served them to guests recently, and they loved these bars.  I love that they are no-bake!
The recipe originated at Elana's Pantry, and I discovered this adapted version over at Kitchen Stewardship.
Chocolate Nut Protein Bars
Ingredients
4 cups crispy nuts
1 cup ground flax meal
1 cup shredded coconut
1 cup almond butter
1 tsp unrefined sea salt
1 cup coconut oil
1 TB raw, unfiltered honey
2 tsp vanilla extract
2 bars dark chocolate (see my favorite brand here)
Instructions
You can mix these by hand or in a food processor.  When mixing by hand, grind the nuts first and then add them to the bowl.
Mix nuts, flax meal, coconut, almond butter and salt.

Melt coconut oil, then add honey and vanilla to the oil.
Add coconut oil mixture to the nut mixture and combine.
Press mixture into an 8×13 glass dish and refrigerate until hard.
Melt chocolate bars on the stove top over low heat.
Pour melted chocolate over the hardened mixture until evenly distributed.
Return glass dish to the fridge (or freezer, for even faster hardening).
Store in the refrigerator.*
*Note: When the bars are very cold–i.e., they've just come out of the fridge or freezer–the chocolate will crack when you cut it.  I've found it helpful to remove the bars from the fridge at the beginning of our meal, in order to let the chocolate soften a bit.  By the time our meal ends, I'm able to cut the bars with minimal cracking to the chocolate. 🙂
Hooray for healthy, delicious, no-bake treats!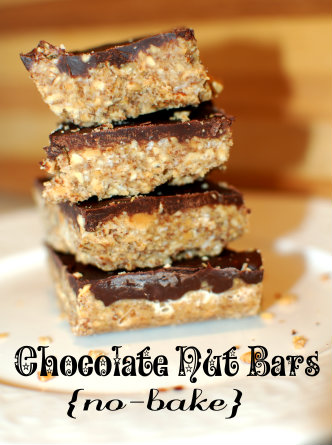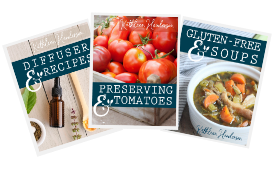 Sign up NOW for my best tips delivered weekly to your inbox!
You'll also get instant access to my library of free ebooks and resources.