Are Plastic Bottles Safe for Essential Oils?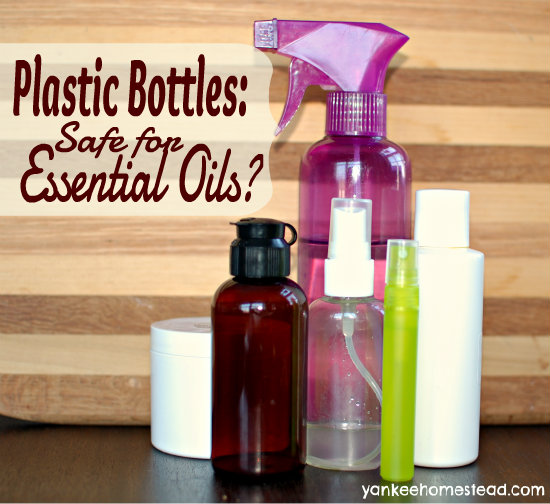 No matter what life brings your way, there's a diffuser blend for that!  My short, practical ebook is packed with 100+ recipes to diffuse for immune support, sleep & relaxation, energy & good mood, focus & concentration, holiday & seasonal aromas, and more!
Get your free copy of 100+ Amazing Diffuser Recipes today!
This post may contain affiliate links, which means I make a small commission at no extra cost to you.
See my full disclosure here.
Is it safe to store essential oils in plastic containers?  It depends.
While glass is always the best choice, it may surprise you to learn that certain plastics are typically considered suitable for essential oils.
Are Plastic Bottles Safe for Essential Oils?
Generally speaking, essential oils are best stored in dark glass containers. Certain metals are fine for essential oils usage as well, such as stainless steel water bottles.
However, in some cases it's impossible, impractical, or downright inconvenient to use glass or metal containers for your essential oil concoctions.
For example…
I prefer the sturdy plastic mini-sprayers pictured above for my DIY Hand Sanitizer.
A sturdy, recycled plastic jar stores my sugar scrub in the shower, where hard tiles + children showering could lead to a dangerous situation with broken glass.
We also use a plastic dispenser for foaming hand soap (pictured below), in another bathroom where broken glass is a concern.
Plastics Generally Considered Safe for Essential Oils
Again, glass and stainless steel are always the best option when it comes to essential oils.  But if necessary, the plastics listed below should work just fine.
Keep in mind that essential oils should always be diluted when using plastic.
HDPE plastic (High Density Polyethylene)
#1 plastic
#2 plastic
Thick, food grade plastic
Keep Essential Oils Away from these Plastics
Never use essential oils with these types of plastic!
Water bottles
Solo cups and their equivalents
Plastic drinking straws
Plastic kitchenware
Thin plastic containers
(Styrofoam)
Citrus and Other Hot Oils
One more thing to keep in mind is that certain oils, especially citrus, are more caustic towards plastic.  Other hot oils include Cinnamon, Thyme and Oregano.
It's always a good idea to use a little extra caution when dealing with these oils.
 Try it yourself: fill a plastic Solo cup with water.  Add a few drops of citrus oil such as Lemon.  Let it sit there for a while, and then watch what happens.
Hint: It will eat away the lining of the cup.  Guess where that lining goes?  Right–into the water.  Never drink your EOs from a plastic cup or bottle!
When it comes to essential oils: always use common sense; choose glass or stainless steel when possible; and when plastics are necessary, be sure to choose the safe kind.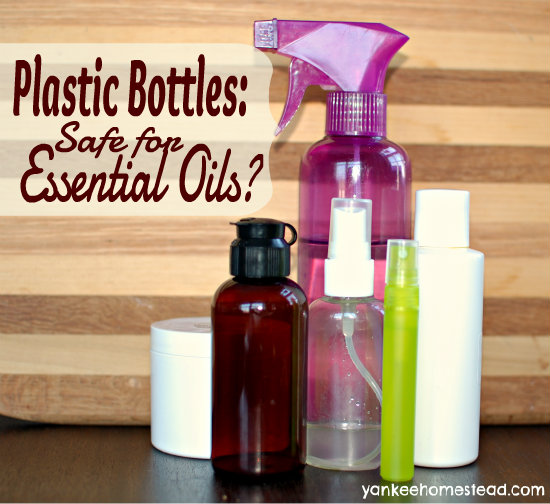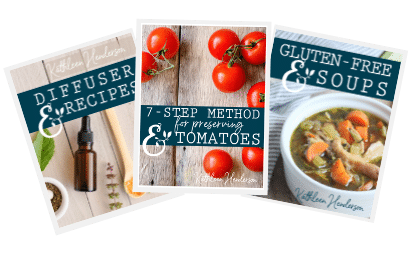 Sign up NOW for my best tips delivered weekly to your inbox!
You'll also get instant access to my library of free ebooks and resources.