14 Ways to Pack a LunchBots
This post may contain affiliate links, which means I make a small commission at no extra cost to you.
See my full disclosure here.
Are you looking for a plastic-free way to pack snacks and on-the-go meals for your family?
We absolutely love these stainless steel divided containers from LunchBots.  They've served us well for a good year and a half by now, and are still going strong.
If you want more of the specifics about these handy dandy lunch containers, check out my full review here: Pack a Plastic-Free Lunch with LunchBots Stainless Steel Containers, and also New Bigger LunchBots and New LunchBots Dots Snap-on Lids.
I thought it would be fun to show you what we pack in our LunchBots, so I've been taking pictures and saving them for such a post as this. 🙂
Below, you'll see the LunchBots Uno, Trio, Quad and the new bigger Bento Cinco, as well as the tiny condiment container.  (I love the condiment containers!  They're perfect for salad dressing, hummus and the crispy sunflower seeds I love to add to my salads.)
14 Ways to Pack a LunchBots 
1. Mango, ham roll ups (Applegate Farms), raw cheddar (Grafton Village), carrot sticks and roasted red pepper hummus.


2. Applegate Farms ham roll ups, Grafton Village raw cheddar, grapes, Stovetop Popcorn with coconut oil, Oatmeal Quinoa Nut Bar, red peppers & carrots with hummus and celery with crunchy peanut butter.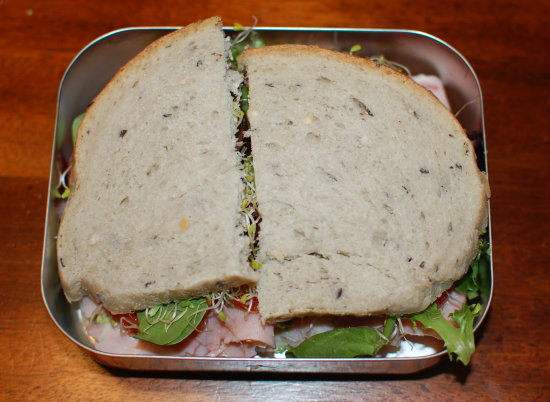 3. Ham sandwich on awesome GF bread, with avocado, tomato, lettuce and sprouts.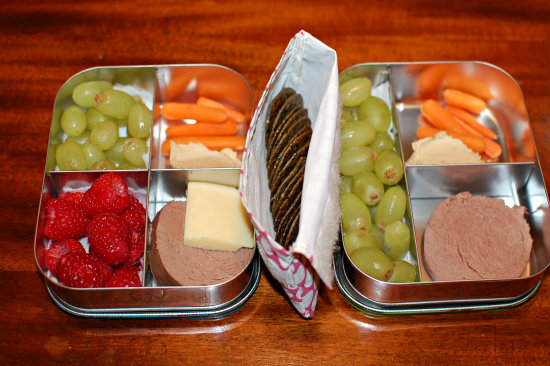 4. Grapes, carrot sticks and hummus, liverwurst, raw cheddar (for Older Brother), raspberries, and brown rice snaps (in a Lunchskins reusable snack bag).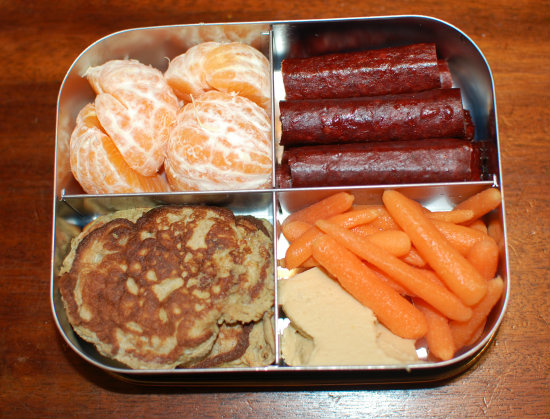 5. Clementine halves, beef sticks, carrots sticks and hummus and pancakes–zucchini latkes from this Paleo cookbook, I think. 🙂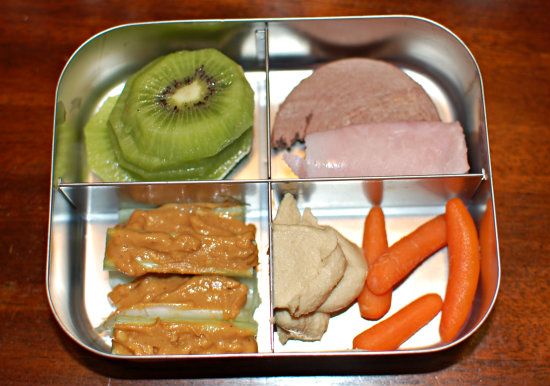 6. Kiwi fruit, liverwurst and Applegate Farms ham, carrot sticks and hummus and celery and crunchy peanut butter.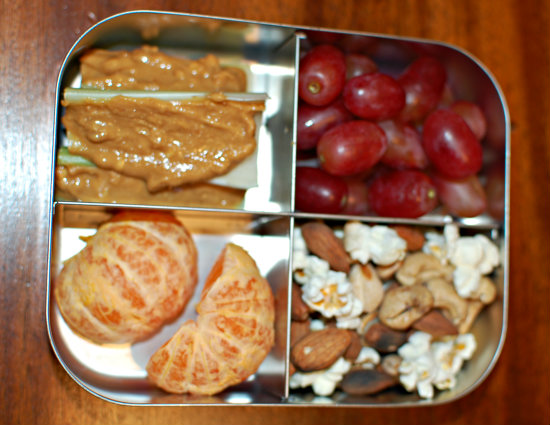 7. Celery and crunchy peanut butter, grapes, Crispy Trail Mix and clementine halves.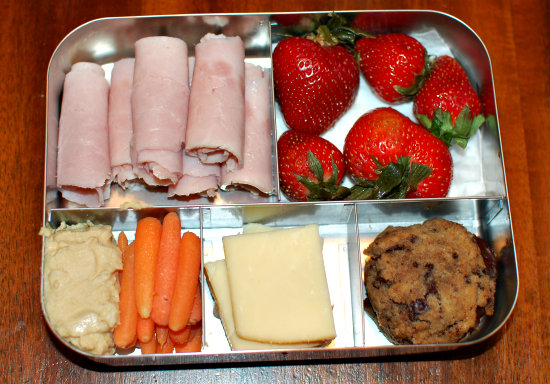 8. Applegate Farms ham roll ups, strawberries, paleo chocolate chip cookies, raw cheddar and carrots sticks with hummus.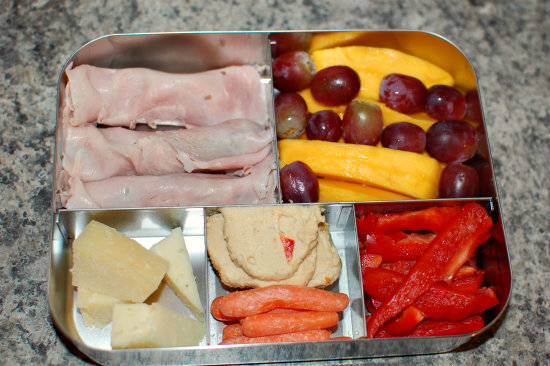 9. Applegate Farms ham roll ups, mango and grapes, red peppers, carrot sticks with hummus, Manchego cheese (made in Spain from raw sheep's milk).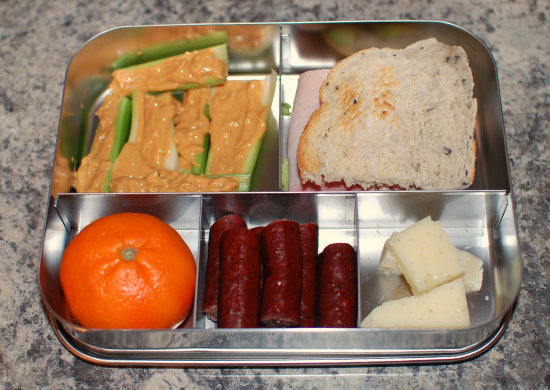 10. Celery with crunchy peanut butter, half of a ham & avocado sandwich on GF bread, Manchego cheese, beef sticks and a clementine.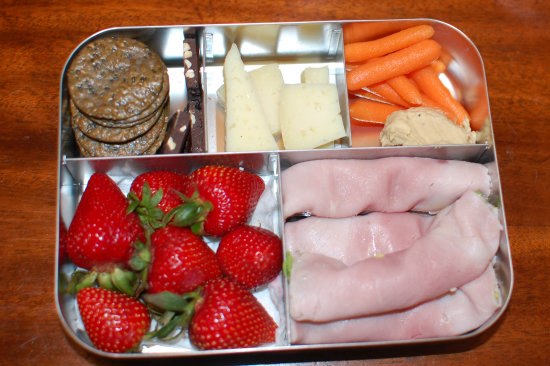 11. Brown rice snaps, Manchego cheese, carrot sticks with hummus, Applegate Farms ham roll ups and strawberries.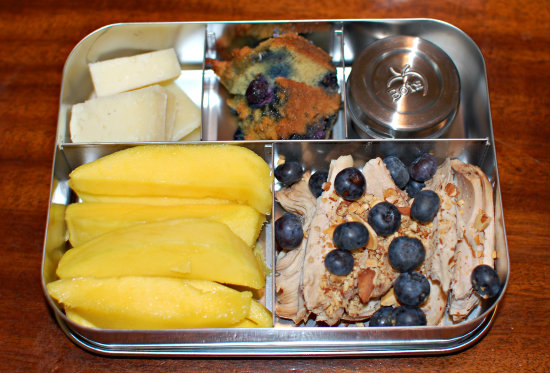 12. Manchego cheese, Blueberry Muffin, my favorite homemade salad dressing (in a condiment container–love those!), roasted chicken with crispy crushed cashews and blueberries, and mango.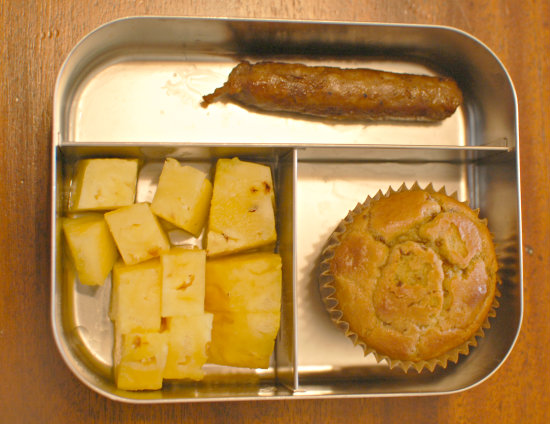 13. Pasture-raised breakfast sausage, Apricot Muffin and pineapple.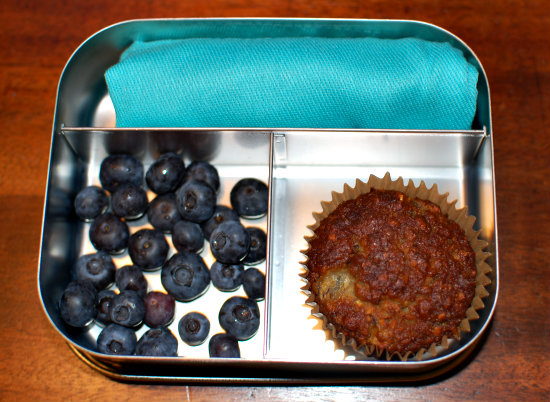 14. Everyday cloth napkin, Carrot Banana Muffin and blueberries.
What's your favorite way to pack a plastic-free lunch?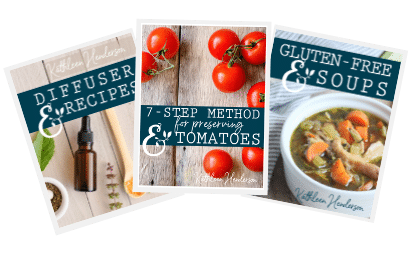 Sign up NOW for my best tips delivered weekly to your inbox!
You'll also get instant access to my library of free ebooks and resources.