The Best Way to Get Rid of Ants Naturally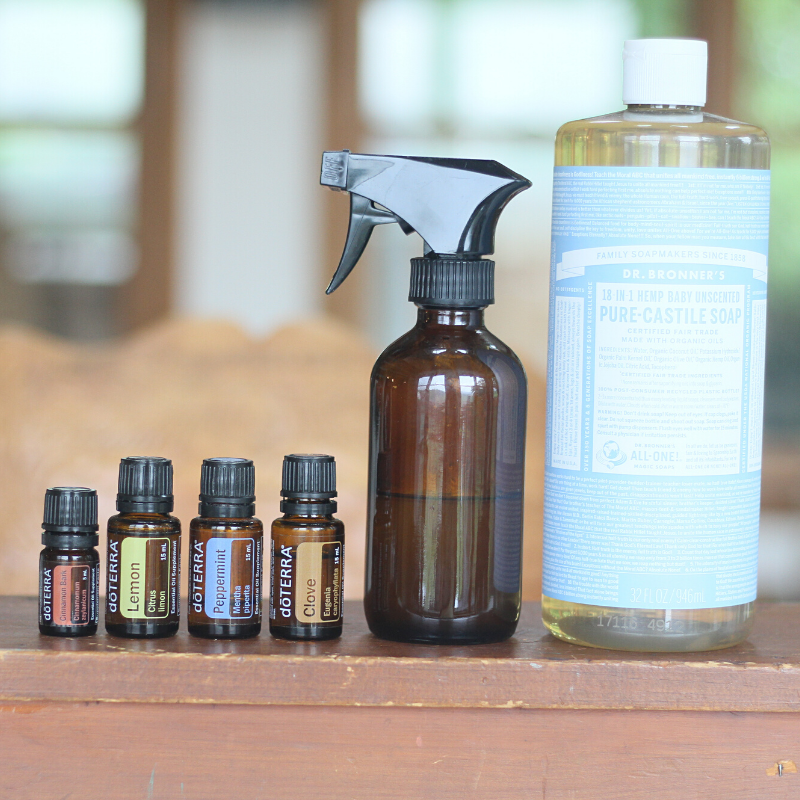 No matter what life brings your way, there's a diffuser blend for that!  My short, practical ebook is packed with 100+ recipes to diffuse for immune support, sleep & relaxation, energy & good mood, focus & concentration, holiday & seasonal aromas, and more!
Get your free copy of 100+ Amazing Diffuser Recipes today!
This post may contain affiliate links, which means I make a small commission at no extra cost to you.
See my full disclosure here.
Got ants? Try this easy homemade spray. It's the best way to get rid of ants naturally!
The Ants Go Marching Hundreds by Hundreds
You know that children's song about how the ants go marching one by one, and so on, until they're marching ten by ten? Which, by the way, I didn't realize was such a controversial song. Yikes!
Well, that exact scenario has been playing out on the kitchen counters in our new house, on the new farm, where no one had lived for two years before we moved in. Unless you count the ants. Because they obviously feel right at home here.
Of course I'm not interested in spraying toxic chemicals around our house, so for now we are fighting back with essential oils. It's working really well, so well that I'm excited to share this recipe for the best way to get rid of ants naturally.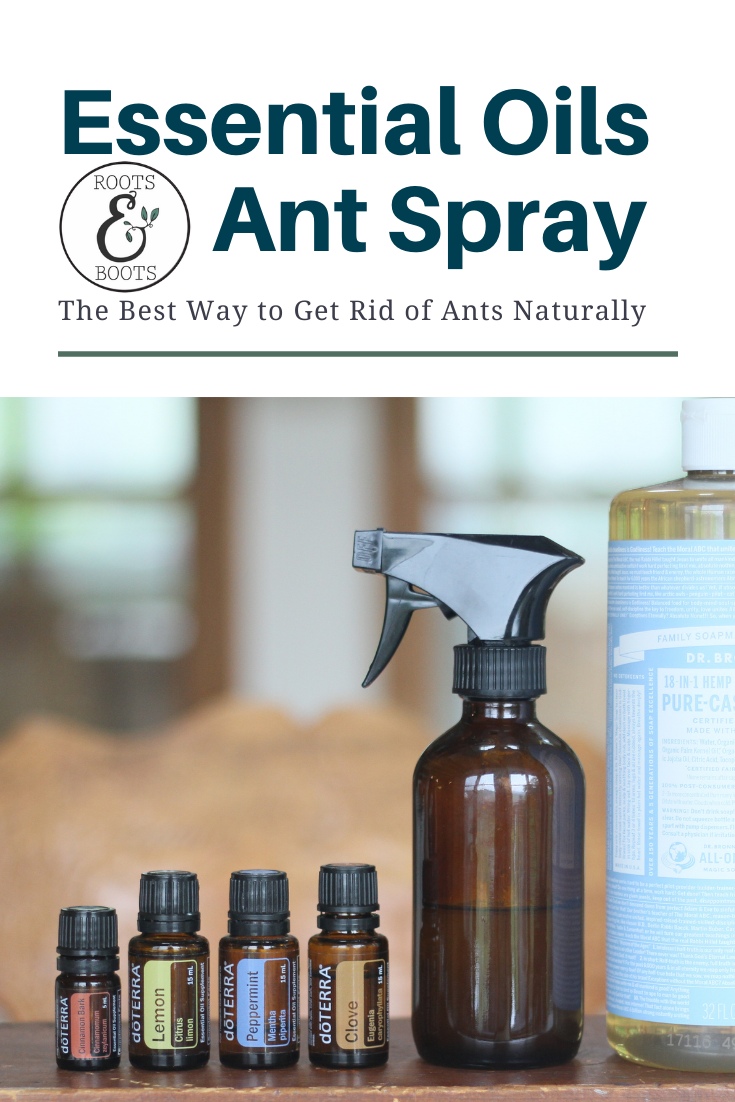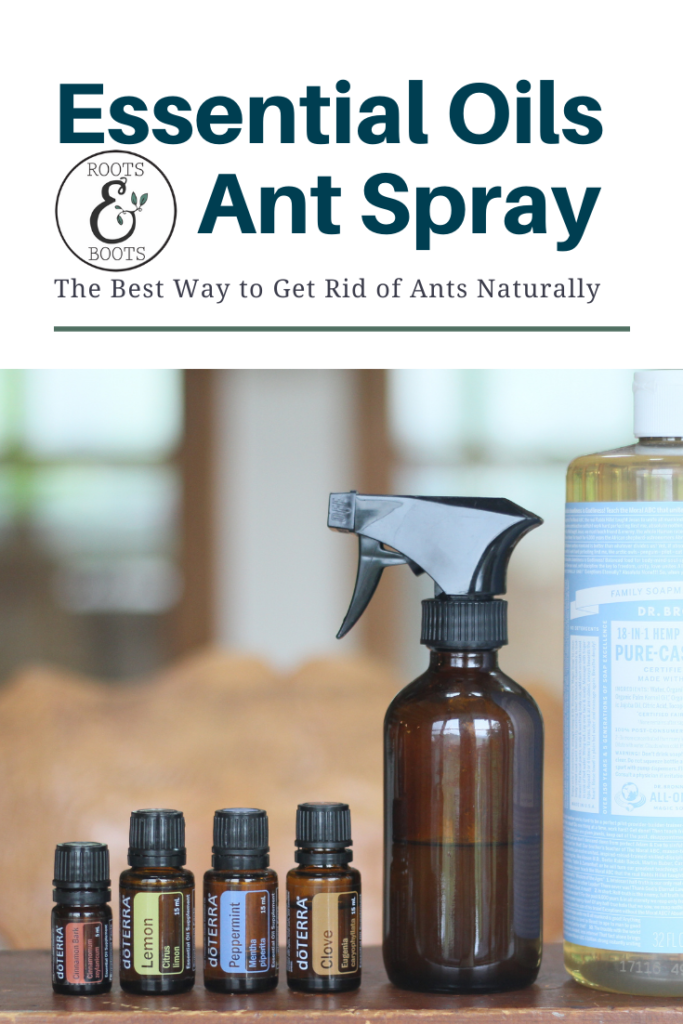 Ant Kryptonite Spray
My boys call this homemade ant spray "Ant Kryptonite". We use it after cleaning up from each meal, and especially after dinner every night.
The effect is pretty amazing! If we go for a day without using the spray, the ants come back. When we use the spray consistently, no ants.
Since the ants keep coming back, we obviously have a problem that will need to be dealt with at some point. I'll keep researching and investigating to find an effective long term solution that doesn't involve toxic chemicals.
In the meantime, we'll keep using our Ant Kryptonite Spray. It smells amazing, keeps the kitchen counters clean, and most importantly, it keeps them free from ants.
The Best Way to Get Rid of Ants Naturally: DIY Essential Oil Spray
The ingredients of this natural ant spray include essential oils known for repelling a variety of insects and even rodents. In fact, we've also had trouble with mice at our new house and this spray seems equally effective at keeping them away.
The liquid castile soap is optional. Some folks claim that castile soap alone will keep away ants, plus it helps to distribute the essential oils throughout the water in this spray. So I like to include just a little bit of castile soap with the oils.
Tip: I recommend a bottle with a trigger spray top as opposed to a misting top.
Print
---
---
Instructions
Start with an 8 oz glass spray bottle.
Pour about 1 tsp liquid castile soap into the spray bottle.
Add 20 drops each of Peppermint and Lemon essential oils.
Add 10 drops Clove oil.
Add 3 drops Cinnamon oil.
Top off with water.
Recommended: Label the bottle.
To Use:
Shake well before each use.
Spray on clean countertops 1 to 3 times per day.
---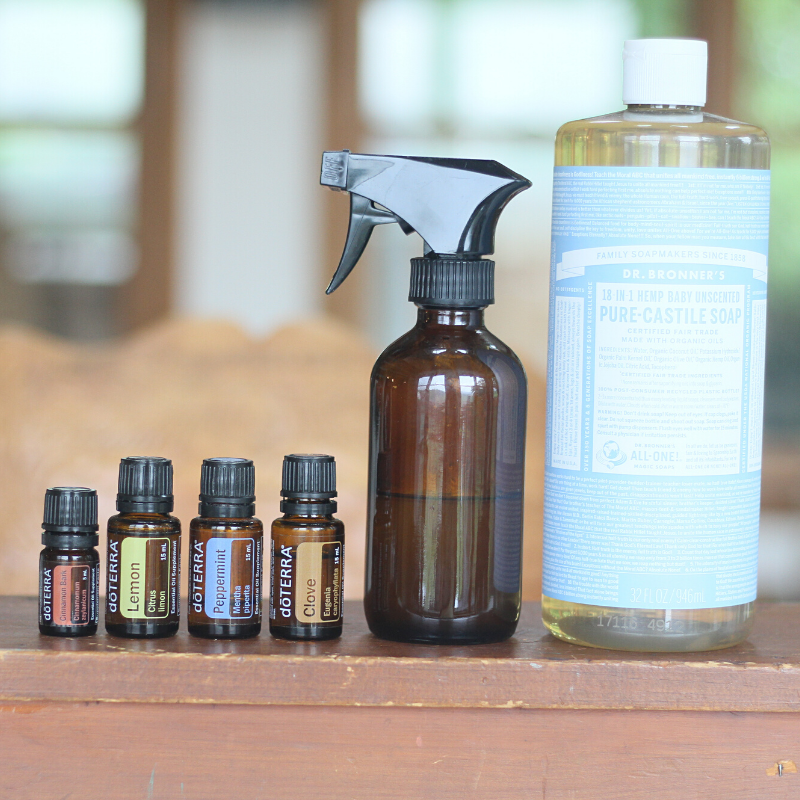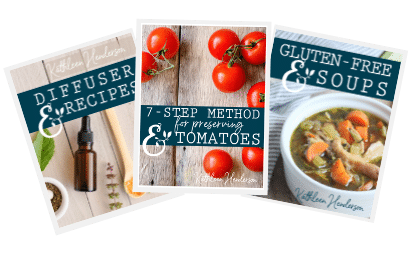 Sign up NOW for my best tips delivered weekly to your inbox!
You'll also get instant access to my library of free ebooks and resources.