Pesto Sausage and Carrots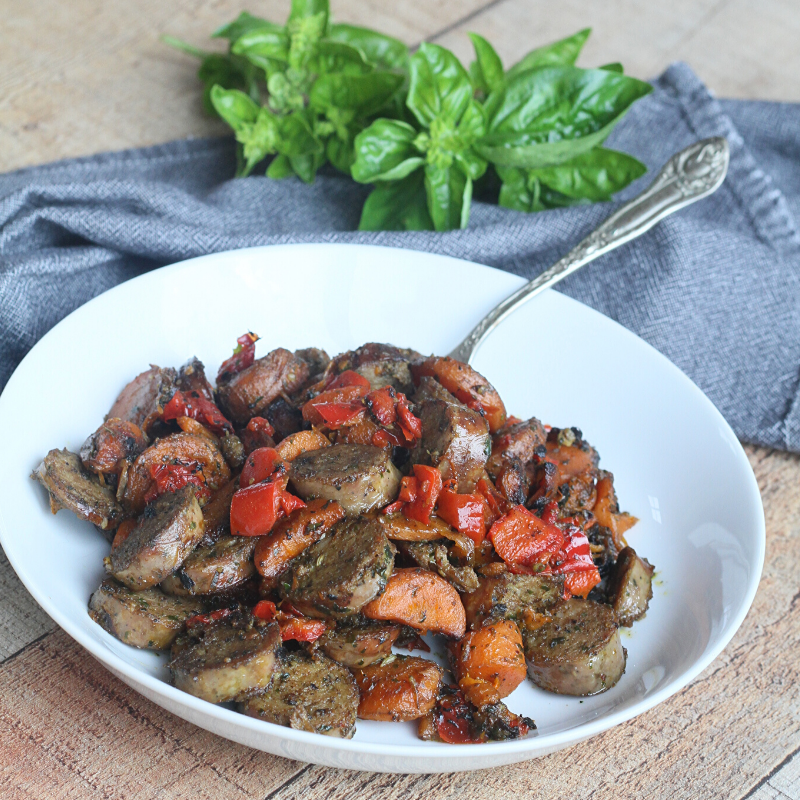 Simplify your dinner prep with tasty, nourishing soups!  My short, practical ebook is filled with my family's favorite one-pot, gluten-free, real-food soup recipes.
Get your copy of Nourishing Soups today!
This post may contain affiliate links, which means I make a small commission at no extra cost to you.
See my full disclosure here.
Friends, this Pesto Sausage and Carrots is about as easy as it gets. We're talking 30 minutes, one pot.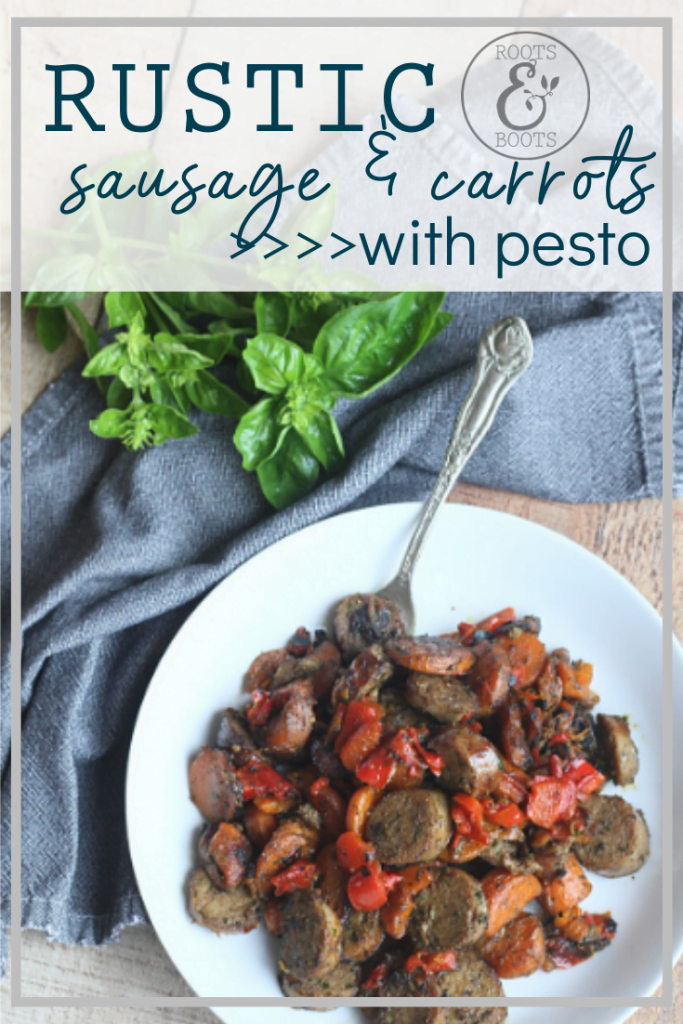 Are you (like me) always on the lookout for simple, no-fuss meals that don't skimp on flavor? If you love to nourish your family with real food–or even grow some of your own food–but you don't necessarily love to slave away in the kitchen, you're going to love this double-hitter recipe lineup!
Pesto Sausage and Carrots piggybacks another super-simple meal of grilled sausage and veggies. Which means I've solved two dinners in a row for you. You're welcome.
And if your family loves this simple meal as much as mine does, Pesto Sausage and Carrots will quickly take its place on your top-ten list of go-to family dinner recipes.
First step: find sausage
If you haven't already done this, the first step is to locate a source for clean, pasture-raised sausage. Depending on where you live, you should be able to find a local farm, a local-ish farm with drop points in your area, or even a health food store that stocks high quality, farm-raised meats.
Most sustainably minded farms provide at least one type of sausage such as Italian, Bratwurst, or Kielbasa. Any type of sausage will work, but I do prefer an Italian sausage for this meal.

Night #1: grilled sausage & veggies
On the first night, plan to eat grilled sausage and simple veggies for dinner. Grill 6 to 8 more sausage links than you'll need, depending on how many people will be eating both meals.
You can serve any veggies your family enjoys (or doesn't enjoy, as the case may be). I aim to serve three veggies at most meals, and a few of our favorites to combine with grilled sausage are diced, roasted sweet potatoes; sauteed red peppers; sauteed spinach; sauteed zucchini; and home canned green beans.
We also love roasted carrots, but since we'll add those to the leftover sausage for Pesto Sausage and Carrots on the next night, I usually try to avoid serving them with the grilled links on the first night.

Night #2: Pesto Sausage and Carrots
On the second night, plan to repurpose the (sliced) leftover grilled sausage along with sliced carrots.
Pro tip: slice the carrots ahead of time. Do it over the weekend as a part of your getting-ready-for-the-week meal prep, or do it when you're prepping veggies to serve with the grilled sausage on the first night, or do it right after the grilled sausage dinner.
OR delegate this task to a child (who has been trained to use a knife safely, which is possible much earlier than you might think).
I prefer to start with organic, whole carrots (or even better, homegrown carrots) for reasons outlined here.
Slicing the sausage ahead of time will make things easier, too. I like to slice the leftover sausage after we've eaten the grilled links, or the next morning. OR, again, this can be delegated to a kitchen helper.
I put the sliced sausage right back into the grilled sausage link dish, and I store the sliced carrots in mason jars in the fridge.
I also like to make huge batches of homemade pesto from our garden basil every summer and freeze it in ice cube trays. When the cubes are frozen, I pop them out and store them in freezer bags to enjoy all year long.
Find my super simple pesto recipe here: Fresh Basil Pesto.
30-minute one-pot meal
On the second night, when it's time to make Pesto Sausage and Carrots, you will literally just toss the three main ingredients into the pot. We like it best when prepared in a cast iron dutch oven, but stainless steel works too. I've done it both ways.
First, you'll sweat the sliced carrots with some oil and a bit of salt in a covered pot. When the carrots are tender, you'll add the sliced sausage. When the meat is heated through, you'll add a pesto cube or two.
I often add additional veggies like leftover sauteed (chopped) red peppers and sauteed spinach. Fresh spinach works too, because it wilts so quickly.
Convenience tip: keep a stash of frozen fire roasted red peppers and frozen spinach. Add a bit of each when you add the sausage.
Stir to combine and keep stirring to prevent sticking or scorching. When the pesto is fully incorporated, you're done! So easy! Cooking time is 30 minutes top. If you do all the slicing ahead of time, this is literally a 30-minute one-pot meal.
Even if you have to include time for slicing the night of, Pesto Sausage and Carrots is still a quick and simple meal. I hope your family loves it as much as mine does!
Print
Pesto Sausage and Carrots
Author:

Prep Time:

10 mins

Cook Time:

30 mins

Total Time:

40 mins

Yield:

8

-

10

servings

1

x
---
6

–

8

leftover grilled sausage, kielbasa, or bratwurst, sliced

1

lb carrots, sliced

1/4

c. pesto
unrefined sea salt

2

–

4

TB coconut oil
optional: spinach (fresh or frozen) or roasted red peppers (frozen or leftovers)
---
Instructions
Heat a large pot or dutch oven over medium-high heat.
Add coconut oil and melt.
Add sliced carrots and stir to coat well with oil.
Turn heat down to medium or medium-low and cover with lid.
Cook for 15-20 minutes, stirring often to prevent burning. Keep lid in place between stirs.
While carrots are cooking, slice the leftover sausage.
When carrots are tender, season with unrefined sea salt.
Then add sausage to the pot and stir well.
Cook for about 5 minutes until sausage is heated through.
Add pesto and stir well to combine.
Add optional spinach (leftover cooked, fresh, or frozen) and optional red peppers (roasted or sauteed leftovers, or frozen).
Stir well to combine, and cook several minutes more until spinach and peppers are cooked to your liking.
Stir well and serve hot.
---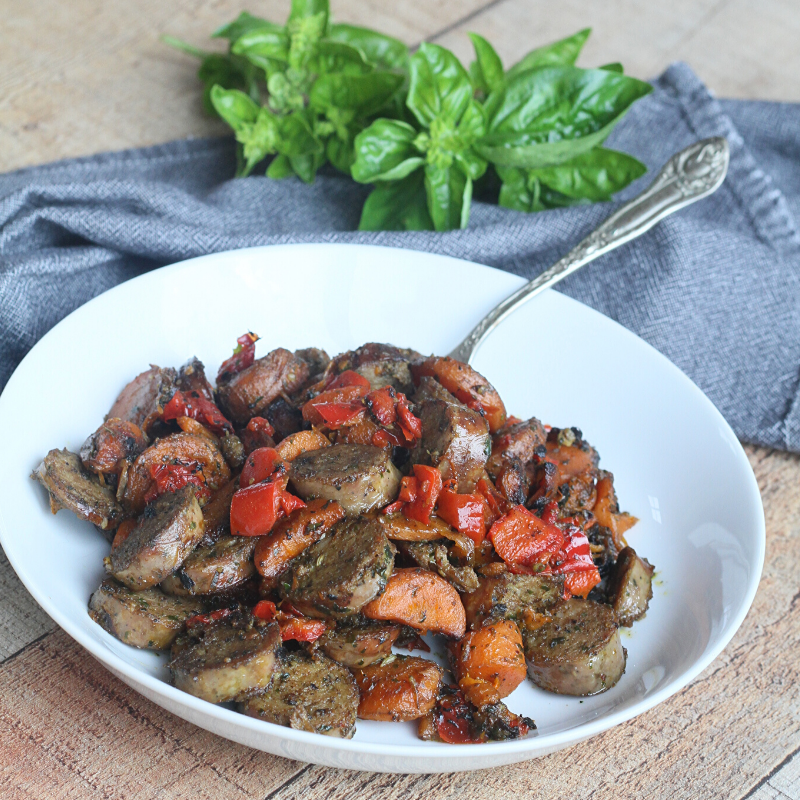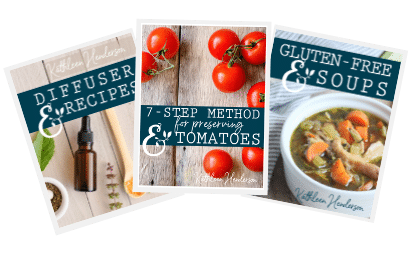 Sign up NOW for my best tips delivered weekly to your inbox!
You'll also get instant access to my library of free ebooks and resources.