Paleo Bulletproof Cacao Latte (Caffeine-Free)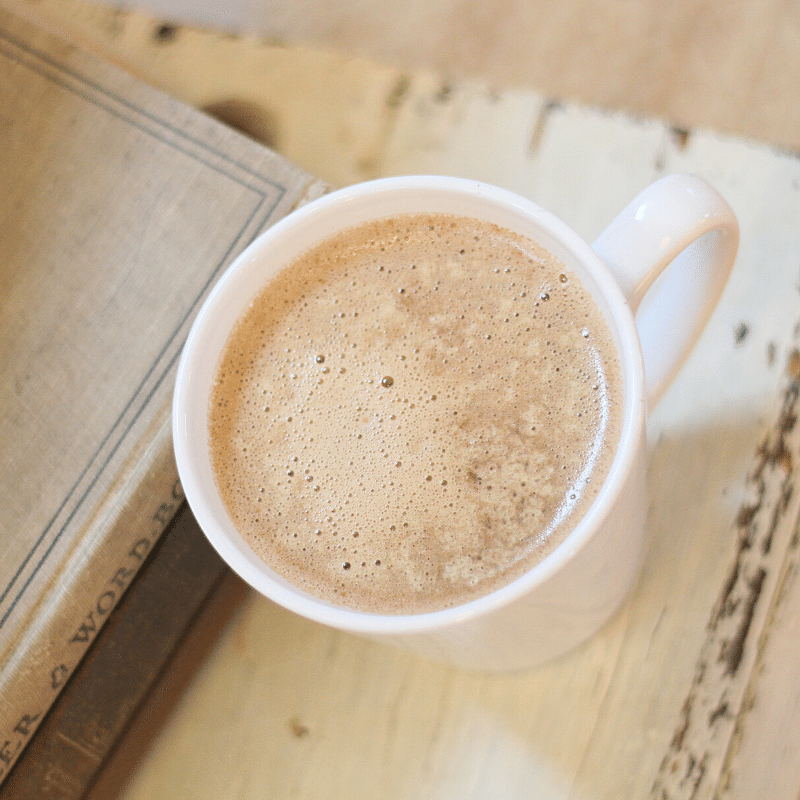 Simplify your dinner prep with tasty, nourishing soups!  My short, practical ebook is filled with my family's favorite one-pot, gluten-free, real-food soup recipes.
Get your copy of Nourishing Soups today!
This post may contain affiliate links, which means I make a small commission at no extra cost to you.
See my full disclosure here.
Nourish your body and feel fuller, longer with a cup of Paleo Bulletproof Cacao Latte!
You may have heard of bulletproof coffee and its many benefits, but some of us need to avoid caffeine, dairy, or both. This Paleo Bulletproof Cacao Latte provides many of the same benefits as bulletproof coffee, but without the dairy or caffeine.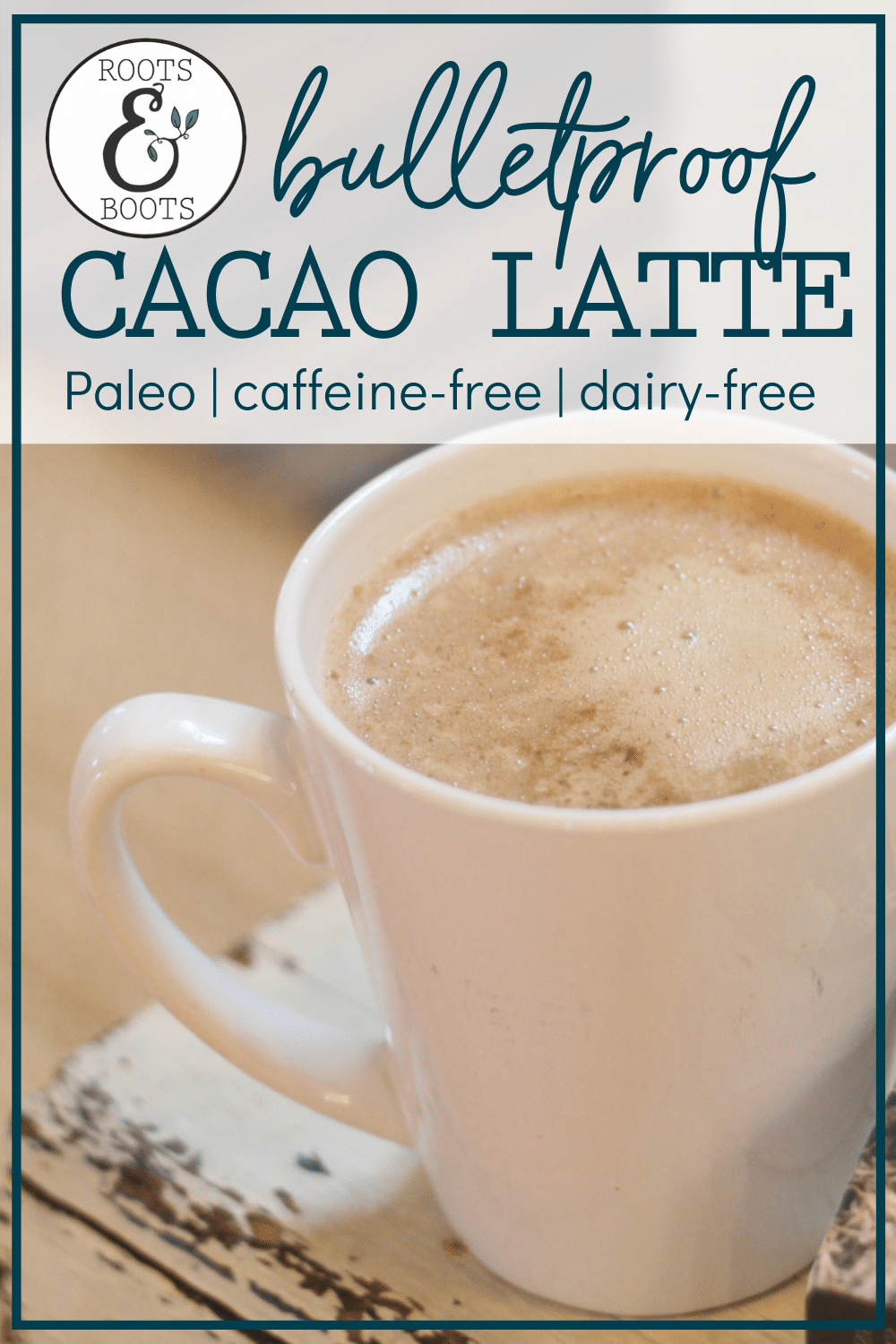 It's a great way to start the day or to get over the afternoon hump!
Why You'll Love Paleo Bulletproof Cacao Latte
With healthy fats and body-nourishing ingredients like grass fed gelatin, this Paleo Bulletproof Cacao Latte will help to keep your blood sugar levels stable. You'll feel fuller, longer, and avoid resorting to sugary or processed snacks.
If breakfast is a challenge for you, try drinking a cup of Paleo Bulletproof Cacao Latte to get your day and your blood sugar levels off to a great start.
If you tend to succumb to the afternoon munchies, try drinking a cup of Paleo Bulletproof Cacao Latte to get over the hump.
Do you get "hangry" just before meals? Drink a few swigs of Paleo Bulletproof Cacao Latte to keep your blood sugars (and your mood) stable.
Handy tip: Mix up a large batch and store it in the fridge for days (maybe even a week!).
Then you can reheat your Paleo Bulletproof Cacao Latte one cup at a time, as needed. Or you can drink it cold, straight out of the fridge! Whether you drink it hot or cold, just be sure to give the jar a good shake first.
My Favorite Way to Drink Paleo Bulletproof Cacao Latte
I love to keep a jar of Paleo Bulletproof Cacao Latte in the fridge to help avoid my "hangry" slump just before dinner (and sometimes lunch).
Sometimes I get really hungry late in the afternoon, but it's so close to dinner that I don't want a snack. So I wind up pushing through and getting super hungry and grumpy, or "hangry", as I'm preparing dinner.
When I keep this Paleo Bulletproof Cacao Latte mixed up in the fridge, it's super easy to pour myself half a cup or so and keep on trucking. I drink it cold!
(It does get a little gritty when it's cold, but I just shake the jar really well before pouring and I don't mind the little pieces of cold coconut milk.)
It raises my blood sugars, gives me an energy boost, and helps me focus on kitchen tasks with a much better attitude.

About the ingredients:
Dandy Blend
For reasons outlined here, I do much better without caffeine. Dandy Blend, a mixture of roasted ground dandelion root and roasted ground chicory root, is my favorite herbal coffee substitute. It's delicious!
Cacao Powder
Cacao powder is not the same as cocoa powder, though they both come from the cacao bean. Cocoa powder is more refined and processed, which means some of the important nutrients get stripped away.
Cacao powder is less processed and closer to the source (the cacao bean) which means it retains the powerhouse nutrients inherent in the cacao bean.
Look for a raw, organic cacao powder like this one.
Collagen Peptides (or grass-fed gelatin)
Collagen (or gelatin) comes from the skin, bones, and muscles of animals, usually cows, and is incredibly nourishing to the body. This vital protein contains key amino acids missing from the standard American diet.
Adequate collagen levels contribute to healthy skin, hair, nails, and teeth, plus proper joint function, digestion, metabolism, heart health, liver health, and muscle mass.
Unrefined Sea Salt
I hope by now you've made the switch from regular table salt (bad for your health) to a good, unrefined sea salt (important for good health).
Our bodies actually need salt: not unhealthy (processed) table salt but real (unprocessed) salt with lots of good trace minerals.
Coconut Milk
Coconut milk provides healthy saturated fats in the form of lauric acid, a medium-chain fatty acid easily absorbed by the body and used for energy.
MCT Oil
MCT stands for medium-chain triglycerides and MCT oil is similar to coconut oil, which contains MCTs. The recent Bullet Proof Diet popularized by Dave Asprey emphasizes MCT oil which is why this particular form of MCTs has become so popular.
The main difference between MCT oil and regular coconut oil is that MCT oil is much more concentrated and contains mainly capric acid and caprylic acid. MCT oil provides a fast and lasting energy boost and can also enhance brain focus.
Both MCT oil and coconut oil are good sources of medium-chain triglycerides, so feel free to use either one.
Turmeric Essential Oil
Turmeric is another popular supplement these days, and for good reason. Internal use of turmeric oil can help to support a healthy immune system, soothe joints, promote liver health, contribute to healthy cell function, and enhance brain health, among other benefits.
Turmeric oil also adds an earthy flavor boost to foods and beverages, like this Paleo Bulletproof Cacao Latte.
Cinnamon Bark Essential Oil
Cinnamon oil tastes great and also promotes healthy immune function and cholesterol and blood sugar levels.
Print
Paleo Bulletproof Cacao Latte (Caffeine-Free)
---
---
Instructions
Combine all ingredients in a blender and blend well.
Store in a jar in the refrigerator.
Reheat one cup at a time, as needed. I prefer to reheat in a small sauce pan, whisking to break up little clumps of cold coconut milk and gelatin.
---
Have you tried Bulletproof coffee? Are you dairy or caffeine-free? Have you tried Dandy Blend?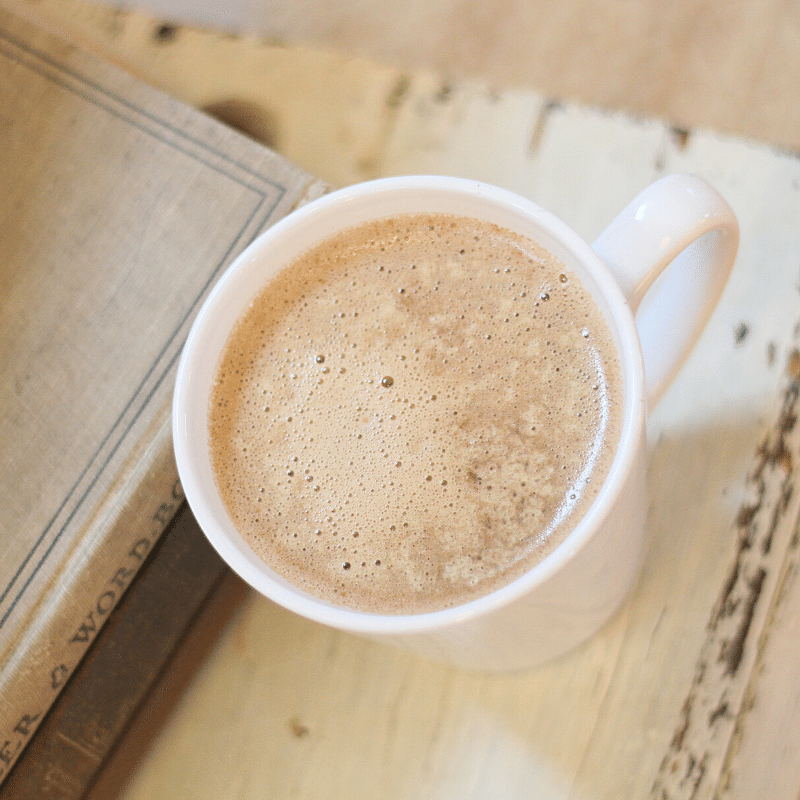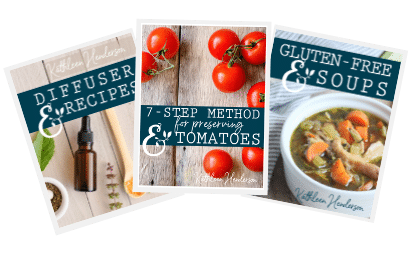 Sign up NOW for my best tips delivered weekly to your inbox!
You'll also get instant access to my library of free ebooks and resources.