Join the Seasonal Club.  Ditch the processed life! Learn to grow, source, preserve, and prepare real foods ALL YEAR LONG!  LEARN MORE >>
Join the Seasonal Club.
Ditch the processed life! Learn to grow, source, preserve, and prepare real foods ALL YEAR LONG!  LEARN MORE >>
How to Roast Frozen Carrots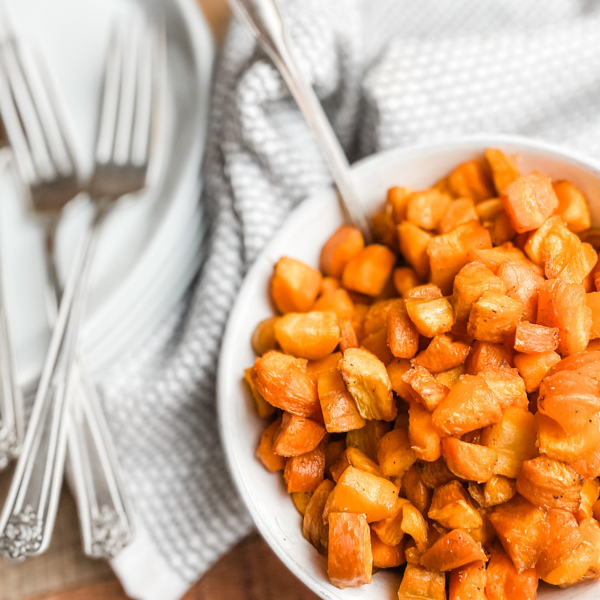 This post may contain affiliate links, which means I make a small commission at no extra cost to you.
See my full disclosure here.
If you've wondered how to roast frozen carrots, you will LOVE this recipe!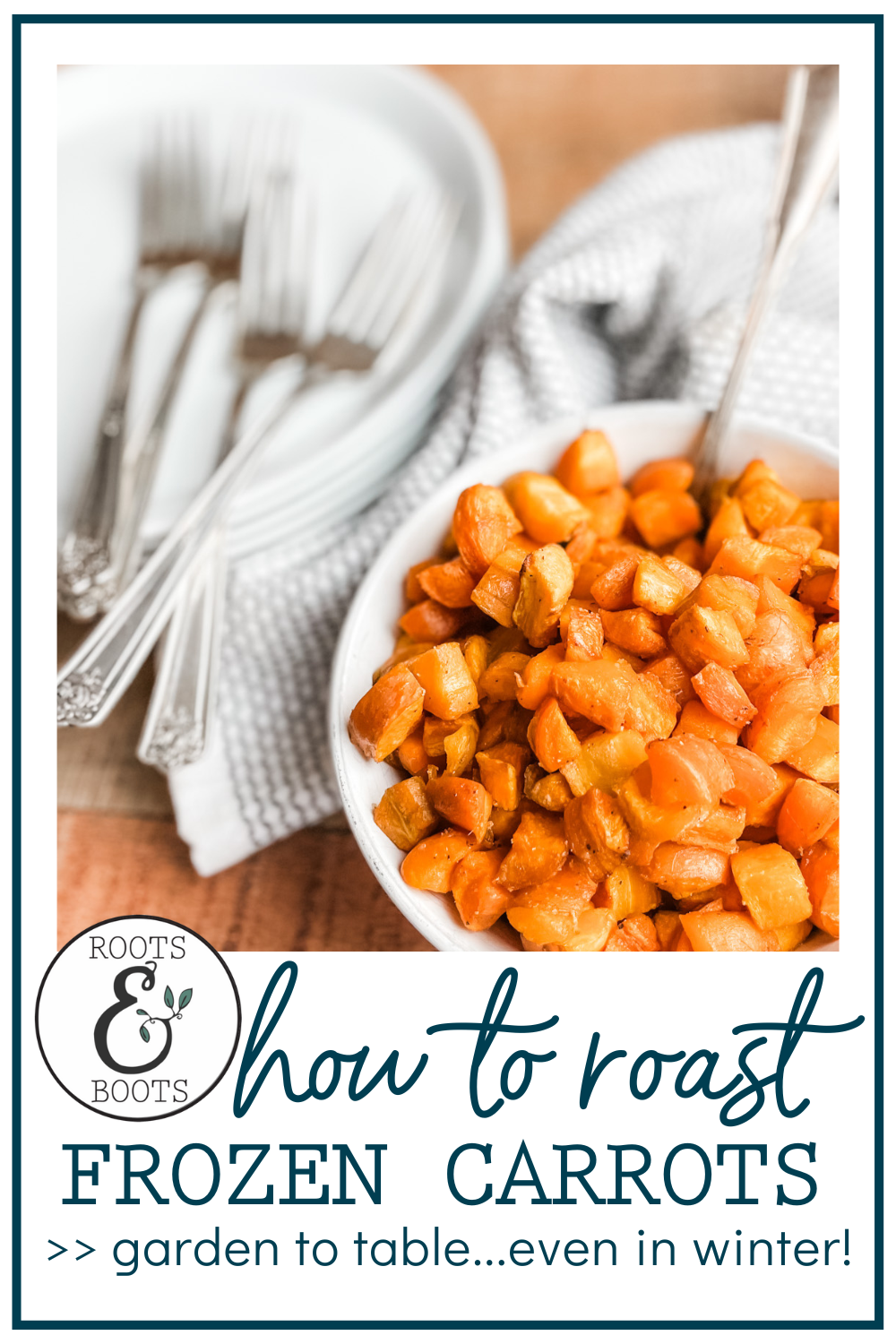 Yes, you can roast frozen carrots
I'm always looking for ways to preserve my homegrown produce in a way that allows me to feed my family from the garden all year long. This recipe for roasting frozen carrots is just the ticket!
First, you'll follow these instructions for blanching and freezing carrots. Do this during the growing season when you have fresh carrots from the garden, the farmers market, or even the grocery store.
I typically dice my carrots before blanching and freezing, because diced carrots are super versatile for cooking. However, for serving as a side dish, you may want to blanch and freeze some of your carrots in sliced rounds or whatever size you would normally use for this purpose.
Then later, during the winter when it's harder to access fresh carrots–although you may want to check out this video about growing fall carrots and storing them in the ground over the winter–you can serve these "fresh" carrots as a side dish with your meal.
By the way, this recipe also works with frozen carrots from the grocery store freezer aisle.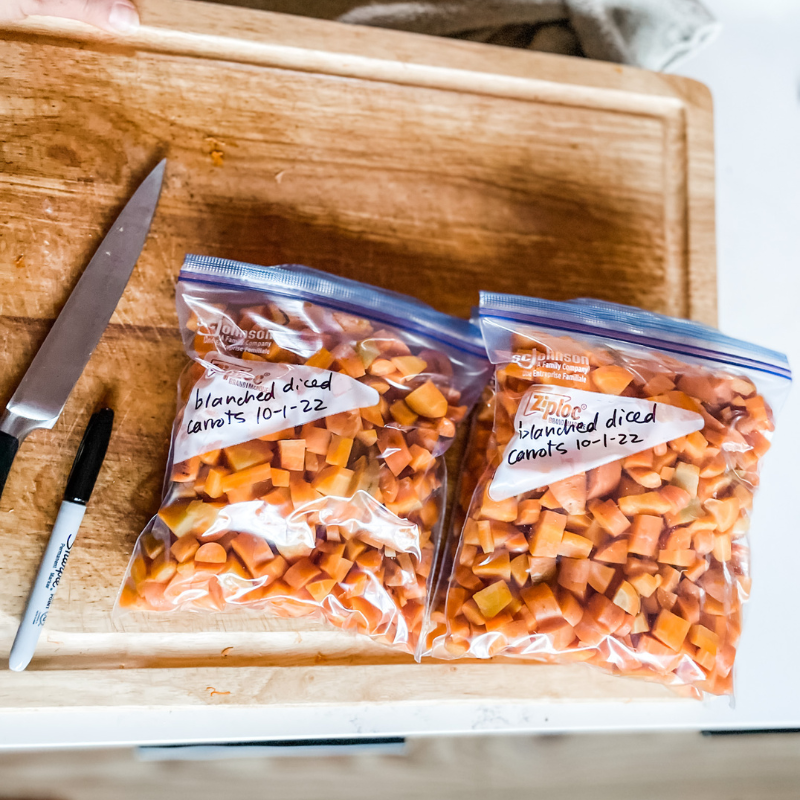 How to roast frozen carrots
Here is the basic idea:
Your frozen carrots go directly from the freezer to the oven, without thawing. This is important!
The carrots will take a brief detour as you toss them with seasonings and a few other ingredients.
Then into the oven they go to roast for 20-30 minutes.
That's it! It really is that simple.
Isn't this a great way to get fresh, homegrown carrots to your dinner table, even in late winter when your stash from last year's garden is disappearing and it's still too early for fresh spring carrots?
Seasonings for roasted frozen carrots
This recipe calls for a few basic seasonings like salt, pepper, garlic powder, and onion powder. Avocado oil helps with the roasting process and a bit of honey adds just the right amount of sweetness.
However, feel free to experiment with your own favorite herbs or seasonings. The possibilities are endless!
Print
---
1 quart

-size bag frozen carrots (

12

–

16

ounces)

3 tablespoons

avocado oil

2 tablespoons

honey

1/2 teaspoon

unrefined sea salt

1/2 teaspoon

garlic powder

1/2 teaspoon

onion powder

1/4 teaspoon

ground black pepper
---
Instructions
Preheat oven to 425 F.
In a large bowl, stir all ingredients except carrots.
Add carrots to the bowl and toss to coat as evenly as possible.
Do not allow the carrots to thaw, but immediately spread on a baking sheet in a single layer.
Bake at 425 for 20-30 minutes, until hot and fork-tender.  Flipping once or twice is recommended.
---
12 NOURISHING GLUTEN-FREE SOUP RECIPES
Simplify your dinner prep with these tasty, nourishing soups!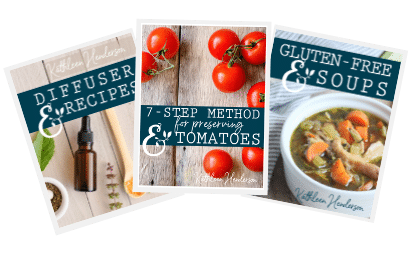 Sign up NOW for my best tips delivered weekly to your inbox!
You'll also get instant access to my library of free ebooks and resources.