Homemade Crockpot Ketchup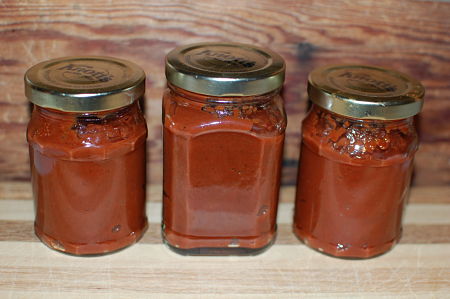 Simplify your dinner prep with tasty, nourishing soups!  My short, practical ebook is filled with my family's favorite one-pot, gluten-free, real-food soup recipes.
Get your copy of Nourishing Soups today!
This post may contain affiliate links, which means I make a small commission at no extra cost to you.
See my full disclosure here.
This ketchup is one of the ingredients in Last Minute Meatballs, a new favorite around the Yankee Homestead.
We actually went without ketchup for many months, using guacamole, hummus and mustards when we needed a condiment for dipping or spreading.  When I came across this recipe, I just had to try it!

[Most ketchups contain high fructose corn syrup and/or other nasty ingredients, which is why we try to avoid it.]
Personally, I don't love this homemade ketchup.  However, Mr. Native Texan really likes it and even Older Brother will eat it under certain circumstances. [He actually asked for it last night, to add to his hamburger.]  It's also been helpful for recipes that call for ketchup, and I've combined it with other sauces to invent new ones.  For example, the author of the original recipe uses it to make BBQ sauce.
Keep in mind that if you're switching directly from Heinz to this ketchup, it's likely to disappoint. 🙂 It's OK.  It takes time to get to the point where you're willing to avoid certain foods and ingredients at any cost…I think what helped us was going for so long without any ketchup at all.  By the time I found this, we were thankful to have it.
(Boy, what a way to introduce a recipe!)
The good thing is that this ketchup is super-easy to make!  It's also easy to store the excess in the freezer until you need it.
While preparing or serving this ketchup, try out this joke on whomever is nearby.  It's one of Older Brother's favorites. 🙂
Q:  A cabbage, a faucet and a tomato had a race.  How did it go?
A:  The cabbage was ahead, the faucet is still running and the tomato tried to "ketchup."

Homemade Crockpot Ketchup
Ingredients:
3½ cups homemade tomato puree
about 1/2 cup onion, chopped
about 1/3 cup apple cider vinegar
liquid stevia, to taste (I use about 2 full-ish droppers)
½ tsp. ground mustard
¼ tsp. allspice
¼ tsp. cinnamon
¼ tsp. mace
¼ tsp. ginger
¼ tsp. ground cloves
¼ tsp. Cayenne pepper
unrefined sea salt, to taste
ground black pepper, to taste
Instructions:
Place all ingredients in a 3 or 4 quart crockpot and stir well.
Cook on high for about 2 hours, stirring every now and then.
Use an immersion blender to puree into a smooth mixture.  (Please be very careful!  The mixture will be very hot and very red.  We don't want any burns or stains…)  You can also use a blender or food processor for this step.
After pureeing, cook the mixture on high for 30-60 minutes, uncovered.  Stir every now and then.
When the mixture reaches your desired consistency, turn off the crockpot and allow it to cool.
I like to store my ketchup in small glass jars, placing one in the fridge and the others in the freezer.  The recipe yields about 4 cups.
Notes:
This recipe was adapted from Simply Sugar & Gluten-Free's original recipe: Homemade Sugar-Free Ketchup
I make tons of tomato puree from our garden tomatoes each summer, storing it in the freezer.  (Because I don't know how to can.  I'm still not exactly sure how I grew up in Lancaster County, PA–we're talkin' major farm country–without learning how to can…).  UPDATE: I'm learning how to can!
You could also use one 28-oz. jar of canned puree.
If freezing, be sure to leave plenty of head room at the top of the jar to prevent cracking.
Amy at Simply Sugar & Gluten-Free says this will keep for about 2 months in the fridge.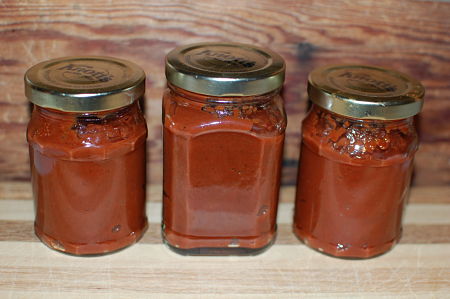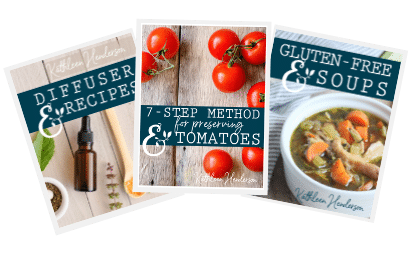 Sign up NOW for my best tips delivered weekly to your inbox!
You'll also get instant access to my library of free ebooks and resources.