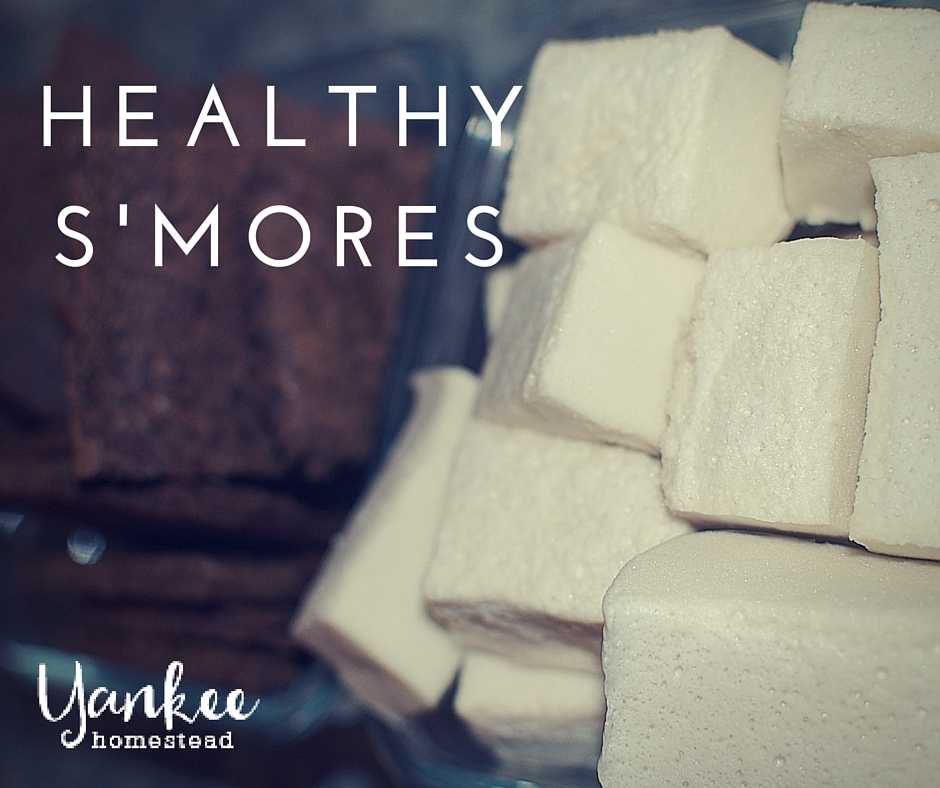 Simplify your dinner prep with tasty, nourishing soups!  My short, practical ebook is filled with my family's favorite one-pot, gluten-free, real-food soup recipes.
Get your copy of Nourishing Soups today!
This post may contain affiliate links, which means I make a small commission at no extra cost to you.
See my full disclosure here.
It's campfire season here in our neck of the woods, and what's a campfire without s'mores?
Unfortunately most marshmallows, graham crackers and a certain popular brand of chocolate bar land squarely in the category of processed junk.
Not to worry, you can make your own!  Homemade marshmallows have been on my must-try list for some time now, and this fall I finally took the plunge.
Oh my word, these marshmallows are amazing!  With a simple process and only a few ingredients, you can make your own healthy version of this must-have ingredient for s'mores.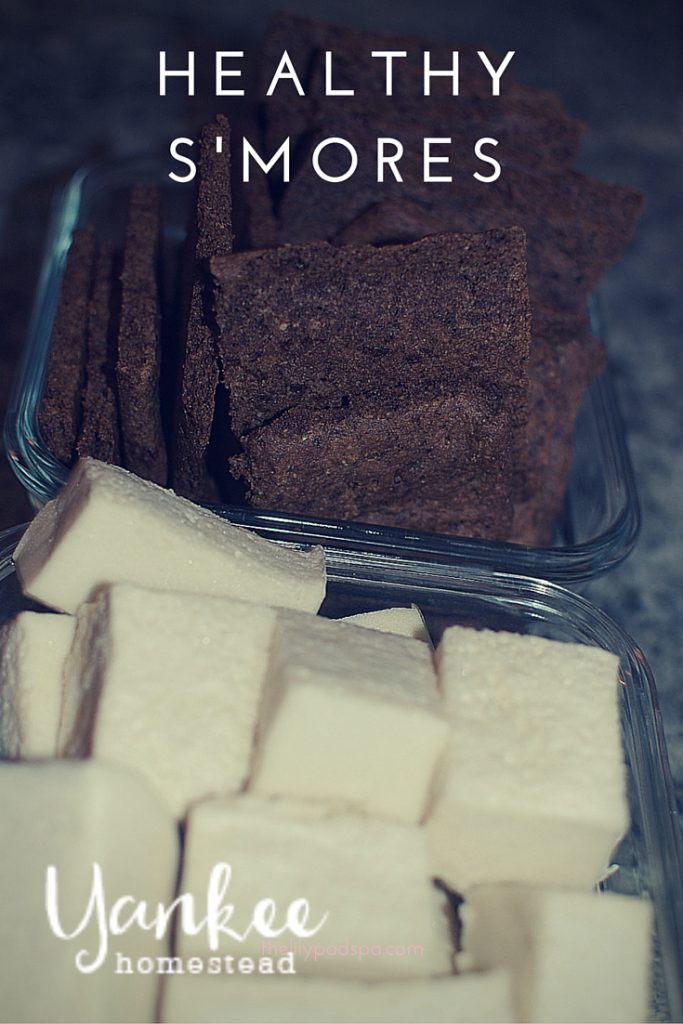 Thanks to a last-minute missing ingredient in my kitchen just before a large social event we were preparing to host, I had to ditch
my usual graham cracker recipe
and search for one that employed ingredients I had on hand.
The last minute switch was a bit chaotic at the time, but it turned out to be a blessing in disguise: these graham crackers are so good.
Don't forget the chocolate!  Listed below is my favorite high quality brand of dark chocolate.
I'm not normally a huge fan of marshmallows or graham crackers or even s'mores.  But these Healthy S'mores–oh my goodness.  They're pretty awesome.
Even without toasting the marshmallows, the combination is a winner.
Healthy S'mores
I love this recipe from The Urban Poser.  It works for Paleo, GAPS & SCD diets, and calls for only five ingredients: water, gelatin, honey, vanilla and salt.
I don't have a candy thermometer, and I mixed my marshmallow sauce with an electric egg beater.
If you have a stand mixer, the process–which is very similar to making Healthy Gummy Treats—will be that much easier.
If you want to get fancy, you can add fun coatings like crushed nuts, cocoa powder, shredded coconut, etc.
What a great gift idea, right?  Homemade marshmallows with fancy coatings.

I started with this recipe from Grain Changer, and adapted it a bit according to what I had on hand.
Instead of brown sugar, I used coconut sugar.  And instead of butter, I added coconut oil.
Tip: definitely double the batch!  You won't be sorry.
My favorite "healthy" dark chocolate bar is Green & Black's Organic 85% Dark Cacao Bar. Read more about it here.
After years of scrounging around for long sturdy twigs and improvised wire coat hangers, we finally acquired these telescoping roasting sticks.  We really like them!  They're color-coded and come in a handy zippered pouch for storage.
Here's to healthier treats around the campfire this year.  Happy roasting!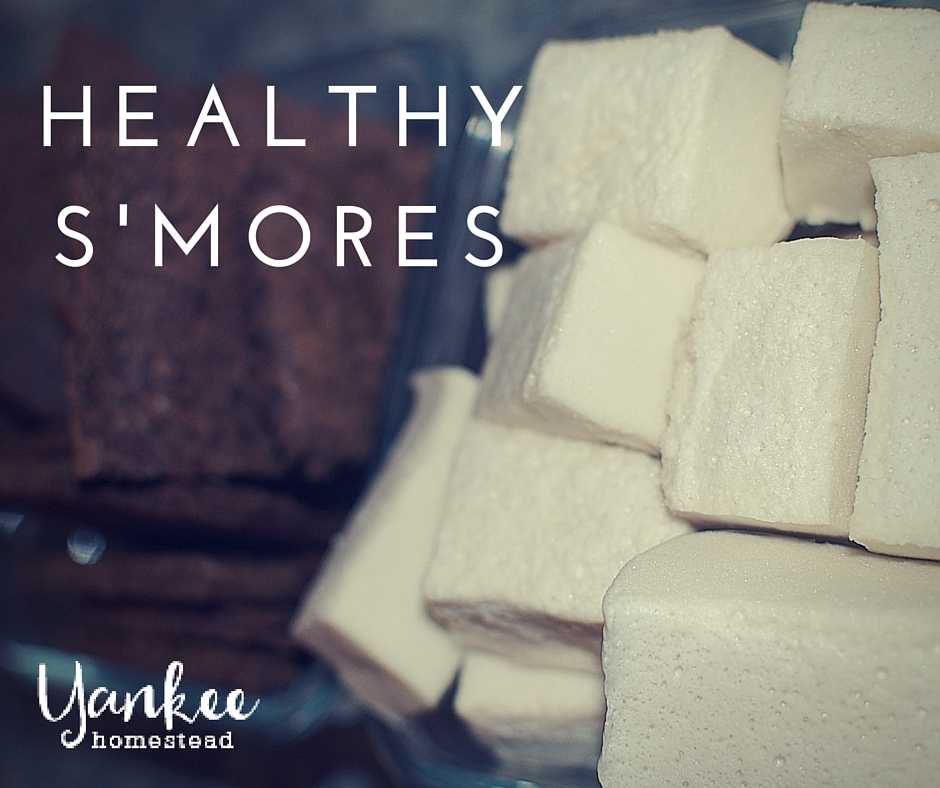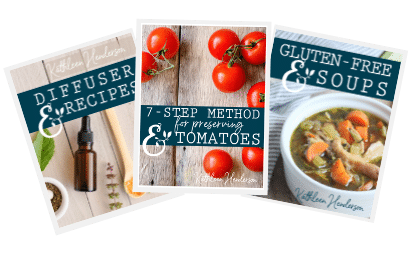 Sign up NOW for my best tips delivered weekly to your inbox!
You'll also get instant access to my library of free ebooks and resources.