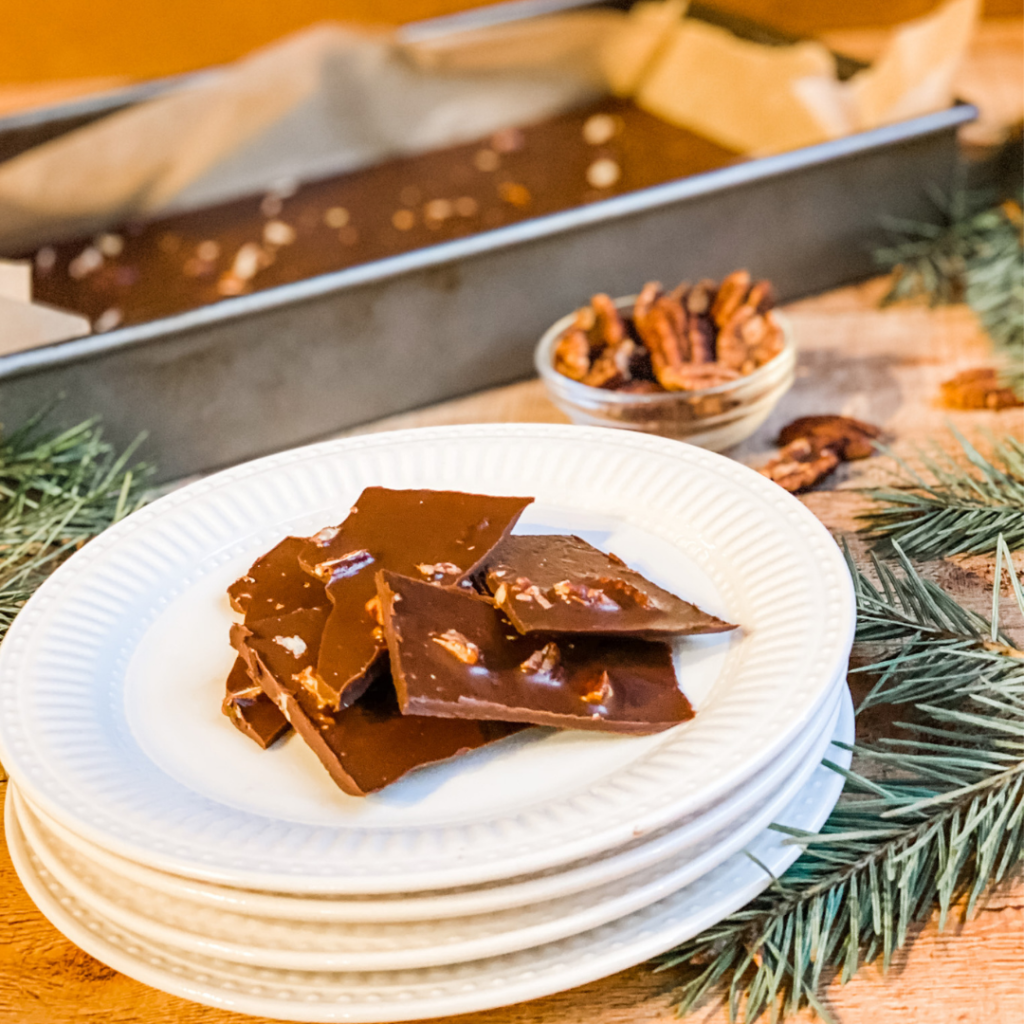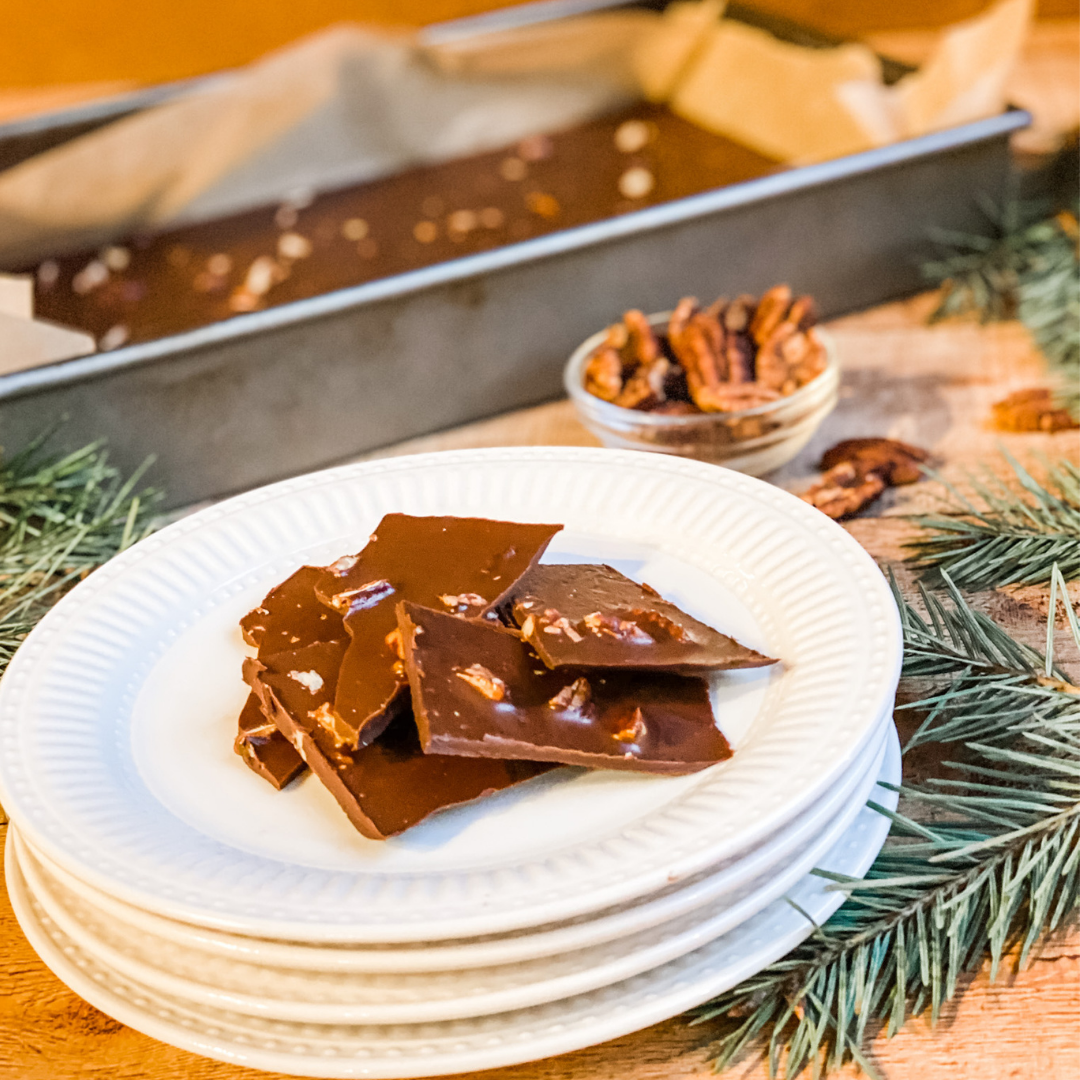 Simplify your dinner prep with tasty, nourishing soups!  My short, practical ebook is filled with my family's favorite one-pot, gluten-free, real-food soup recipes.
Get your copy of Nourishing Soups today!
This post may contain affiliate links, which means I make a small commission at no extra cost to you.
See my full disclosure here.
This easy, no bake chocolate coconut bark is the perfect holiday treat and also makes a great gift!
Of course you don't need to wait for the holiday season to enjoy chocolate coconut bark. This super simple recipe is perfect for any time of year!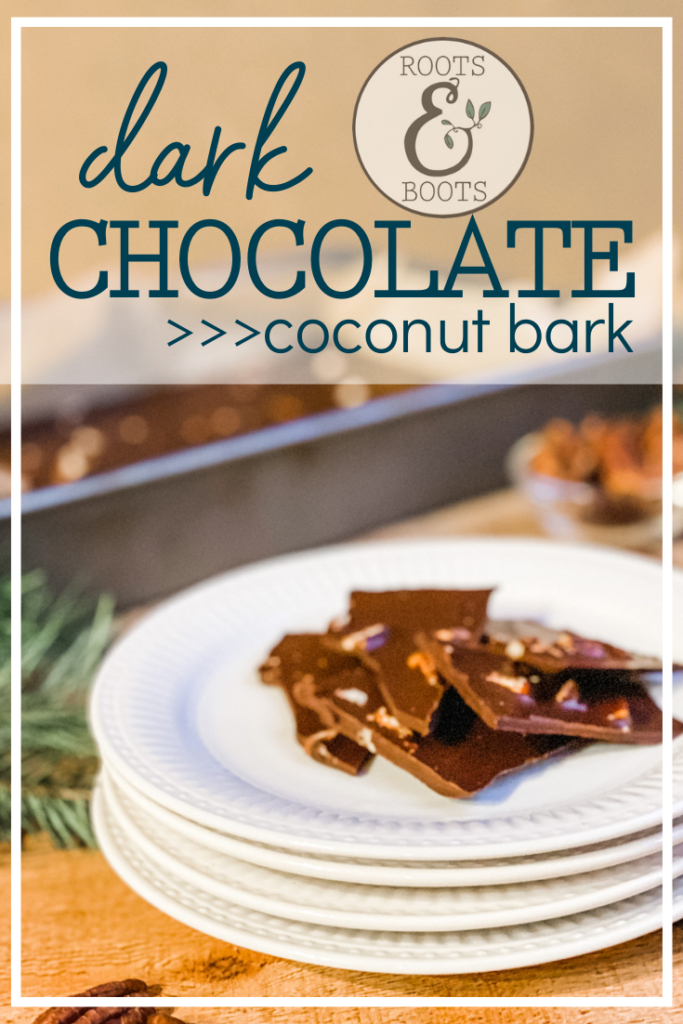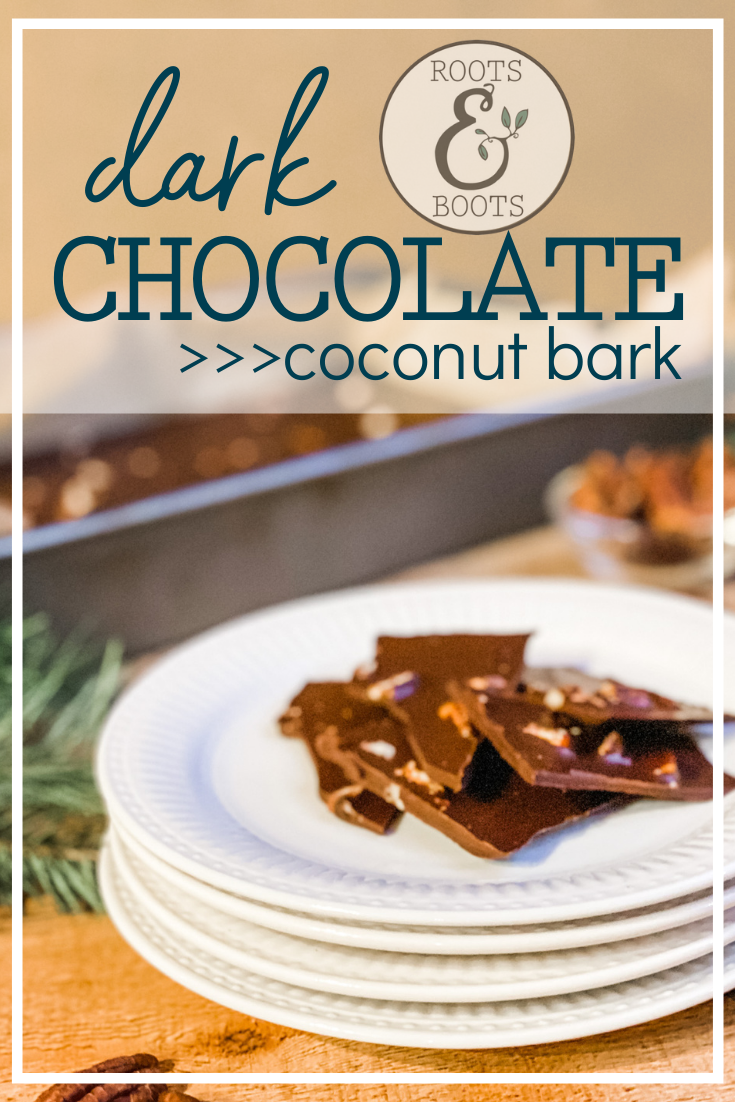 How to make chocolate coconut bark
It's such a simple process! The basic idea is this: top-quality, dark chocolate + coconut oil + chopped nuts + sea salt.
1. Start with a high quality dark chocolate.
Break the chocolate into pieces and melt it in a double boiler.
2. Add coconut oil.
When the chocolate is almost completely melted, add 1/2 cup to 1 cup coconut oil. Stir until completely melted.
3. Pour into a pan.
Pour the chocolate mixture into a parchment lined pan.
4. Add salt and nuts.
Sprinkle about 1/4 cup chopped nuts over the melted chocolate, along with 1/8 teaspoon unrefined sea salt.
5. Refrigerate until hardened.
Pop the pan in the fridge and wait a few hours until hardened.
6. Slice and enjoy!
Slice or chop the hardened mixture into pieces, and store in the fridge.
I'll walk you through the process in this quick video:
Chocolate coconut bark ingredients
Chocolate: I prefer to keep my chocolate as dark as possible (85%), and I look for a brand with a clean ingredients list. This is my favorite dark chocolate brand.
Coconut oil: You don't have to add the coconut oil, but I always do because it "healthifies" the recipe and makes the chocolate stretch further. Unrefined coconut oil will add a subtle coconutty flavor while refined coconut oil does not taste like coconut.
Nuts: Use any nuts you like! For alternatives to nuts, see below.
Salt: Always opt for unrefined sea salt! This is my favorite brand of unrefined sea salt, and you can get 15% off your order with this code: KEEPITREAL.
Alternatives to nuts
Can't do nuts? Try one of these add-ins instead:
Marshmallows
Dried figs
Dried apricots
Raisins
Dried cherries
Dried cranberries
Orange peel
Dried mangoes
Print
Chocolate Coconut Bark
Author:

Prep Time:

10 minutes

Total Time:

10 minutes

Yield:

6

-

10

servings

1

x
---
Description
This easy, no bake chocolate coconut bark is the perfect holiday treat and also makes a great gift!  Look for high quality, super dark chocolate (70-85%) and unrefined sea salt.  Don't like nuts?  Substitute dried fruits, marshmallows, or coconut flakes.
---
---
Instructions
Line a 9×13 pan with parchment paper.
Create a double boiler with a sauce pan and a glass measuring cup with a handle.  Add 1-2 inches water to the bottom of the pan, hook the measuring cup over the edge, and bring water to a boil.  Reduce heat to low.
Break up the chocolate bar and melt it in the glass measuring cup, stirring occasionally.
Add coconut oil to chocolate.  Stir until oil is completely melted.
Remove from heat.
Pour chocolate mixture into the parchment-lined dish.
Sprinkle nuts and sea salt on top.
Refrigerate until hardened.
Chop, break or cut into pieces.
Enjoy!
Store in fridge or freezer.
---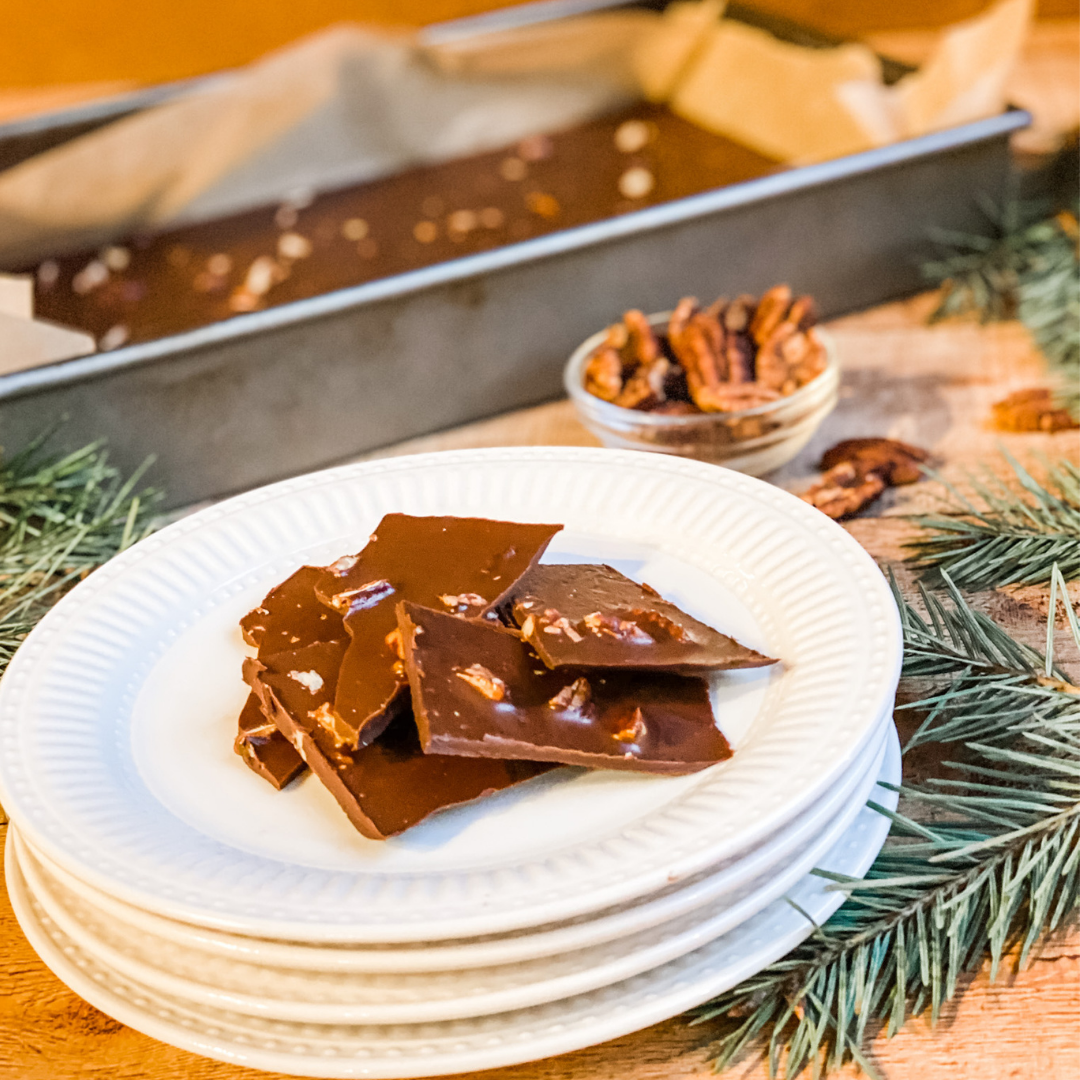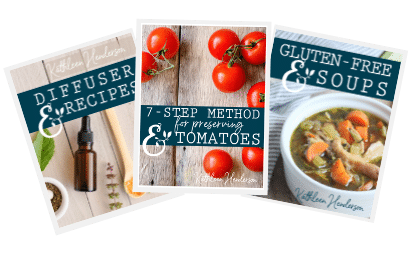 Sign up NOW for my best tips delivered weekly to your inbox!
You'll also get instant access to my library of free ebooks and resources.