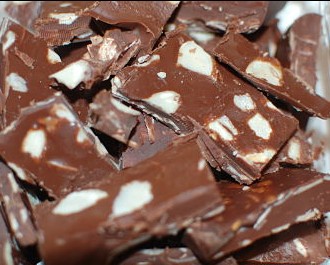 This easy, no bake recipe would be a great way to use the awesome coconut oil Tropical Traditions is giving away to one lucky Yankee Homestead reader on Monday.  [Click here for details and to enter the giveaway.]
It's also a perfect holiday treat and would make a great gift!
Check out the original recipe, from Mark Sisson at Mark's Daily Apple.
Check out another variation at Easy Paleo.  
The basic idea is this:
top-quality, dark chocolate (+ coconut oil) + chopped nuts + sea salt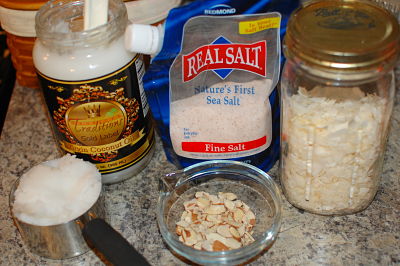 Here's what I did, along with a few suggestions…
Ingredients:
(1) 3.5 oz. bar of dark chocolate (click here for my favorite brand)
1 cup Gold Label coconut oil
handful of coconut flakes
handful of sliced almonds
1/8 tsp unrefined sea salt
Instructions:
Line a dish with parchment paper.  (See below for suggestions).
Create a double boiler.  (See below).
Break up chocolate bar and melt in top part of boiler, stirring.
Add coconut oil to chocolate.  Stir until oil is completely melted.
Remove from heat.
Add nuts and coconut flakes.  Stir.
Pour mixture into parchment-lined dish.
Sprinkle sea salt on top.
Refrigerate or freeze until hardened.
Chop, break or cut into pieces.
Enjoy!
(Store in fridge or freezer).
 Notes:
The larger your dish, the thinner the bark.  I used an 8×8 pan and my bark was a little thicker than I'd prefer.  Think I'll try a bigger dish next time.  [UPDATE:  I tried it in a 9×13 pan and was very pleased with the results.]
Green & Black's dark chocolate is available locally at Giant and Wegmans.
I actually used 1/4 tsp. sea salt, but will use less next time.  I recommend starting with 1/8 tsp.  Really, you could make this without any salt and it would be great.  The salt just gives it a bit of an edge.  You know, that sweet-n-salty thing.
For the double boiler, I use a large pot and a 4-cup Pyrex measuring cup, hooking the Pyrex handle over the edge of the pot.  Fill the pot with water up to the bottom of the Pyrex cup.  Remove Pyrex cup and bring water to a boil.  Add chocolate pieces to Pyrex cup and insert cup into pot of water, hooking the handle over the edge of the pot.
Optional ingredients: As you'll notice if you click on either of the original recipes at the top of this post, you can make this without the coconut oil.  You can also omit the coconut flakes.  The possibilities are endless!
Nuts: I used almonds, but would love to try this with macadamia nuts (as suggested in Mark Sisson's orginal recipe).  [UPDATE: I did try it with Crispy Macadamia Nuts, no coconut flakes and a bit less salt, and it was AWESOME!]

If you try a different variation, please share your results below!
Other posts you might like: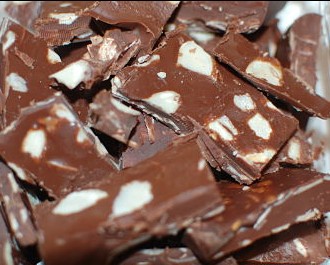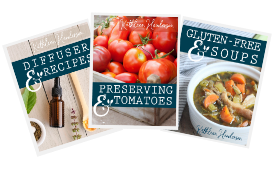 Sign up NOW for my best tips delivered weekly to your inbox!
You'll also get instant access to my library of free ebooks and resources.