Best Nontoxic Coffee Makers and Tea Kettles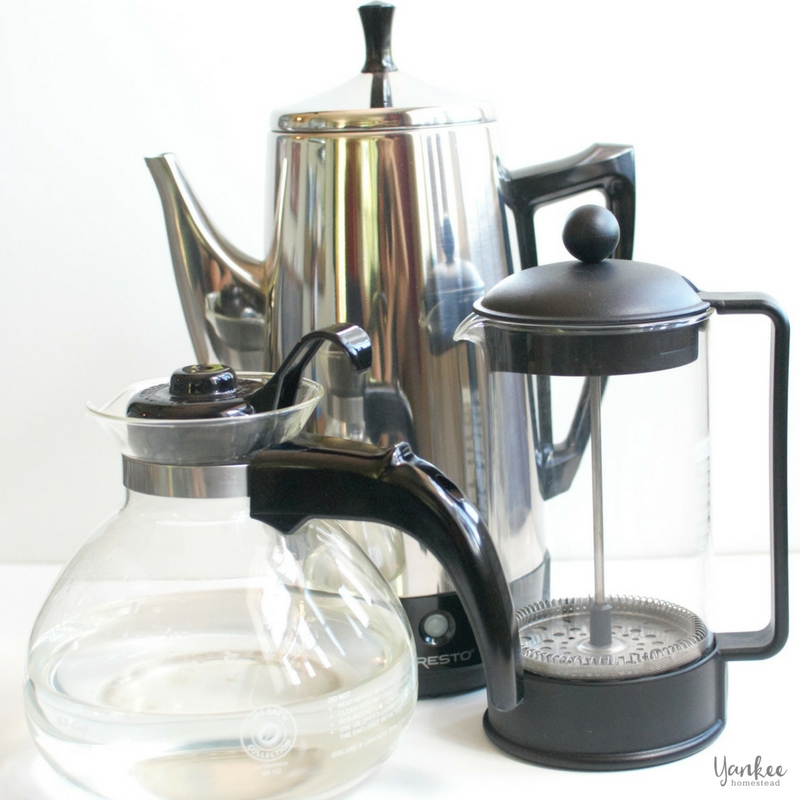 This post may contain affiliate links, which means I make a small commission at no extra cost to you.
See my full disclosure here.
When our coffee maker bit the dust earlier this year, I was determined to replace it with a nontoxic option.  Ditto for our beloved stainless steel tea kettle which had become increasingly difficult to keep clean.
From a toxicity standpoint, the trouble with most coffee makers (and coffee pod machines) is when hot water comes into contact with plastic parts.  Hot plastic leaches chemicals into that steaming hot cup of joe.  No thanks!
Fortunately, there are some great nontoxic coffee makers and tea kettles available.  If you're in the market for nontoxic coffee makers and tea kettles, you'll want to consider these options.
Looking to detox your kitchenware?  Here are a few more suggestions:
Best Nontoxic Coffee Makers
and Tea Kettles

1. Glass French Press
A French Press is a great option if you're making only a few cups of coffee in the morning.  It doesn't require electricity and the water must be heated separately before adding to the press.  And it won't keep the coffee hot.  I'm not a coffee drinker (this is what I drink instead), but I hear the flavor from a French Press is pretty awesome.  You can also use a French Press to brew hot tea!
We bought this French Press for camping.  It also came in handy when our coffee machine broke: we used it until we could research and order a replacement.  And when hosting overnight guests who prefer decaf coffee in the morning, Mr. Native Texan uses the French Press to make regular coffee for himself.
If we went with a French Press for our main method of coffee making, I'd get this one.

2. Stainless Steel Coffee Percolator
We chose a stainless steel percolator to replace our old coffee maker.  It's the same concept: add ground coffee and water, plug in, turn on.  Filter not required.  A percolator will keep your coffee hot until you unplug the unit, and I think it looks pretty cool on the kitchen counter.  Oh, and it's super-affordable.

3. Glass Tea Kettle
Our former tea kettle was stainless steel.  I really loved it!  Depending on who you ask, stainless steel is a safe option for boiling water.  The problem was trying to keep the kettle clean.  It was difficult to reach inside, and impossible to see all the nooks and crannies.
We chose a simple and very affordable glass kettle this time around.  It's much easier to clean, and I'm confident the glass material is safe for heating water.
More options:
The three options listed above are ones I've personally used and would recommend.  The following list is based on my research.

4. Glass Pour Over Coffee Maker
You've probably seen this beautiful coffee maker on display at coffee shops or even at the Museum of Modern Art in NYC.  Coffee fans rave about it, it's completely nontoxic, and it looks pretty cool.
Like the French Press, water must be boiled separately, then poured over the grounds.  Apparently this is slightly time consuming but worth it for the flavor. And clean up is a cinch.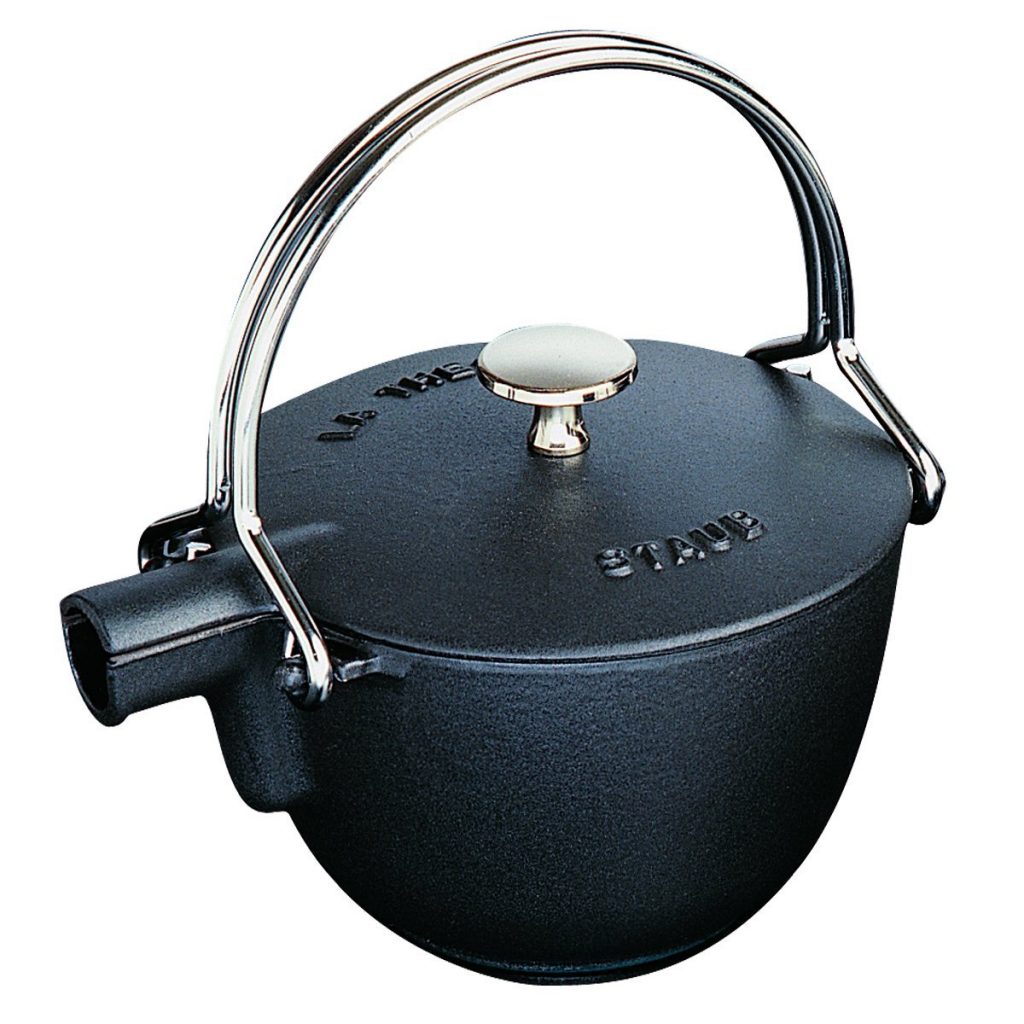 5. Cast Iron Tea Kettle
I use a lot of cast iron cookware in my kitchen.  Cast iron is also a great option for a tea kettle if you don't mind the weight. And the handle gets hot.  If you're into cast iron, here's an affordable kettle and a high end option.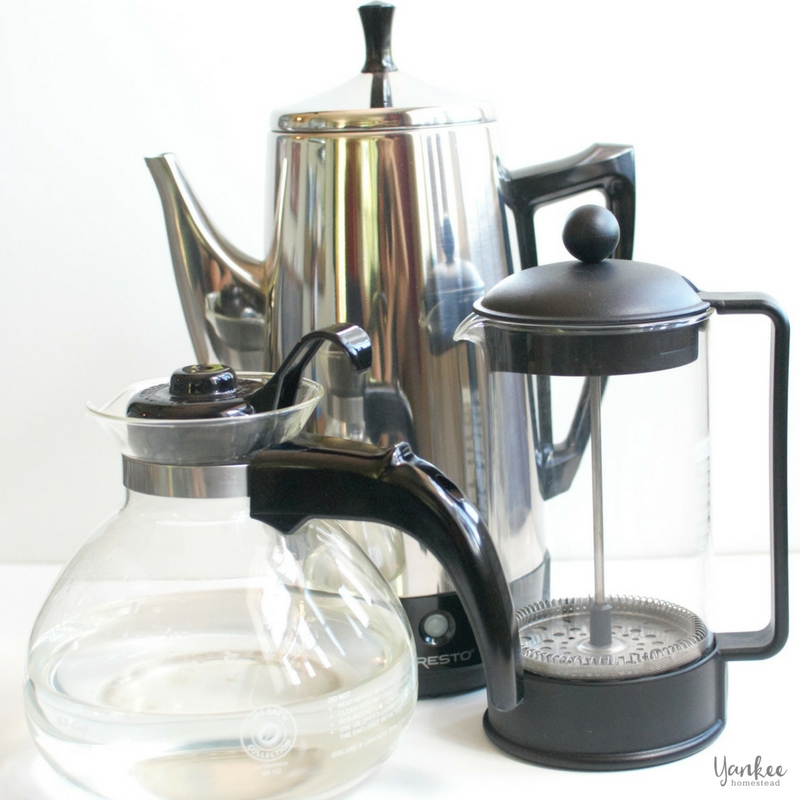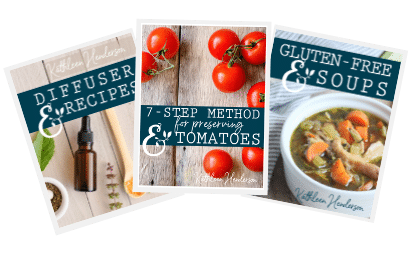 Sign up NOW for my best tips delivered weekly to your inbox!
You'll also get instant access to my library of free ebooks and resources.