4 Secrets to Diffuse Essential Oils like a Rockstar
No matter what life brings your way, there's a diffuser blend for that!  My short, practical ebook is packed with 100+ recipes to diffuse for immune support, sleep & relaxation, energy & good mood, focus & concentration, holiday & seasonal aromas, and more!
Get your free copy of 100+ Amazing Diffuser Recipes today!
This post may contain affiliate links, which means I make a small commission at no extra cost to you.
See my full disclosure here.
Do you want to diffuse essential oils more consistently, but can't seem to remember to start the diffuser?  Yep, me too.
When I decided to prioritize daily diffusing at my house, the first step was to identify the obstacles keeping us from using our diffusers more consistently.  Once I figured out the problems, I could make a plan for success.
Click here for my favorite way to purchase essential oils.
A few of my obstacles…can you relate?
I'm not SuperMom.
I simply cannot make breakfast, start a load of laundry, get the toddler up and change his diaper, supervise the older boys' morning chores, and load up the kitchen diffuser all at once.
I'm drawing a blank.
I've used oils for years and have definite favorites.  I know what to diffuse when.  But still, I often stand at my diffuser in the midst of the morning chaos, wondering which oils to add.
I can't find the oils I need.
Now where did I put the Rosemary?  Has anyone seen the bottle of Breathe?  Are we out of Lemon oil again?  
If you find yourself relating to any of these obstacles to rockstar diffusing status, I'd love to share the solutions that are working for us…
4 Secrets to Diffuse Essential Oils like a Rockstar
Here are four secrets that revolutionized my daily diffuser use…
1. Find a Helper
If you can, choose a designated diffuser helper (or two!).
At my house…
Mr. Native Texan loads up the nighttime diffusers in every bedroom.
My oldest son is in charge of the kitchen diffuser during the day.
Older Bro loves keeping a list of seasonal blends on the refrigerator and making a selection each morning.  See #4, below.  I love that someone else is responsible for keeping our diffusers running!
2. Hook it to a Habit
Whether it's you or a designated helper loading up the diffuser each day, you'll be more successful if you hook this task to an existing daily routine.
A friend of mine fills her diffuser every morning when she fills her cats' water dish.
Mr. Native Texan fills the bedroom diffusers every night after Little Bro's shower.
In the mornings, Older Bro fills the kitchen diffuser during his breakfast clean up chores.
Do you make coffee or tea every morning?  That might be a good time to start your diffuser.
3. Keep Oils Nearby
Keep your oils near the diffuser.  It may seem obvious, but I promise it will make a big difference!  This is a prime example of why we keep multiple bottles of our favorite oils open and available in different spots throughout the home.

4. Keep Recipes Handy
This was a huge aha moment for me, especially after crowning my son King of the Kitchen Diffuser.  To empower him with diffuser autonomy (i.e., please stop asking me what to put in the diffuser), I realized we need to keep a list of diffuser recipes near the diffuser.
Where can I find good diffuser blends, you may ask.  I have good news!
1. My favorite Fall, Holiday, & Winter Diffuser Blends are available as free printables:
2. More favorite diffuser recipes:
3. I'm so excited to announce the debut of an awesome little Diffuser Recipes booklet from ShareOils!
It's been an honor to collaborate with the super-talented Elka Engle to create the perfect little guide to diffusing.  This Diffuser Recipes booklet is packed with tips for choosing a diffuser, putting it to use, and keeping it clean…plus 80 awesome recipes for diffusing!  There's even room to write in your favorite personal concoctions.
Keep this perfectly-sized booklet next to your diffuser and never waste a moment wondering What should I diffuse today?
The moral of the story is: have a system!  Putting someone in charge of the diffusers, hooking it to a habit, and keeping the oils and diffuser recipes nearby will increase your odds of daily diffusing.
PS–Don't have a diffuser?  Not to worry, you can still enjoy the aromatic benefits of essential oils!  Here are 8 Ways to Diffuse Essential Oils without a Diffuser.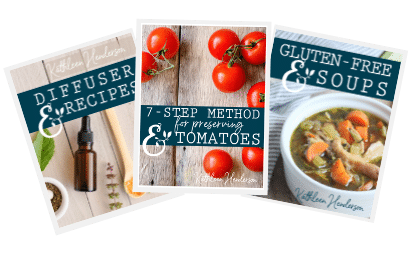 Sign up NOW for my best tips delivered weekly to your inbox!
You'll also get instant access to my library of free ebooks and resources.