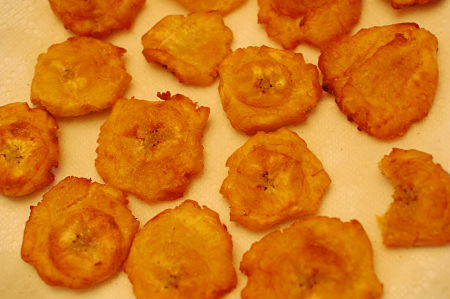 On a whim at the grocery store the other day, I picked up two plantains.
I'm not exactly sure why, but they were calling to me, reminding me of the amazing fried plantains I enjoyed long ago at the home of a friend's Puerto Rican grandmother.
She actually allowed me to assist in the process, which was really very simple:
cut them into chunks
smash them
fry them in oil
add some salt, if you want
Of course, she had this special "smasher" which was just perfect for smashing chunks of plantain.  It was over a decade ago, but as I recall, the smasher consisted of two, flat, wooden pieces hinged together on one end.  You place the plantain chunk inside the two wooden pieces and press down.
I do not have a smasher, so I had to improvise.  See below.
The boys were very eager to sample these fried plantains, a strange new food I impulsively whipped up to accompany our lunch, and their reviews were mixed.
Little Brother told me he "weally, weally wiked dem," but only ate a bite.  Older Brother loved them and scarfed down quite a few.  I thought they were wonderful!
Not familiar with plantains?  Here are a few tips and facts:
They look like bananas, only bigger and more firm.
They are considered both fruits and vegetables.  I believe it depends on the stage of ripeness.  (Unripe plantains are starchy, like a root vegetable, while ripe plantains are sweet, like a ripe banana).
Plantains can be used for something in every stage of ripeness.
Plantains start out green (unripe), then turn yellowish (sort of ripe), and then brown to black (very ripe, and sweet).
Green plantains are best for frying in the recipe below.
You really wouldn't want to eat a raw plantain; they're best when cooked in some form.
They grow year round (in the Caribbean), so anytime is a good time to buy plantains in the U.S.
Plantains are harder to peel than bananas: slice off each end, then slit the skin from end to end and remove.
 
Fried Plantains
Ingredients:
Coconut Oil (about a cup)
Plantains (I used 2)
Unrefined sea salt
Tools:
Cast iron skillet
Tongs
Waxed paper
Oven mitt
Instructions:
Heat oil in skillet, over medium heat.
Peel plantains and cut into chunks.
Place plantains in the hot oil for several minutes, until they start to cook.
Remove plantains and drain on paper towels.
Place them between two sheets of waxed paper, and smash each chunk with your hand.  (They will be HOT, so I recommend protecting your hand with an oven mitt).  You could also smash them with a sturdy, flat object.
Place the smashed plantain chunks back into the oil and fry until golden and crispy.
Drain on paper towels.
Add unrefined sea salt to taste.  (I recommend doing this before they dry, while still hot.  The salt seems to stick better this way.  I tried to salt some of mine after the oil had dried, and the salt just bounced right off.  We solved that problem by sprinkling salt on our plates and "dipping" the plantains in the salt as we ate).
Notes & Sources:
My recipe is based loosely on this one: Tostones (Fried Plantains), although recipes abound online for Fried Plantains.
This About.com article is helpful on the general topic of plantains: Plantains.
These would be great as a side dish with dinner, as a snack for the kids (or adults!) and even as dessert with dark chocolate, fondue style.
Other posts you might like: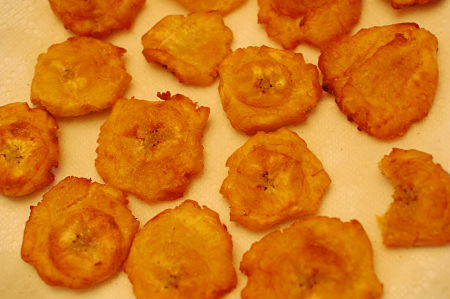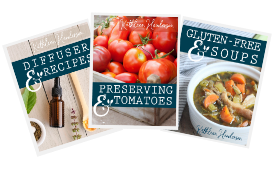 Sign up NOW for my best tips delivered weekly to your inbox!
You'll also get instant access to my library of free ebooks and resources.