15 Best Sources for Gluten Free Real Food Recipes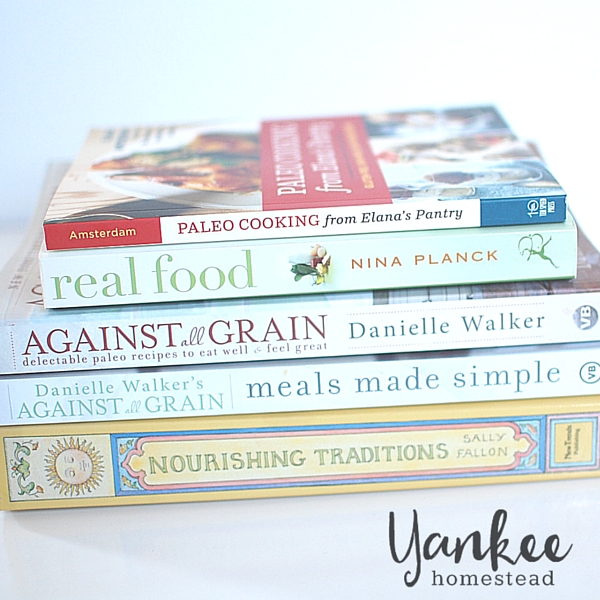 Simplify your dinner prep with tasty, nourishing soups!  My short, practical ebook is filled with my family's favorite one-pot, gluten-free, real-food soup recipes.
Get your copy of Nourishing Soups today!
This post may contain affiliate links, which means I make a small commission at no extra cost to you.
See my full disclosure here.
When you start a gluten free real food diet, one of the first things you learn is that not all gluten free food is real food, and not all real food is gluten free.
And just like that, pretty much the entire content of your recipe box becomes obsolete.
Goodbye, cookie recipes. Goodbye, all baking recipes, for that matter.
Goodbye, casseroles and all recipes calling for cream-of-anything.
Goodbye, pasta.
Goodbye, flour.
Goodbye, sugar.
Goodbye, pretty much every ingredient I once knew. It's been real.
In Search of Gluten Free Real Food Recipes
Obviously, one of the most overwhelming aspects of a new specialized diet is finding new recipes:
What will we eat now??
Where can I find gluten free real food recipes?
Will my family like these new recipes?
And so the makeover begins!
Time to…
toss most of your former recipes.
toss lots of processed foods from the pantry.
search for new gluten free real food recipes.
shop for new, less processed ingredients.
try out the new recipes on your family.
My Research is Your Gain
I'm not necessarily a recipe developer, but I am most definitely a recipe researcher and a recipe tester. And now, after years of recipe research and hundreds of recipes tested, my gluten free real food recipe box is stocked with some pretty awesome recipes.
And that, my friends, is how this blog began. Every Roots and Boots recipe falls in the category of gluten-free and real food.
On top of all the great recipes available here at Roots and Boots, today I'm sharing my favorite resources for gluten free real food recipes–online and in print.
This list of gluten free real food websites and cookbooks will save you lots of precious time. Enjoy!

15 Best Sources for Gluten Free Real Food Recipes
Once again, not all real food is gluten free, so I've separated the categories below.
Gluten Free Real Food Websites
1. Against All Grain – Danielle Walker's story is pretty amazing, and her recipes are equally fantastic. Plus, the food photos.
2. Elana's Pantry – Elana Amsterdam was one of my very first gluten free gurus. Her recipes are simple and tasty. They've never failed me!
3. The Urban Poser – Jenni Hulet creates pretty cool recipes and her food photography is amazing. I love her recipe for homemade marshmallows!
Side note: She also happens to live in the same area we moved from in Texas, so I love her references to nearby places.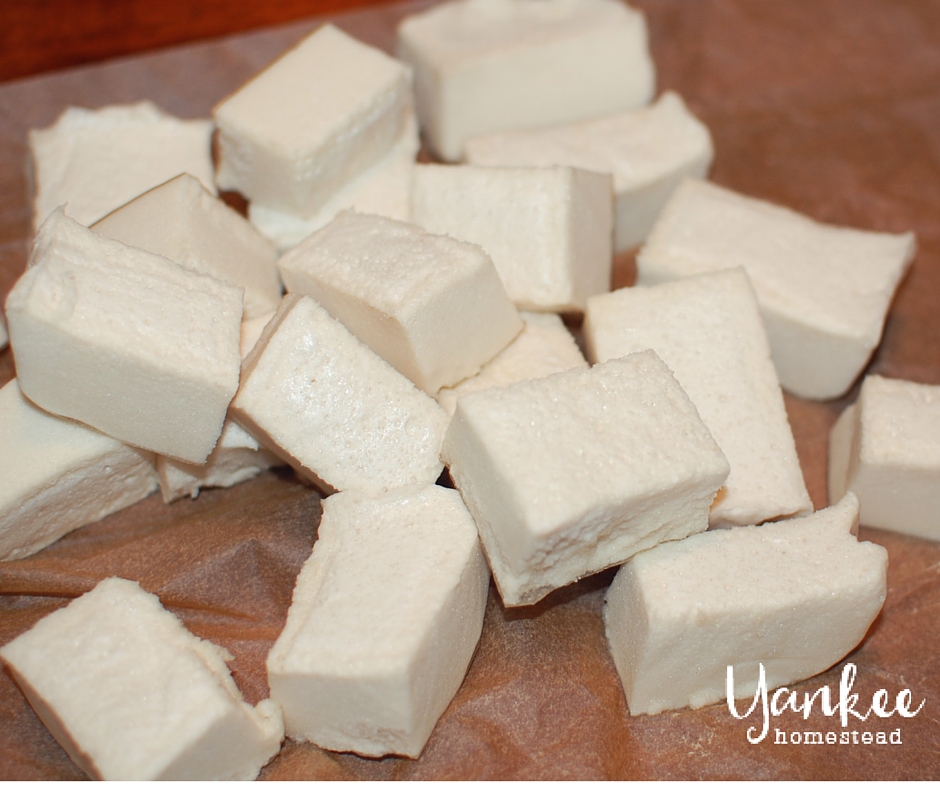 4. The Nourishing Home – I'm still a bit new to Kelly Smith's site, but I love her commitment to healthy, gluten free, real food recipes.
5. Simply Sugar-& Gluten-Free – Amy Green's recipes were an enormous help to me at the beginning of our gluten free adventure. Her recipes are also free of refined sugar, which is a big plus.
6. Whole New Mom – If you need to steer clear of many common allergens, you'll want to check out Adrienne Urban's recipes. She emphasizes sugar-free, whole food recipes that are special-diet-friendly.
Gluten Free Real Food Cookbooks
7. Against All Grain – My all-time favorite gluten-free cookbook. If you can buy only one GF cookbook, this is it. A few recipes are on her blog, but many of these recipes are exclusive to the book.
8. Meals Made Simple – Another great collection of recipes from Danielle Walker, author of Against All Grain.
9. Paleo Cooking from Elana's Pantry – Simple, real food recipes. We especially love her recipes for ice cream.
Real Food Websites
10. 100 Days of Real Food – Lisa Leake uses whole wheat flour and tends to rely on grains, but many of her recipes are still gluten free. If you're looking to replace mainstream recipes (Enchiladas, Baked Beans, etc.) with healthier versions, this is a great place to start.
11. Kitchen Stewardship – Katie Kimball's recipes are mostly gluten free, with a focus on keeping real food affordable.
12. Keeper of the Home – This site draws from several contributors, and most of the recipes are gluten free. Many recipes are also simple and cost effective.
Real Food Cookbooks
13. Real Food – Not precisely a cookbook, but you'll definitely pick up reliable preparation tips for real food. For example, I love Nina Planck's simple guidelines for preparing vegetables. Plus, her book is basically a manifesto for real foodies everywhere. The tagline says it all: What to Eat, and Why. A must-read!
14. Nourishing Traditions – Simple, basic recipes for preparing real, nourishing food. Plus tons of information and research from Sally Fallon and the Weston A. Price Foundation.
15. How to Cook Everything – The only cookbook from my former collection to pass the real food test! It's a culinary how-to manual, and I refer to it constantly. This Bolognese Meat Sauce is a family favorite.
What's your favorite resource for gluten free real food recipes?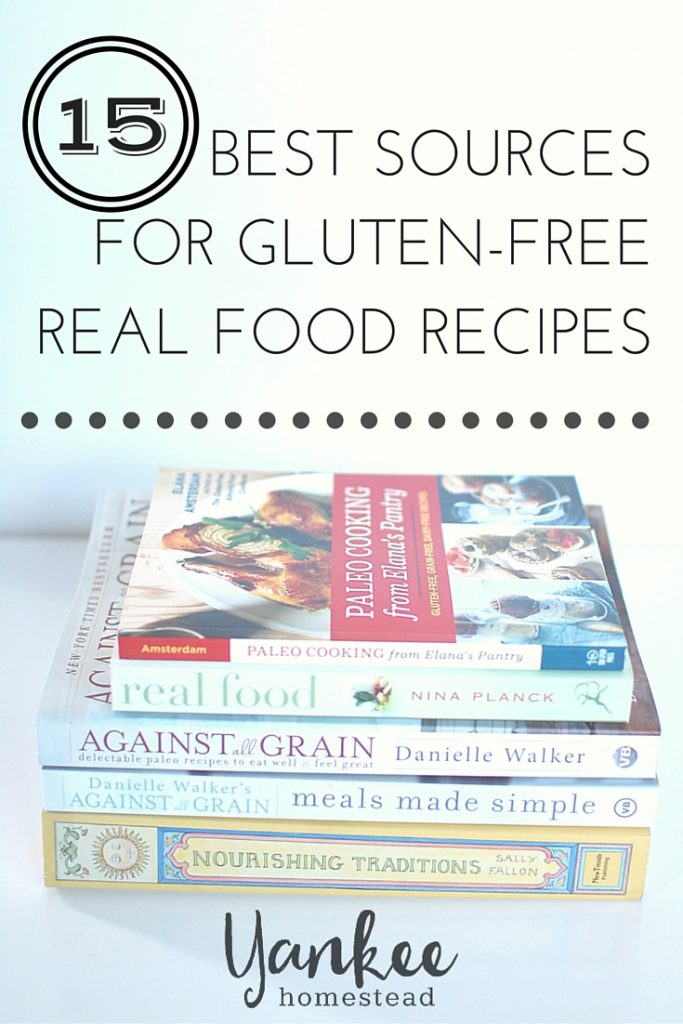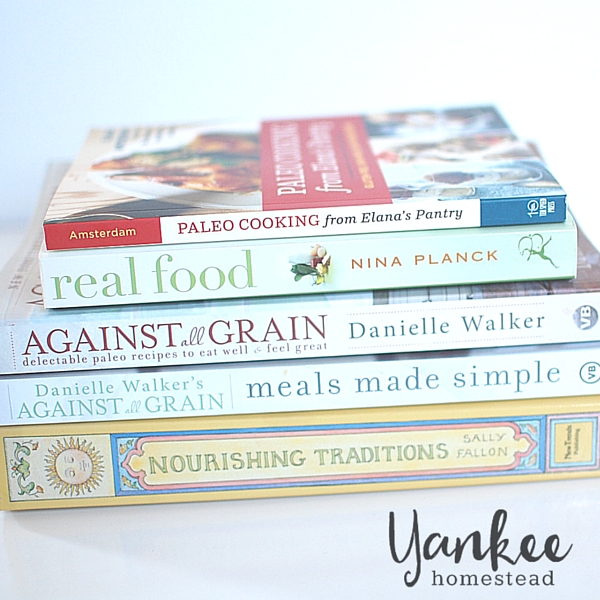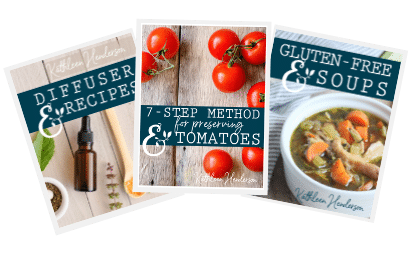 Sign up NOW for my best tips delivered weekly to your inbox!
You'll also get instant access to my library of free ebooks and resources.