Toasted Quinoa with Sautéed Veggies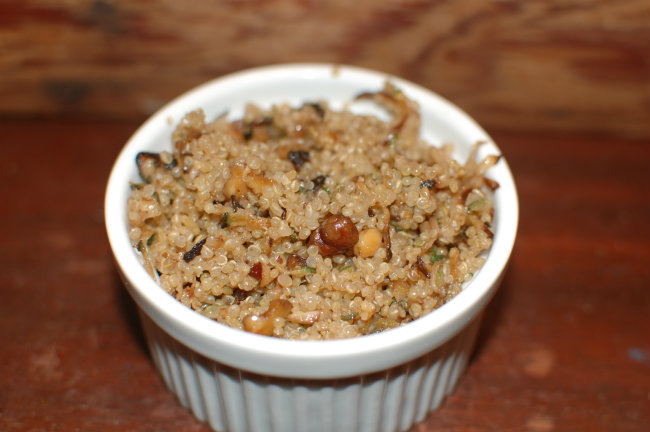 Simplify your dinner prep with tasty, nourishing soups!  My short, practical ebook is filled with my family's favorite one-pot, gluten-free, real-food soup recipes.
Get your copy of Nourishing Soups today!
This post may contain affiliate links, which means I make a small commission at no extra cost to you.
See my full disclosure here.
Remember my quest to integrate more quinoa into our family meals?
Well, this quinoa recipe was a recent hit at our house.  And by "hit," I mean that the adults liked it and the boys ate it willingly, with no complaints.  That makes it a hit, in my opinion. 🙂
I sort of improvised the whole recipe–based on a few tips from a friend and from a few recipes I found online–and tried to jot down a few notes as I went along, just in case it turned out well.
So here are my notes…
I'm planning to experiment more with this same concept, using other veggies and ingredients. I'll keep you posted!  (And if you have a great variation, please share it in the comments below!)
Toasted Quinoa with Sautéed Veggies
Ingredients:
about 3/4 cup shredded zucchini (mine came from our garden, via the freezer), or chopped/ shredded veggies of your choice
bacon drippings (or any good oil or fat, like lard, pastured butter or coconut oil)
1-2 TB chopped crispy walnuts
1/2 tsp minced garlic
1 cup cooked quinoa
unrefined sea salt
fresh chopped parsley
Instructions:
Melt oil or fat in a skillet. (I used cast iron.)
Add zucchini and sauté until toasty.
Add walnuts and sauté a bit more.
Clear a small spot on the bottom of the skillet and add the garlic, sautéing until browned (but not burned!).
Add cooked quinoa and stir to combine.
Continue sautéing mixture until it reaches your desired toastiness.
Add salt and parsley and stir.
Serve and enjoy!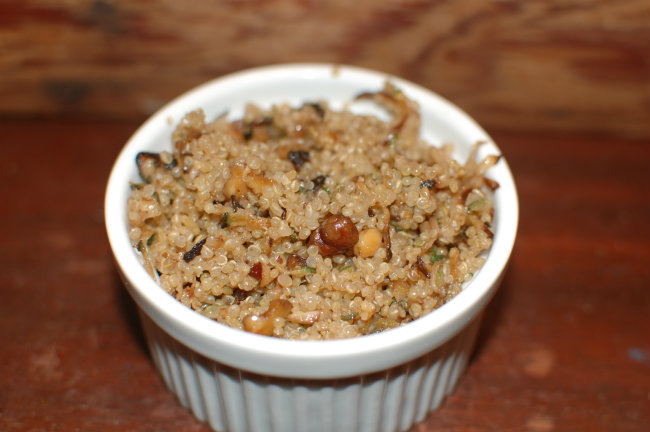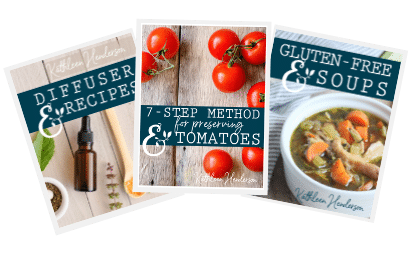 Sign up NOW for my best tips delivered weekly to your inbox!
You'll also get instant access to my library of free ebooks and resources.