Join the Seasonal Club.  Ditch the processed life! Learn to grow, source, preserve, and prepare real foods ALL YEAR LONG!  LEARN MORE >>
Join the Seasonal Club.
Ditch the processed life! Learn to grow, source, preserve, and prepare real foods ALL YEAR LONG!  LEARN MORE >>
The Plan: How to Eat Liver Without Tasting It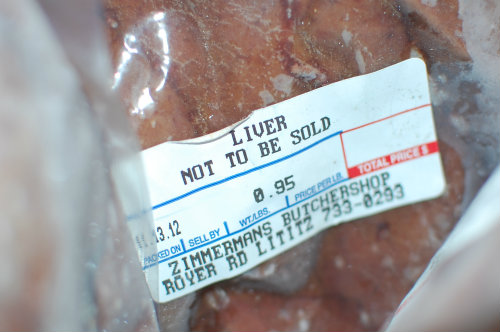 This post may contain affiliate links, which means I make a small commission at no extra cost to you.
See my full disclosure here.
This content has been archived. It may no longer be relevant
Holy Cow
You may recall that our beef comes directly from my dad's pasture, by way of the local butcher.
There are numerous benefits from this arrangement–including the cost and quality of the meat–but there was one aspect I hadn't considered: When you buy an entire cow, you truly get the entire cow.
So now I have all sorts of interesting and exotic items in my freezer, like tongue, heart, tail and liver.  Holy cow!
At first, I kept forgetting they were in there.  Then, I wasn't exactly sure what to do with them.
What's so Great about Liver?
We regularly feed the boys high quality liverwurst from US Wellness Meats, but Mr. Native Texan and I still cannot bring ourselves to ingest the stuff.  It's so incredibly good for you, but has a strong taste and texture.
Sally Fallon says this about organ meats, and liver in particular:
Organ meats are extremely rich in fat-soluble vitamins A and D, as well as essential fatty acids, important very-long-chain superunsaturated fatty acids and the whole gamut of macro and trace minerals….Not only does liver provide copper, zinc, iron and vitamins A and D in abundance, but it is also a rich source of antioxidants–substances that help your own liver remove toxic substances from the body.  ~Nourishing Traditions, p. 299
But I Don't Want to Taste It
So when I read Katie's post "Recipes" for Liver: How to Eat Beef Liver (Without Tasting It), I knew I'd hit on the perfect way to incorporate all that frozen liver into our diet…without tasting it.
It turns out that Sally Fallon recommends a similar approach to incorporating organ meats into the diet:
If you cannot get your family to eat organ meats when served as such, there are plenty of ways to add them to their food without their knowledge.  All ground meat dishes can be made with a combination of ground heart and ground muscle meat.  Poached brains [!] can be chopped up and added to any ground meat dish, as can grated raw liver.  ~Nourishing Traditions, p. 299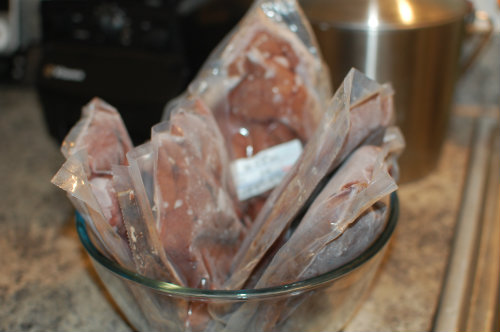 The Plan
I'm not quite ready for the poached brains part, but this (above) is what five packages of frozen liver looks like, thawing in a bowl on the counter.  My plan is to follow Sally and Katie's recommendations, shredding the liver and freezing it in tiny portions to be added to ground beef dishes.
I'll let you know how it goes.  (Wish me luck!)
Do you have any experience with organ meats?
12 NOURISHING GLUTEN-FREE SOUP RECIPES
Simplify your dinner prep with these tasty, nourishing soups!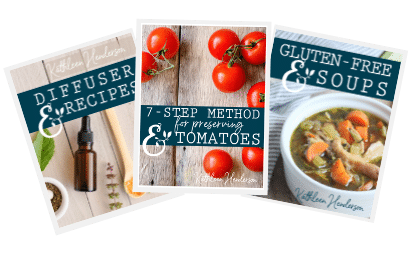 Sign up NOW for my best tips delivered weekly to your inbox!
You'll also get instant access to my library of free ebooks and resources.