The Best Nontoxic Mattress for Healthy Sleep
This post may contain affiliate links, which means I make a small commission at no extra cost to you.
See my full disclosure here.
Do you know what's in your mattress?  I sure didn't, until we began a household detox process.
Somewhere along that path, I started reading about the toxicity of conventional mattresses.  Yikes!
And that's when I began my search for the best nontoxic mattress for healthy sleep.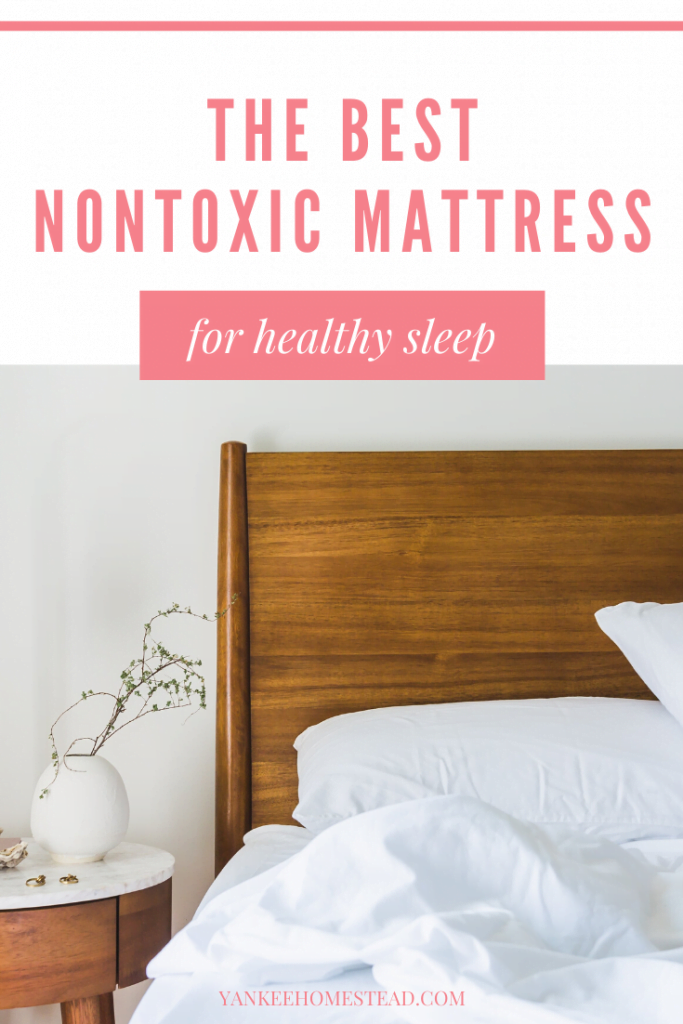 The problem with regular mattresses
Most mattresses on the market today contain harmful ingredients that can be off gassed and absorbed into the body.  It's just one of the many ways that toxins can build up in the body and contribute to issues like thyroid disease, autoimmune conditions, infertility, cancer, and even (depending on who you ask) SIDS.
1. Flame retardants
For many years, manufacturers were required to treat mattresses and furniture with certain chemicals intended to help prevent fires. We now know that most of these chemicals are poisonous.  Unfortunately, these toxins release into the air and our bodies absorb them with ill effects.
Researchers have linked flame retardants to neurological damage, hormone disruption (including thyroid function), cancer, SIDS, and more.  The legislation is beginning to change, but most mattresses still contain these toxic flame retardant chemicals.
VOCs – Volatile organic compounds come from polyurethane foam, a petroleum-based flame retardant material used in most mattresses.
PBDEs – Polybrominated-biphenyl-ethers occur when polyurethane foam begins to break down. PBDEs are released into the air and eventually leached into the human body, where they can bioaccumulate for years.  Many parts of the world ban PBDEs entirely and studies have shown that US residents have up to 20 times higher PBDE levels than Europeans.
2. Formaldehyde
The glue used to hold mattress layers together often contains formaldehyde, a known carcinogen.  Formaldehyde also causes skin irritations, respiratory challenges, and has even been linked to cancer.
3. Antimony
Bioavailable antimony is a heavy metal that contributes to reproductive problems and has also been found in the blood of babies who died from Sudden Infant Death Syndrome.  The SIDS connection is quite controversial, as evidence exists on both sides of the issue.  To me, the explanation seems plausible.
The problem with our organic mattress
Five years ago, we made the decision to invest in a nontoxic mattress.  After hours and hours of careful research, I finally identified what seemed like the best option for us.  I'd also located a local shop that carried this particular mattress.
I was so excited to get rid of our old, toxic mattress!  We could now rest assured (literally) that we wouldn't be inhaling or absorbing toxins in our sleep.
That was the good news.  The bad news: over time, we realized our new, expensive, nontoxic mattress was uncomfortable.
More specifically, our nontoxic mattress didn't provide the kind of support Greg needed for his muscles and joints.  He often complained about a sore neck, shoulders, hips, and back.
When we moved to the farm last year, we decided to ditch the uncomfortable (queen sized) mattress and spring for a new king-sized bed.  This time, we wanted a nontoxic mattress with no off-gassing that would also support active (and aging) muscles and joints.
I'm excited to tell you about the new mattress we found and why we love it so much!
Intellibed: the best nontoxic mattress for healthy sleep
After careful research (again), we chose Intellibed as the best nontoxic mattress for healthy sleep.  We bought Intellibeds for the entire family!  Here's why…
1. Nontoxic
Intellibed mattresses do not fall under the categories of "organic" or "all natural".  However—and this is very important—Intellibed mattresses are definitely nontoxic.
Intellibed uses a specially formulated intelliGEL made from high quality, food grade mineral oil approved for use in baby bottle nipples and pacifiers. Instead of treating their mattresses with chemical fire blockers, Intellibed weaves a silica fiber into the inside of the outer cover.  This allows Intellibed mattresses to pass federal fire blocker requirements without the use of harmful chemicals.
Furthermore, I was happy to find out that Intellibed mattress materials are CertiPUR-US.  This means that when analyzed by an idependent and accredited testing laboratory, Intellibed materials are found to be free of ozone depletes, PBDEs, TDCCP or TCEP flame retardants, heavy metals, formaldehyde, and phthalates as well as low VOC (Volatile Organic Compound).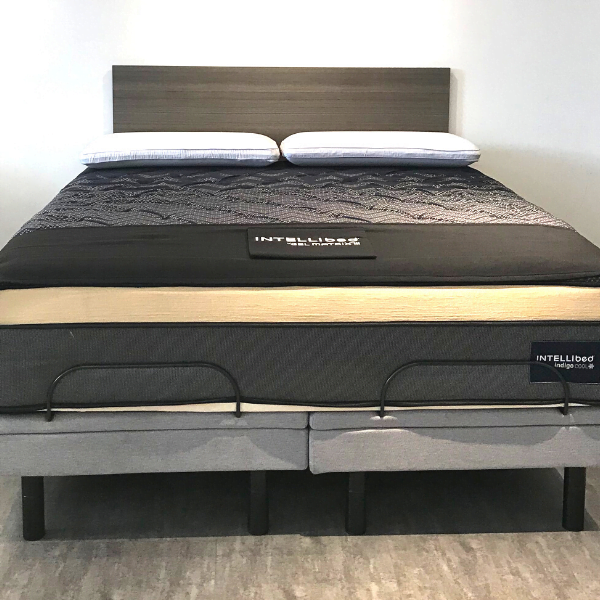 2. Supportive
I can't begin to tell you how much of an improvement Greg has noticed since we switched to our Intellibed mattress.  Using a revolutionary material called Gel Matrix, Intellibed mattresses are scientifically designed for true back support, spinal alignment and pressure point relief.
Our Intellibed mattress is simultaneosly soft (comfortable) and firm (supportive).  I experienced this phenomenon first hand while visiting Intellibed's flagship store in Salt Lake City, Utah.  See picture below.
Somehow, the combination of unique materials and matrix design allows the Intellibed to collapse under the heaviest part of the body—usually from the hips down—while maintaining proper alignment of the back.
This isn't true of other mattresses—including foam core mattress–which soften and collapse over time.  A lack of proper support places great strain on the back muscles and leads to tossing and turning.  When we first got married, we slept on an inner spring mattress with terrible support.  Unfortunately, switching to an organic mattress didn't help.
Finally, with Intellibed, we found the supportive mattress we were looking for. In fact, Intellibed traces its roots to the healthcare industry where Gel Matrix was originally used (and is still used) in hospital beds to reduce pressure and promote healing for burn victims and bedridden patients.
In the two pictures below you can see the difference between memory foam (on the left) and Intellibed's gel matrix (on the right).  See how the memory foam collapses under pressure while the gel matrix supports the weight?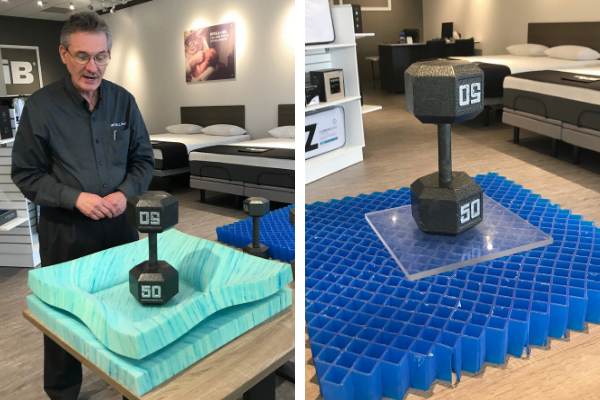 3. Approved
I'm a researcher.  And I value the opinions of those who know their stuff.  As I investigated, I discovered that many naturally minded experts have chosen Intellibed after their own careful research.  Intellibed has passed the healthy sleep test for Dr. Axe, Wellness Mama, Heather from Mommypotamus, Carrie Vitt, and more.  This carried a lot of weight with me!
4. Transparent
I had the rare privilege of touring Intellibed's manufacturing facilities in Salt Lake City, Utah in September 2018.  The fact that they invited me to visit on the spur of the moment, and allowed me to access their production floor, spoke volumes.  I got to watch Gel Matrix in action!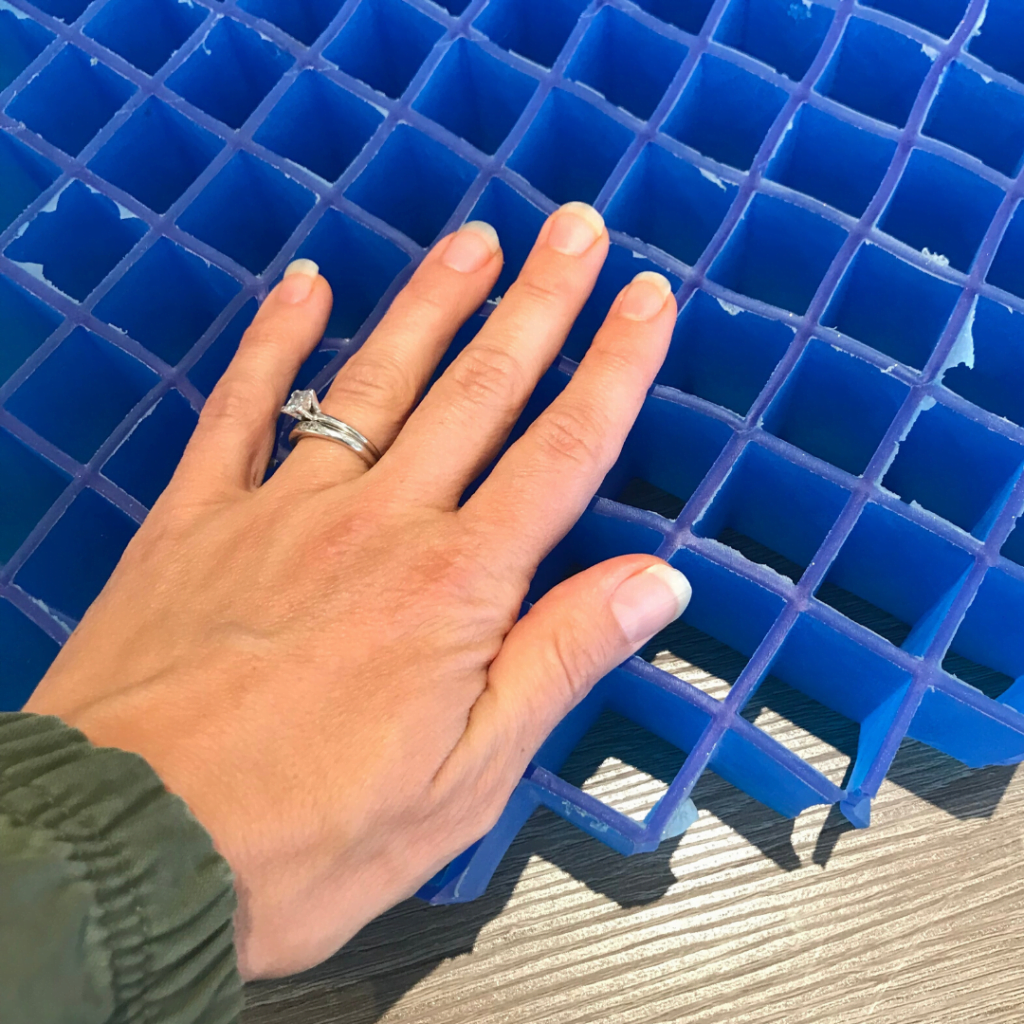 1. Everyone needed a new mattress
We moved to the new farm in May of 2018, and everyone needed a new mattress.
Our youngest was transitioning from a toddler bed to a twin size bed, and the two older boys went from sharing a bunk bed to sleeping in their own twin and full sized beds.  As I mentioned, Greg and I also had decided to upgrade to a bigger—and hopefully more comfortable—mattress.
2. We tried Intellibeds for the kids
I definitely wanted to avoid a regular mattress that would off-gas toxins while we slept.  We also needed a more supportive option this time around.  My research eventually led me to Intellibed, and we pulled the trigger on their more economical, slightly pared down version for kids.  We bought two twins and a full.
The kids loved their new mattresses, and it gave us the opportunity to test them out before investing in our own king sized mattress.
Side note: We had to wait for our master bathroom renovations to end before we could order our new bed and move into the master bedroom.  In the meantime, we slept in the guest room on our previous nontoxic (yet uncomfortable) mattress.
3. I visited Intellibed headquarters and showroom
As it so happened, I had a trip planned to Salt Lake City, Utah in the fall of that same year.  I was headed to SLC for other reasons, but happily discovered Intellibed's flagship store in a shopping center within walking distance from my hotel.
I arrived at the store unannounced, tested out all the mattresses, and asked lots of questions.  The sales representative was friendly and helpful.   When he found out I was a blogger planning to publish an Intellibed review, he called up their headquarters and arranged for a tour.
It was just a short drive away, so I Ubered right over and received an exclusive tour.  Intellibed's Chief Officer of Operations showed me around the production floor and I saw the mattress construction process with my own eyes.
Please forgive the terrible phone photo, but here I am standing between Intelliibed's production floor and mattress warehouse.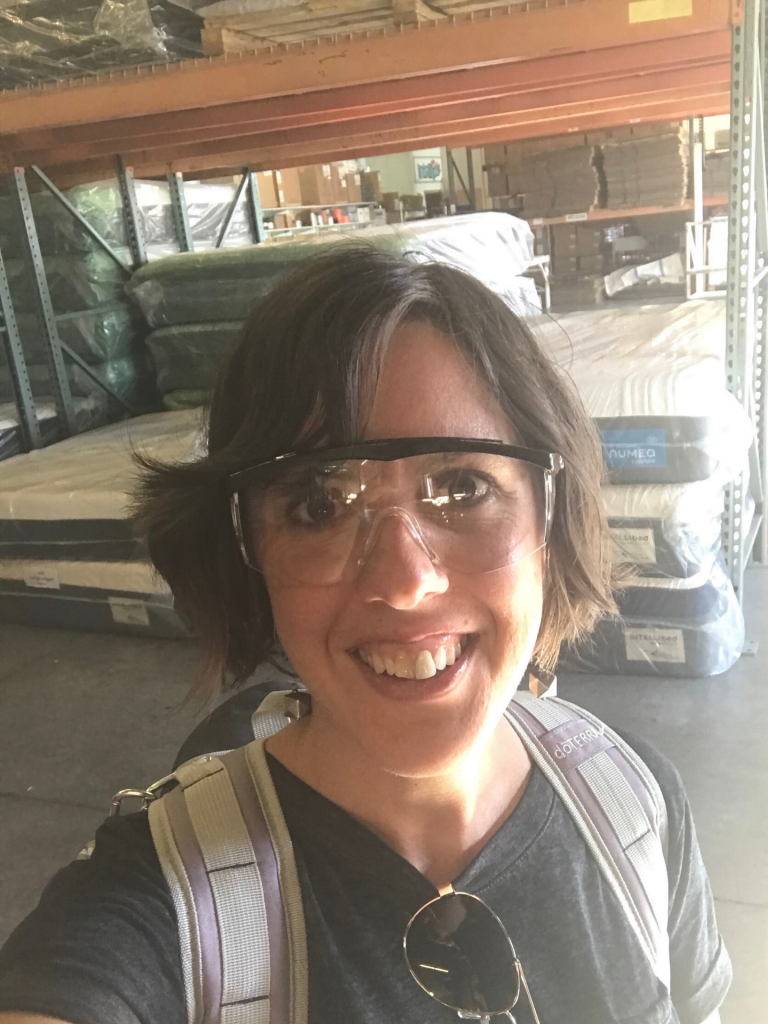 4. We purchased a king-sized Intellibed
By this time I had spent more than a year researching Intellibed, and the boys had slept on Intellibed mattresses for months.  My store visit and tour of Intellibed's production floor sealed the deal.
Our king-sized mattress arrived in November, 2018, and we have joined the ranks of happy Intellibed customers.  We found the answer to the back support Greg needed and the nontoxic properties I wanted in a mattress.  In our experience, Intellibed is the best nontoxic mattress for healthy sleep.
I wish we'd switched sooner!
Special Intellibed offer for my readers
I love our Intellibed so much that I became an affiliate in order to offer you 10% off, plus a free mattress protector, free organic sheets, and free shipping on a Queen or King sized Organix mattress purchase.  To receive your discount, just use this code: HOMESTEAD.
A quick note on the Organix mattress…it's actually Intellibed's Sapphire bed, but with an organic cover which makes it even better!  The Organix is not available on Intellibed's website.  You can get it only through my special affiliate link.
I know that purchasing an Intellibed mattress is quite an investment.  It definitely was for us!  The good news is that Intellibed offers a 60 day money back guarantee.  If you don't like your Intellibed, they will even pay for the return shipping.
Furthermore, Intellibed mattresses are warrantied to last in optimal sleeping condition for a full 20 years.  It might cost more up front, but it saves money in the long run because it won't need to be replaced as often as other mattresses.
Plus, you can't put a price on healthy, restorative sleep!
Disclosure: This post is not sponsored by Intellibed, but I did receive a discount in exchange for my honest review.  Only products I love and use myself receive my endorsement, and I'm thrilled to recommend Intellibed to you as the best nontoxic mattress for healthy sleep.  (I never wrote a review on our previous organic mattress because we hated it.)  I am an affiliate for Intellibed. If you purchase a mattress and use my discount code, I will receive a commission.
Does your current mattress offer plenty of back support? Have you tried a nontoxic mattress?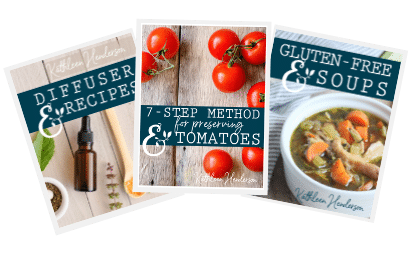 Sign up NOW for my best tips delivered weekly to your inbox!
You'll also get instant access to my library of free ebooks and resources.