Join the Seasonal Club.  Ditch the processed life! Learn to grow, source, preserve, and prepare real foods ALL YEAR LONG!  LEARN MORE >>
Join the Seasonal Club.
Ditch the processed life! Learn to grow, source, preserve, and prepare real foods ALL YEAR LONG!  LEARN MORE >>
Slow Cooked Fajita Meat: a great way to use up those steaks in the freezer!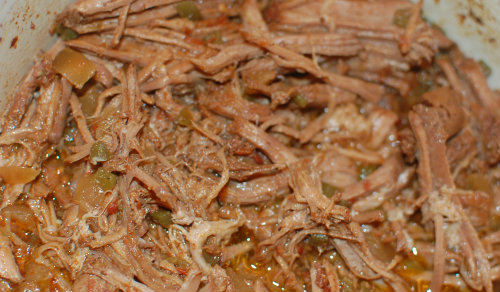 This post may contain affiliate links, which means I make a small commission at no extra cost to you.
See my full disclosure here.
This content has been archived. It may no longer be relevant
You know those Know Your Farmer and Who's Your Farmer slogans?  Well, in the case of our beef supply, we really do know our farmer.
He's my dad.
Every year he raises a few steers (or buffalo) and sells them at a really great price, mostly to people related to him.  Which includes us.  What a great perk!  He's not a huge fan of the whole grass-fed thing, but he humors us and gives our steer little to no grain.  Thanks, Dad!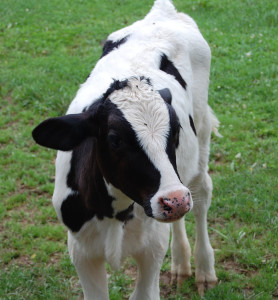 No matter where your meat comes from, if you buy large quantities of an actual cow, you probably have a lot of steaks in your freezer.  Here's a great recipe for using them up!
This recipe is adapted from Lynn's Kitchen Adventures.  I've altered it a bit to suit our tastes (and to reduce the prep time), but you can view the original recipe here.

Slow Cooked Fajita Meat
Ingredients:
15 ounce can of fire roasted tomatoes or rough equivalent of diced, fresh tomatoes
1/4 cup Amy's salsa
8 oz.  tomato sauce (or homemade tomato puree from the freezer)
1 envelope of fajita seasoning or Lynn's homemade version (see below)
1 green pepper, sliced (I use finely diced, home-grown peppers from the freezer)
1 onion, finely chopped  (I use frozen, chopped onions because I HATE chopping onions)
2 lbs steak (grass-fed from an organic farm is best)
Optional toppings: shredded cheese, sour cream, diced avocado, more salsa, etc.
Seasoning Ingredients:
1 TB chili powder
1 1/2 tsp cumin
1 tsp black pepper
1 tsp unrefined sea salt
1/2 tsp paprika
1/2 tsp oregano
1/4 tsp garlic powder
1/4 tsp onion powder
1/4 tsp crushed red pepper/Cayenne (or to taste–I use less than 1/8 tsp)
Instructions:
Add all ingredients except steak (and toppings!) to crockpot.
Stir to combine.
Add steak.  (I just throw the whole steaks in there–bones, blood and all–and make sure they're mostly submerged).
Cook on low for 6-8 hours.
Before serving, use two forks to shred meat.  Remove any bones (and save for making bone broth!).
Serve over brown rice or inside coconut wraps, with optional toppings.
Notes:
I always double or triple this recipe.  It makes great leftovers!  Although I haven't tried it yet, I imagine it would freeze well.
I rarely remember to thaw any of the vegetables or tomato ingredients.  So I just toss the frozen ingredients into the crockpot.  Even the tomato puree!  After it's been cooking for a few hours, or long enough for the puree to be mostly-thawed, I open the lid and give it a good stir.  And I usually allow it to cook all day on low.
I DO thaw the steaks before adding them to the crockpot.
The original recipe calls for 2 TB of the homemade seasoning mix, but I just add the entire mix as listed above.
Sometimes I add extra veggies, like shredded zucchini.
You may like these recipes:
12 NOURISHING GLUTEN-FREE SOUP RECIPES
Simplify your dinner prep with these tasty, nourishing soups!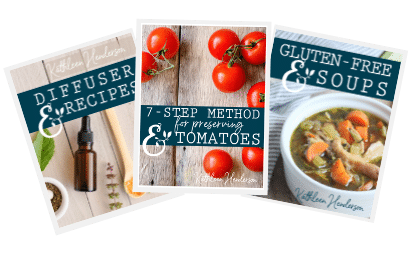 Sign up NOW for my best tips delivered weekly to your inbox!
You'll also get instant access to my library of free ebooks and resources.