My Favorite Stainless Steel Travel Mug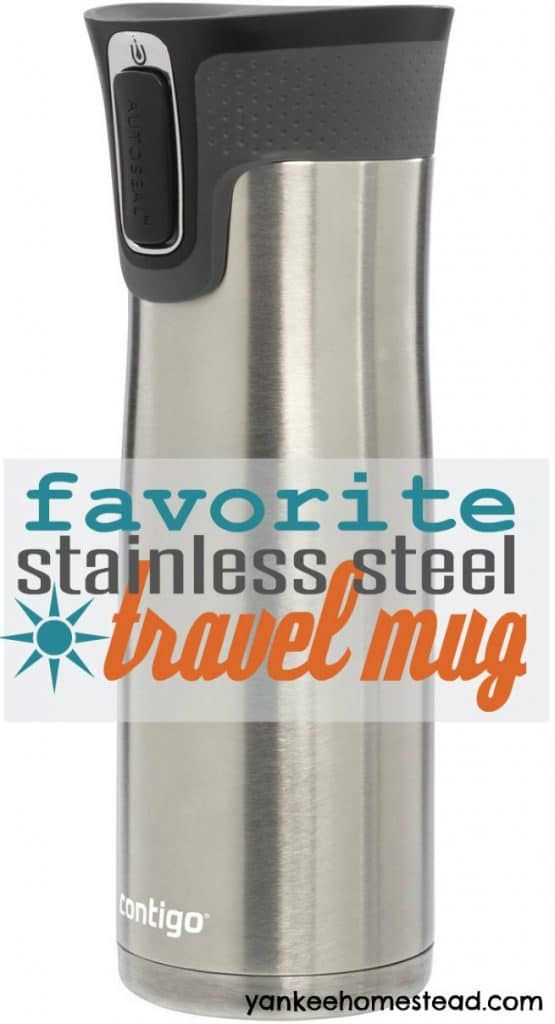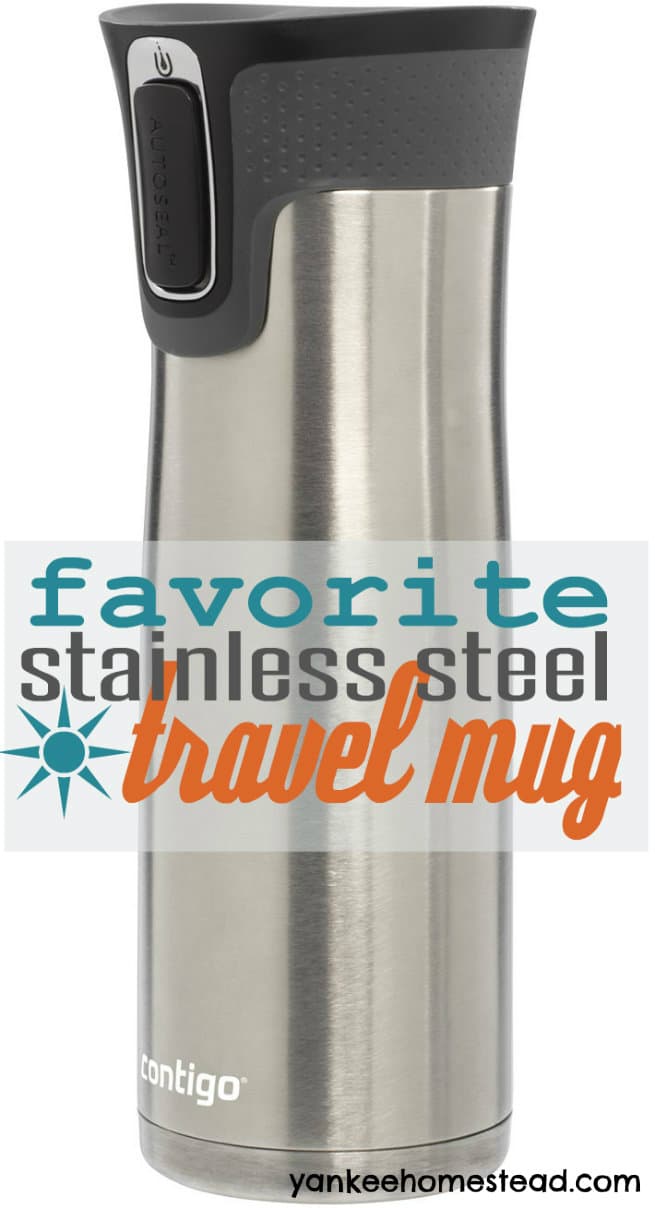 This post may contain affiliate links, which means I make a small commission at no extra cost to you.
See my full disclosure here.
My Quest for the Perfect Travel Mug
Some time ago, I began a quest to rid our kitchen of plastic.  Currently we're at about 95%, having held onto just a few last pieces of plastic ware–mostly for freezer purposes.
Earlier this year, I was determined to replace our leaky, plastic travel mugs with higher quality, non-plastic cups.  Mr. Native Texan drinks coffee on his way to the office every day, and I drink hot decaf tea every morning.
At home, I was using my favorite, huge, curvy, blue ceramic mug.  When out and about, we were both using those pesky cups that leaked, and that I knew were leaching plastic into our hot drinks.
One day, Mr. Native Texan came home from work and surprised me with a new, stainless steel travel mug.  I didn't have to do a lick of research!  He'd visited the Bed Bath and Beyond near his office, and asked for their best travel mug.
I'm happy to report that this awesome stainless steel travel mug has been going strong ever since.  Here's what I love about it…
Stainless steel body: no plastic!
Leak-free: I've used this cup for months and months and haven't had a single leak.  The special AutoSeal lid seals tightly every time.
Spill-proof: Others claim they throw this cup into their purse, car, etc., with no problems.  I haven't tested it quite to that extent, but my cup has fallen over countless times with absolutely no leaks or spills.
Rubbery grip: The bottom of the Contigo has a rubbery grip pad that helps it remain upright.
Vacuum insulation: My 20 oz. cup really does keep beverages hot for up to six hours!  I can drink half my tea on the way to church, and when I come back to the car several hours later, the remaining tea is still hot.  Amazing!
Double wall construction: While beverages stay super-hot inside the Contigo, the cup is not at all hot to the touch.  No cozies necessary.
Contoured shape: For some reason, I really love a curvy cup. 🙂  This cup is slightly curved in all the right places, and feels great to hold.  It's designed for one-handed drinking, even for lefties.
Perfect diameter: My 20 oz. Contigo fits just right in our cup holders, and the stainless steel body easily slides in and out of any bag I've carried it in.  Mr. Native Texan now uses a 16 oz. Contigo mug, which is a bit fatter.  He's had no problems fitting it in the cup holders of our cars, but I prefer my skinnier 20 oz. model.  It fits just right in my hand.
It might sound a little crazy to sing such praises of a travel mug, but I spent so much time complaining about our former cups, spilling hot tea on myself and drinking beverages gone cold, that this awesome Contigo stainless steel travel mug still feels like a blessing to me every day!  It's one less thing to worry about.
Move Over, Curvy Blue Ceramic Mug
In fact, my beloved curvy blue ceramic mug doesn't get much use anymore, even at home.  I'm now using my Contigo cup every morning, whether at home or on the go.
Before, I had to reheat my tea at least three times every day.  I also worried about the cup getting knocked over by my house full of rambunctious little boys.
I even worried about bugs (we have stink bugs like crazy around here–bleh) drowning in my dark cup of tea while I wasn't looking!  (And then one day, it really did happen and I almost drank a stink bug.  It was sort of a traumatic experience.)
What's more, Mr. Native Texan has taken to making my tea every morning before he leaves for work.  The Contigo keeps it nice and hot until I'm able to drink it, and my tea stays warm throughout the morning as I tackle breakfast duties, homeschooling, laundry and baby care. And if it gets knocked over, it's no problem!
Whether you commute to work every day or stay home with a rowdy, busy crew, this stainless steel travel mug is for you.  And if you know someone who daily drinks a hot beverage, this awesome cup would make a great gift.  It would fit perfectly in a Christmas stocking, too!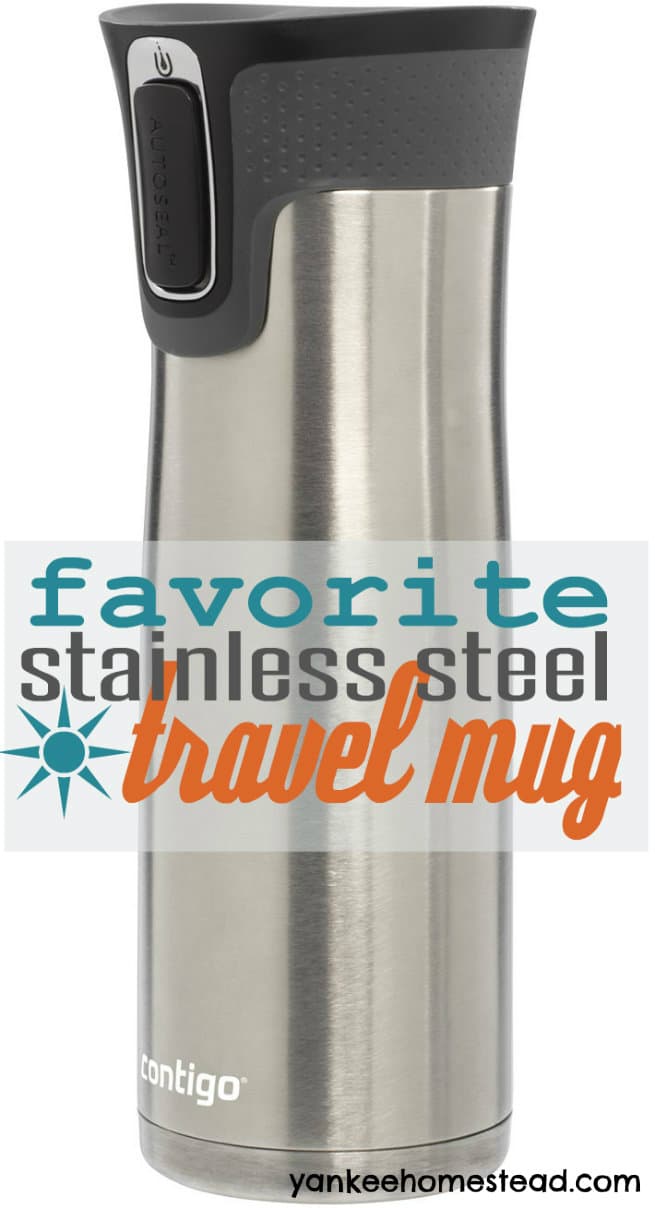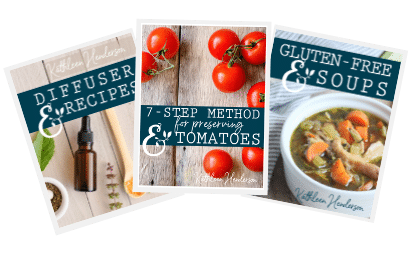 Sign up NOW for my best tips delivered weekly to your inbox!
You'll also get instant access to my library of free ebooks and resources.